News and notes from Mike Woodson's radio show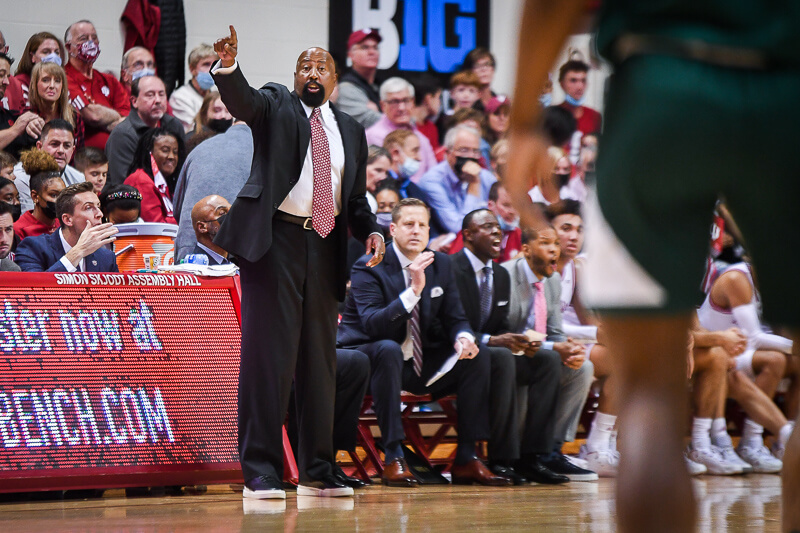 "Inside Indiana Basketball with Mike Woodson" aired Monday night as Woodson spoke with play-by-play announcer Don Fischer.
Woodson discussed Indiana's recent wins over Louisiana and St. John's and discussed upcoming contests against Jackson State and Marshall.
• In terms of Sunday's defensive performance against Louisiana, Woodson noted that if you hold a team to 14 points in a half, "you're doing something right."
• Woodson said that Khristian Lander has "patiently been waiting to play" and "he stepped in and was ready to perform" against Louisiana on Sunday night.
• Woodson noted that two of his NBA teams were the lowest in league in turnovers. Indiana's stated goal is 12 turnovers or less per game and when Indiana eclipses that number, everyone on the team has to run, including the coaches. Woodson laughed and said he wasn't real happy after Sunday's performance because that meant he'll have to run up and down the court 15 times. "The turnovers are something we have to keep an eye on and not make a habit out of it."
• On Parker Stewart's shooting performance against Louisiana: "It was nice to see. He's been putting in the work. I've seen it in practice. And I saw it in one of our exhibition games. It couldn't have happened to a better person." Woodson said that the next step is to get Stewart and Miller Kopp to shoot it well consistently.
• Woodson said he thought Indiana's defense set the tone in Sunday's win over Louisiana. He said the Ragin' Cajuns tried to apply some pressure early, but it didn't really impact Indiana.
• Woodson said Indiana "took every punch" in the first half against St. John's. In the second half, Indiana stopped doing the things that got them the lead and "got lax." He also said Xavier Johnson's foul trouble was a factor in St. John's making their run.
• On Indiana's point guard play: "My thing with Khristian (Lander) and X and Rob (Phinisee) is just trying to teach them to be a point guard and run a basketball team. If they make that transition quickly, we'll be a solid basketball team the rest of the way."
• Woodson mentioned that it's important for Xavier Johnson to not get into confrontations with opposing players and pick up unnecessary fouls.
• Woodson said he's not worried about Indiana's rotations and how minutes are distributed. "I'm just worried about when I put you in the game, are you going to produce?" He added that he's always believed that you how play in the games is a result of how you play in practice. It's a lesson Woodson said he learned from Bob Knight.
• Woodson said that Indiana needs to get more "structure" from its point guard play. He believes that will put Indiana in the best position moving forward to win games.
• One of the main things that Woodson said he took from Bob Knight as a coach is organization. Woodson said Larry Brown is the same way. He also noted that Knight's teams "always got better." According to Woodson, "that's a sign of a great coach."
• Woodson said he believes that "you can be beaten by anybody in college basketball if you're not prepared and ready to play." Woodson said that's the mentality his team needs to have entering Tuesday's game against Jackson State, which is winless in four games.
Filed to: Mike Woodson