Indiana's win over Louisiana was a portrait of its ongoing development process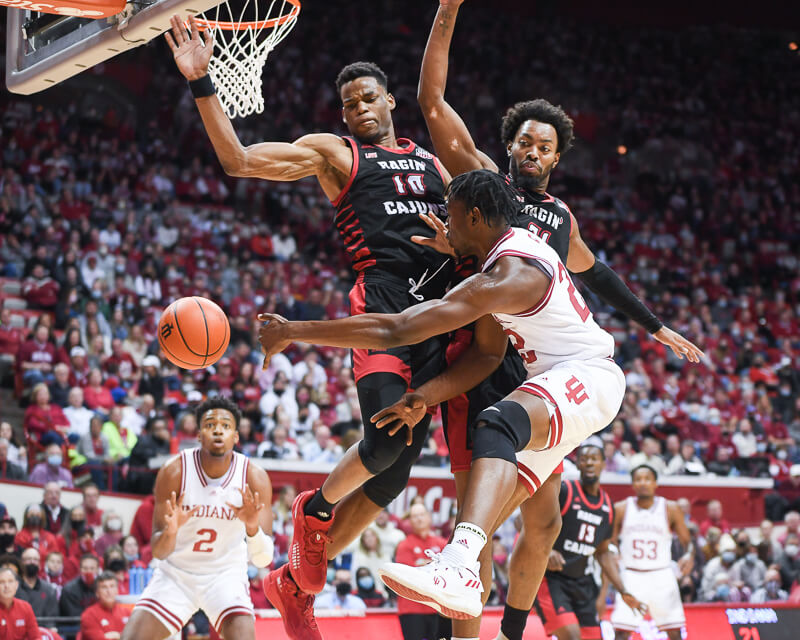 Near the end of the first half in Indiana's win over Louisiana on Sunday night, there was a frantic sequence that Mike Woodson will likely mull over with his team in the coming days.
It started with the good. Freshman guard Tamar Bates, despite being hounded, somehow knocked down an elbow jumper. Then, as a Louisiana player took the ball up the court, Jordan Geronimo poked it free from behind. Khristian Lander scooped up the ball and laid it in with his left hand.
Then there was the bad. On the following possession, Geronimo sold out for a steal and got dusted. Bates had too much momentum in his help defense and hacked Louisiana's Durey Cadwell, who converted an and-one. On Indiana's ensuing possession, Geronimo was called for a moving screen. He dropped his head in frustration.
While it was clear Louisiana was undoubtedly overmatched, here lies the essence of where Indiana stands four contests into the season. Indiana is very much a team still learning to play with each other. They've shown significant promise, while also making a handful of mistakes. Both can be true simultaneously. On Sunday, Indiana's 76-44 drubbing of Louisiana was a portrait of the team's continued growing process.
In the next few days, Woodson will sit down with his team and use Sunday's win as a way to learn.
"The beauty about the film is it don't lie," Woodson said. "It points right to what you are trying to get across to the player, good or bad. So we'll break this tape down, and if I got to go turnover by turnover, they are going to see it and know about it."
Defensively, Indiana held Louisiana to a horrendous shooting night. Louisiana's 14 first-half points were the lowest total Indiana had allowed since 2013. The Ragin' Cajuns finished the night shooting a putrid 19 percent from the field and 10 percent on 3s. Louisiana entered the day averaging 77 points. On Sunday, that was nearly cut in half.
There were also, however, glaring mistakes. Indiana gave up 21 offensive rebounds, leading to 11 second-chance points, which could have very well been more against a more capable opponent. There were also moments where Indiana proved incapable of guarding without fouling. The Hoosiers racked up 25 fouls, although The Ragin' Cajuns only converted on 14-of-24 from the line.
Offensively, there was a lot to like from a shooting efficiency standpoint. The Hoosiers shot 54 percent from the floor, 53 percent from on 3s and 77 percent from the free throw line. In recent seasons, shooting has been the weak spot for Indiana. If the Hoosiers continue to shoot at this rate, it will be increasingly difficult to beat them.
Much of this can be attributed to the production of Parker Stewart and Miller Kopp. Both were brought to Indiana for the sole purpose of providing shooting. In Indiana's first three games, though, the duo had struggled, shooting a combined 5-of-19 from distance. But on Sunday, they combined for 8-of-10 from the field and 5-of-6 from deep for 23 points, 16 of which were from Stewart.
It wasn't only Kopp and Stewart, but also complementary members off the bench. Lander and Bates combined for 19 points. Michael Durr and Geronimo played meaningful minutes. In all, Indiana had 32 bench points. Last season, there was rarely consistent production from the bench. But Indiana's bench has been active in its first four games. If this can be sustained, it will take a significant amount of pressure off of Trayce Jackson-Davis.
"I like the progress of our ball club because I think guys are committed individually and they're a ball team," Woodson said. "And that's important when you're trying to build winning ways."
At the same time, though, Indiana turned the ball over at a concerning rate. They committed 27 turnovers, prompting Lander postgame to say "that's pretty unacceptable." Many of them too were silly mistakes like Geronimo's moving screen or late in the second half when Bates couldn't decide between a pump fake and a dribble.
Some of this responsibility lies on the shoulders of Indiana's point guards which, as a position group, was a question mark coming into the season and even moreso without Rob Phinisee on Sunday. Against Louisiana, there was both good and bad between Xavier Johnson and Lander, like Indiana as a whole.
In the first seven minutes, Johnson had zero points, three turnovers and two fouls. In the second half, though, Johnson's production flipped, as he dished out six assists to just one turnover. Similarly, Lander had four turnovers, some of which were a matter of him trying to force it. But he also had six assists, six rebounds and an efficient 3-of-6 shooting from the field, showing significant progress from last season. In total, though, the duo committed eight turnovers.
"It's good to play with great pace, but you can't turn the ball over," Woodson said. "You got to get shots. That's the beauty about running your offense. You run the offense to get good shots, not give it back to them where you got to go play defense."
This is the type of tangible evidence that Woodson can show to his team in hopes that it will pay off down the road. The Hoosiers have two more games to continue fine-tuning against lower-tier opponents before heading to Syracuse in what will be a massive road test. What is encouraging, though, is Indiana is 4-0 and it is obvious that aren't anywhere near their potential.
For Woodson, it won't only be teaching through film, though. The turnovers will be paid for.
"It's a lot of running that's got to take place tomorrow," Woodson said.
Filed to: Jordan Geronimo, Khristian Lander, Mike Woodson, Miller Kopp, Parker Stewart, Tamar Bates, Trayce Jackson-Davis, Xavier Johnson