What to watch for: Hoosier Hysteria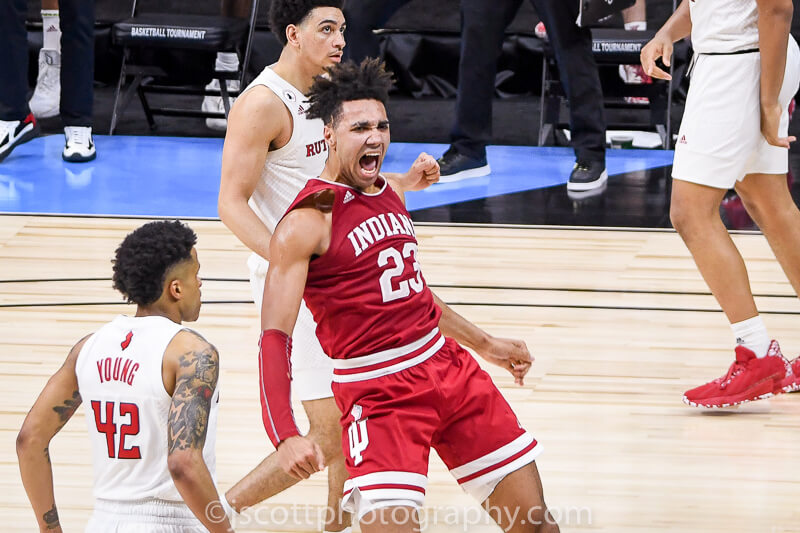 Indiana fans will get their first look at this year's team at Hoosier Hysteria on Saturday afternoon at Simon Skjodt Assembly Hall. After a year hiatus, Hoosier Hysteria will take place on Saturday at 4 p.m. at Simon Skjodt Assembly Hall. The event will also be streamed live on BTN+.
Here are three things to watch for at this year's Hysteria:
Scrimmage, skills competitions
For the first time since March of 2020, IU fans will be back inside Simon Skjodt Assembly Hall to watch basketball on Branch McCracken Court. This year's Hysteria is slated to last 90 minutes and will feature player introductions of both the men's and women's teams.
Twelve of Indiana's 13 scholarship players will take place in skills competitions before a scrimmage concludes the afternoon.
Here are the participants in each event:
3-Point Shooting Contest
Anthony Leal/Aleksa Gulbe
Tamar Bates/Caitlin Hose
Parker Stewart/Grace Berger
Miller Kopp/Ali Patberg
Skills Competition
Rob Phinisee/Mackenzie Holmes
Xavier Johnson/Kiandra Browne
Logan Duncomb/Nicole Cardaño-Hillary
Race Thompson/Chloe Moore-McNeil
Dunk Contest
Jordan Geronimo
Khristian Lander
Trey Galloway
Trayce Jackson-Davis
The scrimmage, however, is the event that fans most look forward to each year.
It'll be the only time fans will be able to see the team play five-on-five prior to the season tipping off on November 9 against Eastern Michigan.
Indiana typically plays an exhibition or two at home in late October or early November, but will instead play a pair of closed scrimmages this season. The opponents for the scrimmages are expected to be Cincinnati and Belmont.
Isiah Thomas set to address the crowd
It's no secret that Mike Woodson is ready to embrace Indiana's storied past as he begins his tenure in Bloomington.
Woodson, who starred for the Hoosiers from 1976-80, will welcome back one of the best to ever wear the Candy Stripes on Saturday afternoon.
Isiah Thomas, a former IU All-American who won a pair of NBA championships with the Detroit Pistons, is scheduled to address the crowd at Hoosier Hysteria.
Thomas was one of several former IU players who attended Bob Knight's return to Assembly Hall in February of 2020.
A recruiting showcase
Since its inception, Hoosier Hysteria has provided an opportunity for the program to showcase itself to recruits.
This year's version will be no different as Indiana will welcome a pair of 2022 commitments and several underclassmen to Simon Skjodt Assembly Hall for Hysteria.
Both C.J. Gunn and Jalen Hood-Schifino, two of Indiana's three commits for 2022, are expected to be at Hysteria. Kaleb Banks, Indiana's other commitment in the 2022 class, will be at the Wooten top 150 camp in Mansfield, Texas.
Indiana is still pursuing class of 2022 forward Noah Clowney, who made an official visit to Bloomington in late August.
Here are some of the underclassmen that Inside the Hall is hearing could be in Bloomington on Saturday:
– Gabe Cupps, Centerville, Ohio (2023, IU offer)
– Cooper Koch, Peoria Notre Dame, Iowa (2024, IU offer)
– Sam Orme, Carmel (2023)
– Joey Hart, Linton-Stockton (2023)
– JaQualon Roberts, Bloomington North (2023)
– Joey Brown, North Central (2023)
– Jacob Theodosiou, Western Reserve Academy, Ohio (2024)
– Caleb Middleton, New Hampton Prep, New Hampshire (2024)
– Lyna Brooks, Franklin Central (2024)
This is a strong list of prospects in the 2023 and 2024 classes.
Cupps, who holds an IU offer, has been on campus previously for unofficial visits. Koch is one of the top players in the midwest in the class of 2024 and holds several early offers from Big Ten schools.
Filed to: Hoosier Hysteria