Q & A: Class of 2022 four-star forward Noah Clowney talks IU official visit, upcoming visits, decision timeline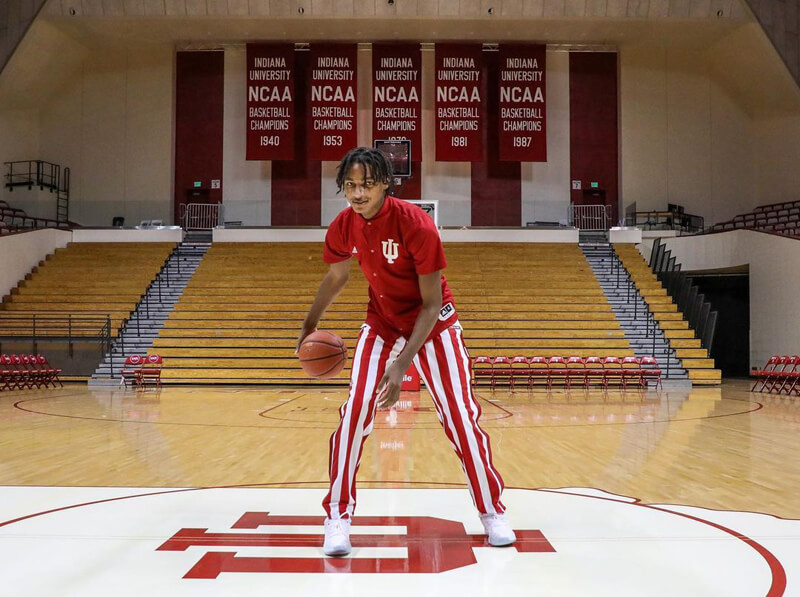 Roebuck (S.C.) Dorman High School forward Noah Clowney is Indiana's top remaining target in the class of 2022.
The 6-foot-10 Clowney, who is down to Indiana, Florida, Virginia Tech and Alabama, started his official visit tour last weekend in Bloomington. Up next, Clowney will travel to Gainesville to see the University of Florida this coming weekend. He'll follow that up with a trip on the weekend of September 10 to Blacksburg, Virginia to see Virginia Tech and will conclude his official visits the weekend of September 24 in Tuscaloosa.
Clowney is rated the No. 65 prospect nationally in the 247Composite rankings and spoke at-length on Wednesday with Inside the Hall about his visit to Indiana, his recruitment and much more.
Our full Q & A is available below:
How did you come up with your four finalists?
"The final four was a combination of a lot of things: who they've coached at my position, what kind of position do they put people who are my size in, style of play, and if I feel like I can go in and play right away. I don't plan on going anywhere and coming off the bench and if I do, I plan on getting big minutes. I'm going to work for a starting position. But these are the four schools that I'm most comfortable with. They felt the most like family to me."
Indiana offered back in April, but it seemed like your recruitment really picked up over the summer. What was it like getting all of that attention and managing all of the different schools that were coming at you?
"It was new to me. Most people that are ranked… they've been ranked since their 10th-grade year. So to me, it was every offseason I worked and I told myself this year when AAU started, 'I'm not going to play scared.' So I went out there and played and all of the schools really started to come at me when they saw I could play. It was exciting to know that the work was paying off and that I'm going to go somewhere and play Division I. It was a nice reward.
"Managing it… if I pick up the phone, I pick up the phone. A lot of times people call and I have a weird sleep schedule so I'd be asleep. If I'm asleep, I'd text when I wake up. But I wasn't going to stress over it."
Do you think it was a matter of you improving a lot or did schools just not get a chance to see you as much the year before due to COVID?
"I don't think it was COVID at all. I feel like before, I was a decent player. But I feel like I did make a lot of improvement over that time. Not only did I make that improvement… my confidence was the biggest thing. I wasn't timid or scared. It was a, 'give me the ball, I'm going to get a bucket' type of thing."
In terms of the Indiana visit, what stood out to you? What was it like being in Bloomington?
"I'll go in order in terms of how things when I got there. They feed you a whole lot. I think that's every visit, they're going to feed you a whole lot. I was tired of eating to a point. But it was really nice, when we really sat down and talked, especially with the coaches, coach Mike Woodson, he seems very genuine. He's not just feeding me some BS. I feel like he's talking to me straight up. He means what he says. The whole staff, even the academic director with athletes, they seem like genuine people. I felt great vibes the whole time I was there.
"I found a little more closure in the fact that he could show me film from when he was coaching in college, like coaching them in the Bahamas versus film from when he was coaching in the NBA because yeah, he coached in the NBA, but those are also the best players in the world. So seeing him coach people that's a little bit closer to where I am because I'm not at that NBA level yet… I hope to get there one day. But that gave me closure to see how he was really going to run his team. I liked that nobody is forced into a bubble. Everybody has the freedom to play how they want to play if they have that in their game."
So were you looking at what Trayce (Jackson-Davis) was doing on film?
"Yes, I was. It was a lot of Trayce.
"I loved the team. They're real chill, real cool. And of course the fans, they're crazy."
Were you recognized around town?
"Yeah, yeah. When I got out to go to the restaurant, they were chanting my name and people knew who I was there."
Did that surprise you?
"Yeah (laughs). People asked to take pictures with me. Even when I went out that night with the team, people were coming up to me then. Some people knew my name and some were asking if I was the new recruit and things like that."
Kaleb Banks was there, too. Did you know him beforehand and what is your relationship like with him?
"We met at the NBPA top 100 camp. We already knew each other and had spoken not a whole lot, but a little bit. I also met CJ (Gunn), he was down there, too."
You have three other visits coming up. What do you like about each of those schools?
"I'll start with Florida. They've showed me a lot of film. At first, I was lost on the film, but they've shown me how they would play me and I like that. A lot of isolation opportunities. It's nice there. I do want to see a little more film and I'm sure they have a little more to show me because I'm going on the visit. I've got a good relationship with coach Mike White. I want to go down there, see the facilities, meet the people and see how the vibe is.
"Same with Virginia Tech. I've seen a whole lot of film there so I really know just about exactly what I'd be doing if I went there as far as in the system. They're great people. I haven't been there yet. I'll see the facilities, which really isn't that big of a deal because all of the schools are going to have great facilities. I just want to see how the vibes are in person. With Florida, too, same with them, I've got to see the vibes with the coaching staff, who I'm going to be around, teammates, the team and all of that.
"Pretty much the same with Alabama. They haven't shown me as much film so I'm going to need to see a lot more film when I do go. They've shown me bits and pieces, but I'd like to see down and see 'this is how we're going to play you' type of thing. The coaches I've talked to, they have really good energy. But I need to go see how it feels in person, the facilities, see how I like the team, all of that."
How was it trying to cut down your list when you hadn't been to these schools previously? In a normal year, you probably would have taken unofficial visits already to a lot of these schools.
"I'm really comfortable with the schools I've chosen. The schools I chose, I feel like they were a combination of me being interested in them a lot and them being very consistent and interested in me and making me a priority for their program because I don't want to go anywhere I'm not a priority. And going to a program that wins, too. I don't want to go anywhere and lose."
As far as Indiana, what do you feel like they've done to make you a priority?
"Really it's just relationships and consistency."
What's your plan in terms of making a decision?
"I told myself I'm going to take all of my visits so that's what I'm going to do. I'm taking every visit. I'll probably make my decision sometime in late October, sometime in there. Before the season."
Filed to: Noah Clowney