Q & A: Dorman coach Thomas Ryan recaps Noah Clowney's official visit to Indiana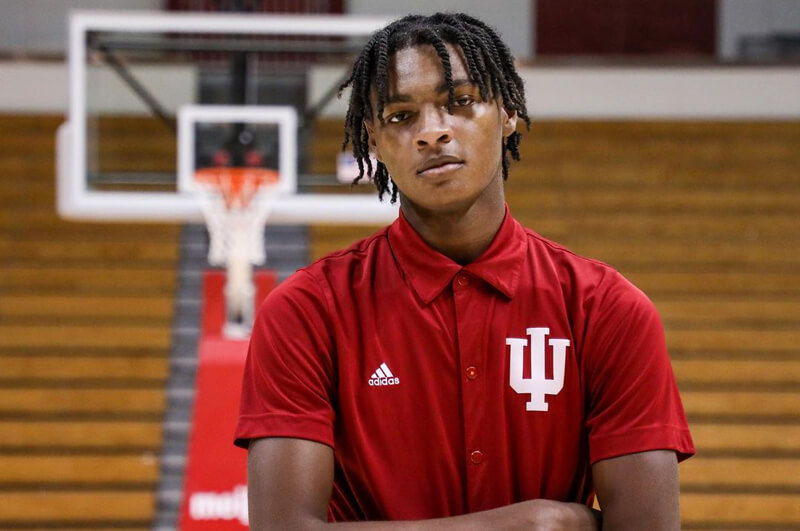 Class of 2022 forward Noah Clowney took his official visit to Indiana this past weekend after receiving a scholarship offer back in April. The 6-foot-10 Clowney is gearing up to start his senior season at Dorman High School in Roebuck, South Carolina.
Clowney has narrowed his top four schools down to Indiana, Virginia Tech, Florida and Alabama. His visit to Indiana marked the first of his four official visits he'll take over the course of the next month.
Inside the Hall spoke with Dorman head coach Thomas Ryan following Clowney's visit about his overall impressions of the team, Bloomington and head coach Mike Woodson.
Have you spoken to Noah about his visit and what did he have to say about how it went for him?
"We met first thing Monday morning, he got back Sunday. He used words that it was phenomenal, had a great visit, enjoyed everything about it. He was blown away by just the fans, the rabid fans, and people he met. And then coach (Mike) Woodson and the staff did a fantastic job of showing him the campus and how they plan to play basketball and how they think they can use Noah and his skill set fits perfectly with what they're trying to do and him bringing the NBA game to Indiana."
What were his overall impressions of Bloomington and the people?
"He thought the campus was awesome, he really talked a lot about enjoying spending time with the players and how close they were. He talked about the facilities and just the history of Indiana Basketball, I think stood out to him. In his mind, the visit couldn't have gone any better."
Is the history of Indiana Basketball something you two talked about before?
"No, I don't think we talked about it before. I thought he's got to go out there and see it for himself. I mean, obviously, we are in ACC/SEC country and for him to go there and see what Indiana basketball is about and see that the students love their team, I think really resonated with Noah. I think he knows that if he decides to go to Indiana, he's going to a place where basketball is very, very important."
You mentioned bringing the NBA game, how big of a factor is having Mike Woodson at the helm of this program for Noah?
"Well, I think that's probably why Indiana's in the mix. I think that really resonates with Noah as a top-50 player in the country. Your ultimate goal is to play professionally one day and I think he knows coach Woodson has been around players like him and he can learn a lot and figure out exactly what he needs to do so that he can be afforded that opportunity."
Was he able to meet any of the current players on Indiana's team this weekend?
"Yeah, he spent a lot of time with the team, especially Saturday night. He felt like, you could tell the teammates really did mesh, enjoyed being around each other and I think that's something that Noah's looking for."
What do you know about his relationship with the other schools he's received offers from?
"He's going to Florida this weekend, Virginia Tech the following weekend and then take a week off and his fourth and final visit is to Alabama. I think the thing that people don't realize is recruiting has changed a little bit with a pandemic. In the past, you would have visited some of these schools unofficially. I mean just the bottom line is this is the first time Noah's seen any of his four finalists. I think he's trying to compare and contrast and trying to figure out what school fits his skill set, where he was comfortable with the players and coaches. So, I think you can only get that by going on these visits, so I'd be surprised if he didn't take all four visits. At the same time, I don't think Indiana could have done any better than what they've done. I think Noah was blown away."
How are you helping him through this recruiting process?
"Well you know it's Noah's decision, totally. The thing I am probably trying to do for Noah is sit down and say, 'Hey, what are the things that are most important to you? What are the questions?' Just make sure we've got down questions so that he has a firm idea of what things are most important, but so he also doesn't overlook something that is important to him because, at the end of the day, nobody except Noah Clowney is the one that's going to be spending these next three or four years, he's the one who's got to look at that and say, 'I feel comfortable here.' So, I'm just trying to encourage him, support him and make sure that he has the questions to ask that are important to him so that he can make the decision for himself that he's happy with."
Do you know what his time frame is with making a decision?
"I don't know if that's something we've pinned down. I'd be surprised if it's not something that he takes the four visits and sits down with his family that following weekend, and then he's ready to make a decision. You know, first of October, obviously has plans to sign during the early signing period in November. He also knows that these schools have other kids that they're looking at, you know, he's not worried about that, he's not competing against anybody else, he's trying to make the best decision for Noah Clowney. And him and his family will sit down and filter through that I think after that last visit."
How would you describe his development over the past few years and what are you expecting from him this season?
"He's developed over the last 12 months, especially the last six or eight months, he played with his back to the basket for us most of the year, right around the block area, out of necessity. Now we've been able to really expand his game. Noah can shoot the ball well at 6-foot-10, so all of the sudden he's really an inside-outside threat. He still needs to work on some of his perimeter skills and being more consistent from the perimeter, but he's no doubt got great touch. He's a great athlete, works the floor well. He's just got a huge, huge upside."
Then off the floor, how would you describe him as a person?
"Noah is a really smart kid. He's very intellectual, he wants to understand the game, he wants to learn exactly what needs to happen for a team to be successful. I think that Noah cares, he is a great teammate, his teammates love him. He's competitive and he wants to win, so I think he's got a lot of those attributes that you want in a winner. He's played in two-straight state championships. And this year, our expectations are high being ranked No. 1 in the state again, so I think Noah understands what it's like to be part of a winning program."
What do you think was the biggest thing that stood out to him about Indiana?
"I think just coach Woodson sitting down and watching film with him and showing him how he sees Noah progressing and getting better and areas where he can put him in situations for Noah's skillset to be shown. Then also, I think he was really just impressed with the camaraderie of the team and how the guys got along and hung out together. Then lastly, I just think the rabid fan base. I think all in all when you put those three things together, Noah left Indiana surely impressed and has them right there in the running."
Filed to: Noah Clowney