Indiana picked to finish 7th in Big Ten by Athlon Sports, Trayce Jackson-Davis named first team preseason All-American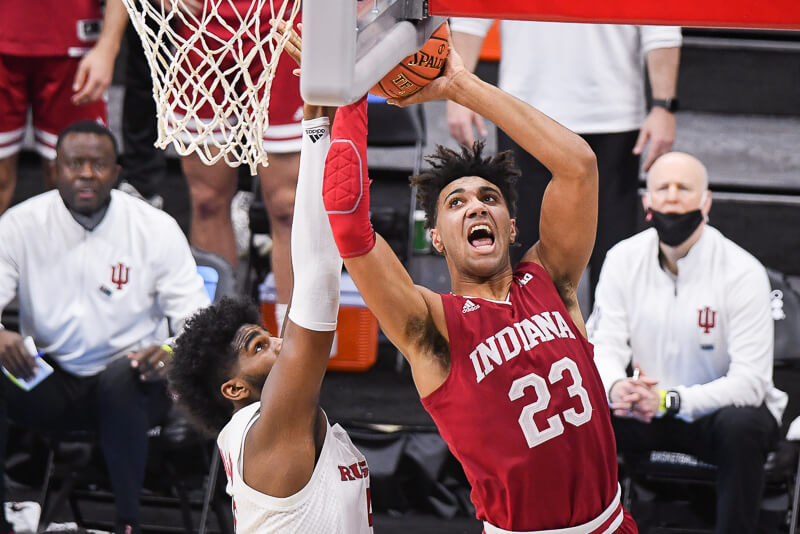 The Athlon Sports 2021-2022 preview magazine – an annual publication previewing the upcoming college basketball season – hit newsstands this week after a one-year hiatus.
Here are some notes on Indiana and the Big Ten at large from the annual publication. (You can purchase the regional cover featuring Trayce Jackson-Davis here.)
· Six Big Ten teams are ranked in Athlon's preseason top 25, which is topped by preseason No. 1 Gonzaga. The Big Ten teams ranked are: Michigan (No. 5), Purdue (No. 11), Ohio State (No. 14), Illinois (No. 15), Maryland (No. 19), and Michigan State (No. 24).
· Seven Big Ten teams are projected to make the 2022 NCAA tournament: Michigan, Purdue, Ohio State, Illinois, Maryland, Michigan State, and Indiana.
· Indiana's Trayce Jackson-Davis and Kofi Cockburn of Illinois are both preseason first team All-Americans by Athlon. Jaden Ivey (Purdue) is a second team All-American selection and Trevion Williams (Purdue) is third team. Ohio State's E.J. Liddell is a second team All-American pick.
· Athlon ranked the top 100 players in college basketball and included the following Big Ten players: Cockburn (No. 4), Jackson-Davis (No. 5), Liddell (No. 9), Ivey (No. 10), Williams (No. 12), Hunter Dickinson (No. 17), DeVante' Jones (No. 25), Keegan Murray (No. 36), Eric Ayala (No. 42), Caleb Houstan (No. 54), Ron Harper Jr. (No. 63), Donta Scott (No. 66), Zach Edey (No. 70), Tyson Walker (No. 74), Qudus Wahab (No. 96) and Xavier Johnson (No. 98).
· Chris Collins of Northwestern is the only Big Ten coach listed as being on the hot seat.
· Athlon predicts the order of finish in the Big Ten as follows: Michigan, Purdue, Ohio State, Illinois, Maryland, Michigan State, Indiana, Wisconsin, Rutgers, Iowa, Northwestern, Nebraska, Penn State and Minnesota.
· The Athlon preseason All-Big Ten teams: First team: Cockburn, Ivey, Jackson-Davis, Liddell, Williams; Second team: Ayala, Dickinson, Houstan, Jones, Murray; Third team: Edey, Harper Jr., Scott, Wahab, Walker.
· Liddell is Athlon's pick for Big Ten player of the year.
Filed to: 2021-2022 Big Ten preview, Athlon Sports, Trayce Jackson-Davis, Xavier Johnson