6-Banner Sunday: Indiana tips off Bahamas trip with a win over BC Mega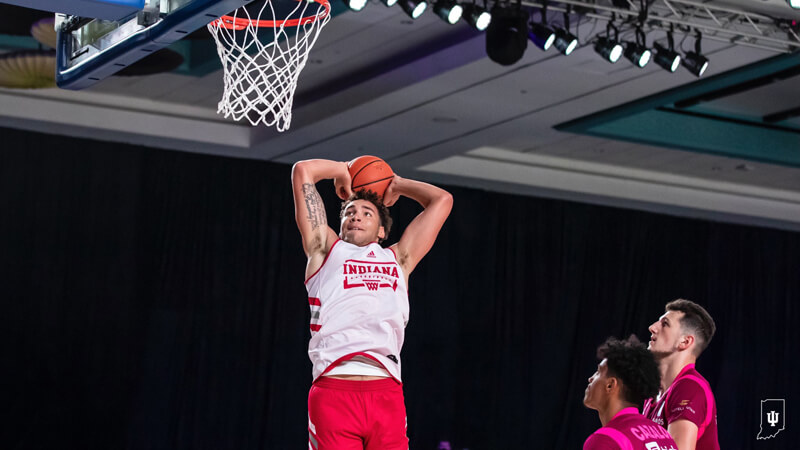 6-Banner Sunday is Inside the Hall's weekly newsletter in partnership with The Assembly Call. More than 8,000 Indiana fans receive the newsletter each week. In addition to appearing each week on the site, you can also opt to receive 6-Banner Sunday by email. A form to subscribe via email is available at the bottom of this week's 6-Banner Sunday.
Welcome to another edition of 6-Banner Sunday, a joint production between The Assembly Call and Inside the Hall where we highlight the five most essential IU basketball stories of the past week, plus take a look at how the other IU sports programs are doing.
The Bahamas trip is underway and it was a strong start for the Hoosiers. Most of today's 6-Banner will focus on Friday's victorious result against BC Mega. However, there was news of another non-conference game and of course, we will conclude with the Hoosier Roundup as we always do.
• Indiana defeats BC Mega 79-66 in the first exhibition game
• Coach Woodson's reaction to the win over BC Mega
• Indiana player's share their thoughts on the win
• Three players sat out the first game resting undisclosed injuries
• Indiana adds Jackson State to its 2021-22 non-conference schedule
• Hoosier Roundup
Banner #1 – Indiana defeats BC Mega 79-66 in the first exhibition game
Friday night in the Bahamas, we unofficially kicked off the Mike Woodson era at Indiana.
I say "unofficially" because it was an exhibition game in August against a professional team from Serbia, so the game didn't count for anything in the official record books. But it sure meant a lot to the Indiana Basketball program and its fans.
Several hundred Indiana fans made their way down to the Bahamas to get a glimpse of the new look Hoosiers, and they were not disappointed.
Indiana dispatched BC Mega 79-66 in the first game of two the Hoosiers will play on the island. Indiana took control from the tip and seemed to control the game throughout. The second game is set for Sunday afternoon at 1:00 pm EST.
And by the way, if you missed last night's edition of The Assembly Call, make sure you get caught up. The show wasn't even scheduled until late in the second half, but it ended up being one of the most memorable episodes of all time, with guest appearances by several coaches and a handful of players courtesy of Chad Schwartzkopf who made the trip down to paradise.
Banner #2 – Coach Woodson's reaction to the win over BC Mega
In another cool first this week, we got to see our first Mike Woodson post-game press conference as the head coach at Indiana. Coach Woodson seemed pleased with his team's performance.
It's also worth noting how comfortable Coach Woodson seems in this new role. His years of experience coaching in the NBA has clearly more than prepared him for this challenge.
He seems to have brought poise and a sense of calm to the program which has been through tumultuous times in recent years.
Banner #3 Indiana players share their thoughts on the win
There are so many videos and posts floating around on social media of Indiana's players reacting to their 79-66 win over BC Mega. Here is a link to Trayce Jackson-Davis and Miller Kopp's comments to the media.
One theme seemed to run through all of the player's comments. It was a one-word description of playing again and playing in Coach Woodson's system.
The word? Fun.
The Indiana players are once again having fun playing basketball. After all the tension you could sense surrounding the team last year, that is great to hear.
Banner #4 – Three players sat out the first game resting undisclosed injuries
In case you missed it, Indiana was shorthanded on Friday.
Newcomers, Micael Durr and Logan Duncomb both missed the game, as did sophomore guard Anthony Leal.
No information has been provided as to the nature of the injuries. The news of Durr and Duncomb had come out a couple of days earlier, but Leal being held out was not known until shortly before game time.
Banner #5 – Indiana adds Jackson State to its 2021-22 non-conference schedule
Indiana will host Jackson State, of the Southwestern Athletic Conference, in Simon Skjodt Assembly Hall this season.
According to Inside the Hall's Alex Bozich, "The game will be a part of Indiana's exempt multi-team event next season that will also include games against Marshall and Louisiana Lafayette, per (Jeff) Goodman. Jackson State finished last season 12-6 and No. 265 in the KenPom ratings.
The Tigers are ranked No. 186 nationally in Bart Torvik's ratings for next season."
Banner #6 – Hoosier Roundup
• Women's Tennis added an assistant coach.
• Volleyball announced their TV schedule.
• Football will open the season ranked no. 17 in the USA Today poll. The team also added a transfer, but lost RB Sampson James to archrival Purdue via transfer.
• IU's Pfau Golf Course received recognition again.
• Wrestling will have an athlete competing at the Junior World Championships.
• Baseball made their new assistant coaching hires official.
Thanks for your continued support for The Assembly Call. We'll be back next weekend with a new roundup.
Now go enjoy yourself a 6-banner Sunday.
Filed to: