What we're watching for during Indiana's exhibitions in the Bahamas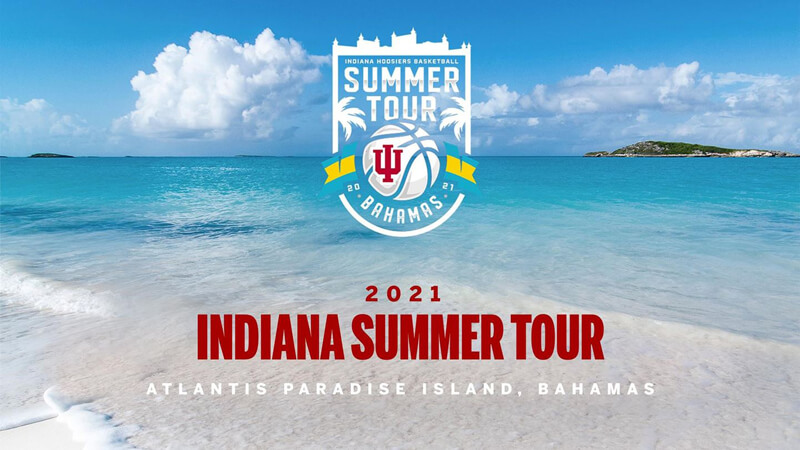 I figured there would be beaches at the 2020 Maui Invitational. Probably warm weather. Blue skies too.
So I went.
But when I arrived, there were no beaches. It was 30 degrees in the morning. It was nearly always overcast. The closest thing to white sand was a light dusting of snow.
Maybe that's because the 2020 Maui Invitational was in Asheville, North Carolina.
Now, I'm going to the Bahamas. I figure that there will actually be beaches. Probably warm weather. Blue skies too.
But mostly, I'm going to watch Indiana basketball. It's been more than four months since the Hoosiers played in their last competitive game. A lot has happened since then: Archie Miller was fired, Mike Woodson was hired, four scholarship players are gone, five scholarship players have arrived.
As I get my first look at Indiana's 2021-22 team play against BC Mega, here's a few things that I'll be watching for:
Lineup Combos
There is so much unknown when it comes to Indiana's rotation. Realistically, there are nine guys that could be in the starting lineup, with Trayce Jackson-Davis as the only lock. On Friday, Mike Woodson said that he's been tinkering with different combinations, which I'd expect to see in the Bahamas.
But it remains that there are many obvious questions when it comes to who can play where.
Can Woodson put two of his three point guards (Xavier Johnson, Khristian Lander and Rob Phinisee) on the floor at the same time? Is Miller Kopp a reliable enough rebounder to play at the four? Can Trayce Jackson-Davis and Michael Durr play together while avoiding a clogged lane?
The four-out one-in offense
We've heard so much about the four-out one-in offense since Mike Woodson was introduced as Indiana's head coach in March. Jackson-Davis gave some insight into what it might look like on Friday, which ultimately boiled down to this: lots of cuts, dribble handoffs and interchangeable positions.
Given Archie Miller's often lethargic offense, there's reason to be excited about a more modern, uptempo offense that won't cause you to constantly pull out your hair.
Somewhat lost in the offseason additions are Race Thompson and Trey Galloway, both of whom I'm intrigued to see how exactly they fit into Woodson's scheme. Thompson is traditionally big and Galloway is a slasher, but neither is a real threat to shoot from deep. They aren't a perfect fit at first glance, but that doesn't mean it can't work.
Shooting and playmaking
Among other things, there are two necessary elements for the four-out one-in offense to work: shooting and playmaking. Ironically, Indiana hasn't been good in either one of those areas the last few seasons, which is definitely a point of concern.
In essence, for the offense to work, Indiana needs to turn glaring weaknesses into flourishing strengths.
Armaan Franklin, Indiana's best shooter from a statistical perspective last season, is gone. So is Al Durham, who made the most 3-pointers on the team last season. Jerome Hunter, who was tied for third in made 3-pointers, is no longer with the program either.
That means Parker Stewart and Miller Kopp will need to be reliable shooters. Tamar Bates will need to make a relatively quick transition. Rob Phinisee and Anthony Leal both need to make strides.
There's also playmaking and creating for others, something Indiana has lacked recently. Phinisee led the team in assists last season with 2.9 per game. No single Indiana player has averaged more than 3.5 assists per game since Yogi Ferrell.
This necessary change will largely fall on the shoulders of Xavier Johnson, a transfer from Pittsburgh, who's a dynamic creator. It's also predicated on the growth and development of Khristian Lander.
If Indiana can do those things, it will open up a whole other world for Jackson-Davis inside. If not, Indiana might be in for a long season.
Defense
It's important to understand this up-front: BC Mega is good. Nikola Jovic , a 6-foot-10 guard, is a projected lottery pick in the 2022 NBA draft. Former Dayton guard Scoochie Smith is also on the team.
BC Mega should present a significant test for Indiana, especially on the defensive end.
Indiana's defense was wildly inconsistent last season. They put up one of the most cohesive efforts on the road against Iowa, only to get diced by Geo Baker and Rutgers. It was the same in Indiana's home contest against Michigan State, where the defense completely broke down.
Woodson said that most of the emphasis this summer was on the defensive end. Much of their success is reliant on simply staying in front of the ball, something that Indiana largely struggled with last season. When Indiana got gashed off the dribble, it opened up wide-open shots on the perimeter like at home against Michigan State. Woodson also said he's been reviewing how to recover, should the defense break down.
Filed to: 2021 Bahamas Trip