Recruiting notebook: New 2023 offer, upcoming visits and more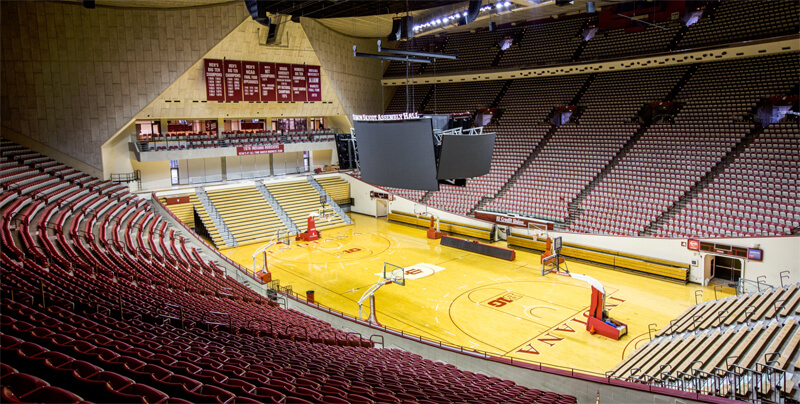 It was a busy weekend on the recruiting trail for the Indiana coaching staff, which was able to go out on the road for the first time since taking over in March.
There were staff sightings at NCAA certified scholastic events across the country, a new scholarship offer extended in the class of 2023 and much more. Here's a recap of a busy weekend on the trail:
Indiana offers scholarship to 2023 guard Myles Colvin
Indiana extended a scholarship offer to class of 2023 Heritage Christian guard Myles Colvin on Saturday afternoon.
Blessed to receive another offer from @IndianaMBB , @MikeWoodsonNBA and @CoachDaneFife Thank you!! pic.twitter.com/uWyuWlim3w

— Myles J. Colvin (@mylesjcolvin) June 19, 2021
Colvin, the son of former Purdue and NFL linebacker Roosevelt Colvin, is a 6-foot-5 wing.
According to his Twitter account, Colvin also has recent offers from Purdue and Tulane.
The Indiana staff watched Colvin on Saturday at the IBCA top 100 camp in Indianapolis.
Clowney eyeing August visit to Bloomington
Class of 2022 Dorman (S.C.) forward Noah Clowney hopes to visit Indiana in August according to a report from Lou Bezjak of TheState.com.
The Indiana coaching staff watched Clowney on Friday at a team camp event in South Carolina.
Clowney picked up an offer from Florida on Friday as recruiting continues to catch steam. He has taken an unofficial to Georgia, hopes to visit Indiana in August and Tennessee this summer and possibly visit with South Carolina and Clemson at some point. Indiana head coach Mike Woodson was there on Friday.
Back in April, Inside the Hall's Tyler Tachman spoke with Dorman coach Thomas Ryan about the rising senior:
"I see a kid that wants to get better, wants to take the coaching. He's put time in the weight room, he's continuing to change his body, he's continuing to work on his game. And you see that passion. You look for kids that have that desire to get in the gym and get better in areas that they don't do very well. Those areas of the game that Noah knows he needs to improve on, he's improving steadily."
Louisville Male forward Kaleb Glenn visiting Bloomington this week
Louisville Male forward Kaleb Glenn, who added a scholarship offer from Indiana last week, is planning to visit Bloomington this Thursday.
Glenn's father, Vic, confirmed the family's plan to take an unofficial visit to Bloomington in a text message to Inside the Hall.
As a freshman at Male, Glenn averaged 13.4 points and 10.1 rebounds as Male finished 32-4.
Last season, which was shortened due to the COVID-19 pandemic, saw Glenn average 20.5 points and 12.6 rebounds as Male finished 8-3.
Class of 2022 guard Seth Trimble set to announce decision this week
Class of 2022 Menomee Falls (Wisc.) Seth Trimble, who holds an offer from Indiana, is expected to announce his college decision on Wednesday, June 23.
The 6-foot-2 point guard recently visited Michigan and North Carolina. He's the brother of former UNC wing JP Tokoto.
Trimble, who has not visited Indiana, is the No. 54 player in the country according to the 247Composite.
His offer list also includes Arizona State, California, Creighton, Illinois, Iowa, Iowa State, Nebraska, TCU, USC, Wisconsin and Wisconsin-Milwaukee.
Filed to: Kaleb Glenn, Myles Colvin, Noah Clowney, Seth Trimble