Indiana scholarship offer part of "exciting" day for 2023 wing Kaleb Glenn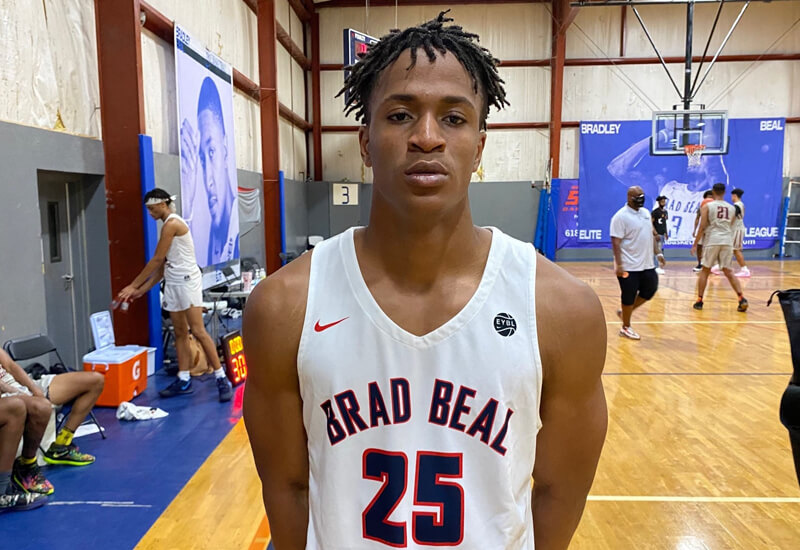 Tuesday was a busy day for class of 2023 Louisville Male (Ky.) forward Kaleb Glenn.
The four-star wing added scholarship offers from five schools and was contacted by more than 20 schools on the first day college coaches could reach out to rising juniors.
Glenn's father, Vic, told Inside the Hall on Wednesday that the contact began at midnight and didn't slow down as the day wore on.
"It was pretty exciting. It started promptly at 12 a.m. That was surprising because I also played sports and got recruited, so it's kind of different to see how it works now," Vic Glenn said. "We talked to coaches for about an hour after midnight, went to sleep and started the day all over again talking with coaches. I was excited for him to see him happy and smiling talking to these coaches."
Indiana was one of the five schools to offer Glenn a scholarship on Tuesday along with Arizona State, Louisville, South Carolina and Wake Forest.
"They have been pretty active. We've talked with them multiple times," Vic Glenn explained. "They've been wanting to get him on campus and see how he likes it. They've been feeling us out and we've been feeling them out."
The next step in the process in getting to know more about the Indiana program could come with a campus visit.
That could happen as early as next week.
"We are trying to plan a visit to Indiana next week, I believe," Glenn said. "We haven't confirmed yet, but we're shooting for next week."
In addition to the five offers he picked up on Tuesday, Kaleb Glenn previously held scholarship offers from Cincinnati, Iowa State, West Virginia and Western Kentucky.
As a freshman at Male, Glenn averaged 13.4 points and 10.1 rebounds as Male finished 32-4.
Last season, which was shortened due to the COVID-19 pandemic, saw Glenn average 20.5 points and 12.6 rebounds as Male finished 8-3. The Bulldogs, traditionally one of the top programs in the state of Kentucky, had several games canceled due to COVID-19 after the start of its season was delayed until February 2.
Male lost to Louisville Manual 68-62 in overtime in the 7th region tournament on March 24.
"I think he got a lot out of it," Vic Glenn said. "It let him know that basketball can be stopped at any time, for whatever reason. You have to go out and enjoy each moment that you're able to play. Everything is bigger than basketball. But with the 11 games, he was on an awesome track to put up some good numbers and they had to sit out for two weeks and come back and it kind of went downhill from there."
Glenn is rated the No. 66 player nationally in the latest Rivals.com rankings for the 2023 class and No. 44 according to 247Sports.
This summer, he'll compete with Brad Beal Elite in the Nike Elite Youth Basketball League (EYBL) finals at the Peach Jam in North Augusta, South Carolina.
Filed to: Kaleb Glenn