Q & A: Insight on 2022 forward Noah Clowney's skillset, offer from Indiana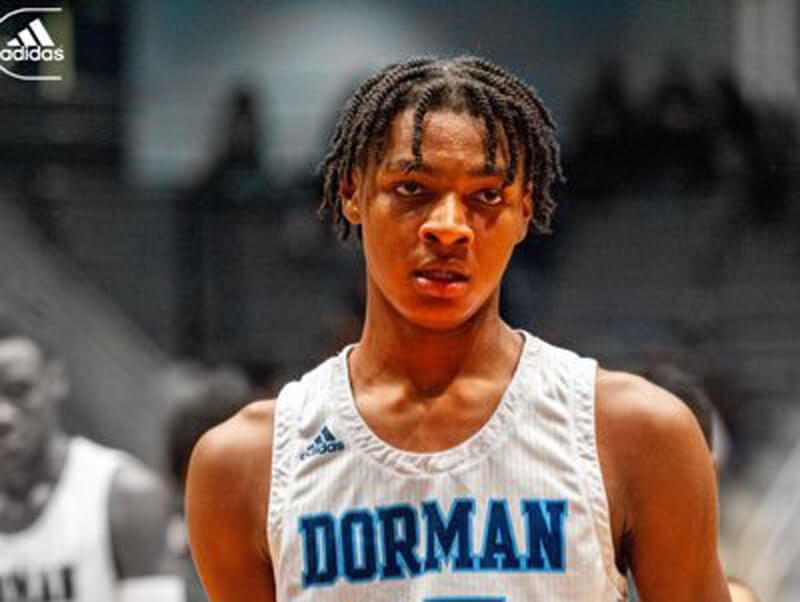 Class of 2022 power forward Noah Clowney was among the recent prep players to hear from Mike Woodson and the IU staff. Clowney announced that he received an offer from Indiana last week.
Clowney, who stands 6-feet and 10-inches tall and weighs 205 pounds, attends Dorman High School in Roebuck, South Carolina, where he played his sophomore and junior seasons. As a sophomore, Clowney was a part of Dorman's state championship team.
Last season Clowney helped lead Dorman to a state championship appearance. He was an all-conference performer, averaging 10.2 points, 8.1 rebounds and 2.5 blocks per game.
According to 247Sports, Clowney is a 3-star power forward and the No. 4 player in South Carolina in the class of 2022. Over the last couple weeks, Clowney has received offers from Indiana, Clemson, Providence and Georgia Tech. Previously, Virginia Tech and Xavier offered him.
Inside the Hall recently spoke with Dorman coach Thomas Ryan about Clowney's skillset, the recruiting process and the recent offer from Indiana. Ryan said that Clowney spoke with Woodson before the offer.
What was your first impression of him on and off of the court?
"Noah is a great kid. My first impression was that he was a 6'9″, 6'10" kid that maybe had a lot to learn but also had a lot of upside. You could see the potential from the get-go. The first time that I saw Noah as a skinny sophomore walking the halls at 6'10", I realized that he had no clue how to play basketball, but man he had a lot of potential."
How have you seen his game grow over the last couple of years?
"I see a kid that wants to get better, wants to take the coaching. He's put time in the weight room, he's continuing to change his body, he's continuing to work on his game. And you see that passion. You look for kids that have that desire to get in the gym and get better in areas that they don't do very well. Those areas of the game that Noah knows he needs to improve on, he's improving steadily."
What allowed him to progress?
"His sophomore year, he didn't start for us. He backed up PJ Hall, who signed with Clemson. He saw his work ethic and how hard he was working. So I think playing behind PJ last year, the year that we won the state championship, really opened Noah's eyes to what it means to work hard, put in the extra work and also be part of a state championship type team, the winning culture. I think that's carried over into Noah's junior year, getting back to the state title game and now he knows how hard he has to work going into his senior year."
Overall, how would you describe his game on the offense and defense end right now?
"On the defensive end, he rebounds in his area and is a pretty good shot-blocker, but we still have to put some weight on him and get in the weight room and get bigger and stronger. On the offensive end, he played with his back to the basket all year but was still an all-conference player. Noah was a big part in us making the state championship for the fifth year in a row. I think the big thing offensively for Noah is being comfortable with footwork and paying attention to details, to face up and see the rim and what's going on around him. I think it's just Noah getting more comfortable with the other nine guys on the floor. Not predetermining the game, but letting it come to him."
What are some of the aspects that he's trying to improve right now?
"The biggest thing that we're working on right now is developing his perimeter skills, even though he's 6'10" and will be a presence around the rim.  He's got a nice touch, a good shot, but we're really focusing on him being able to face up, put the basketball on the floor. Last year he was still a back-to-the-basket guy for us. We're still going to do that, but we're also trying to expand his game where he faces up and really puts a lot of pressure on the defense on the perimeter as well as in the post."
Have you spoken to Noah since he received an offer from Indiana?
"He just talked about how excited he was to get an Indiana offer and he knows the magnitude of Indiana basketball."
How do you see Noah fitting into Mike Woodson's system?
"I still see him developing into a face to the basket presence with some back-to-the-basket post-ups… But I think that any system that will allow him to face up and see the floor, Noah has a real chance to be pretty good."
Does Noah have any visits planned once the recruiting dead period is over?
"This is just getting going in the last two weeks. Right now, we're focused on getting these last six weeks of school work in order. Then we'll sit down and get a game plan moving forward."
Filed to: Noah Clowney