Bracketology: NCAA tournament projection as of March 14, 2021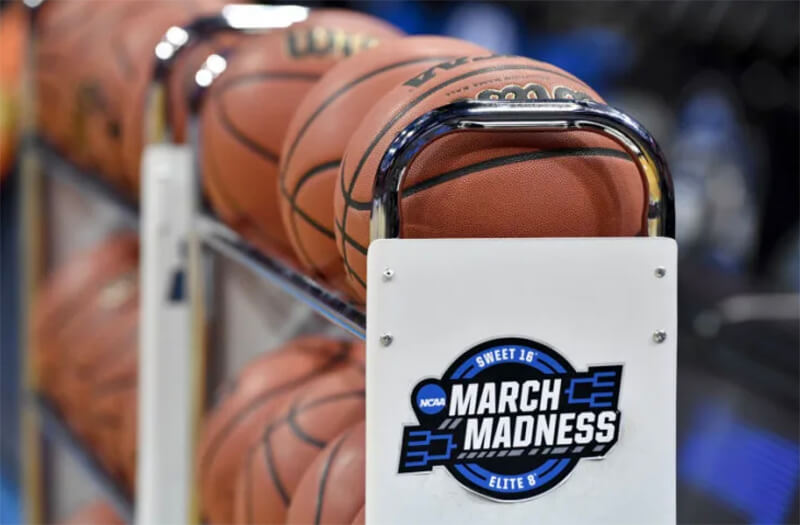 While results early in the week were favorable for bubble teams, that all changed on Saturday night, as Georgetown and Oregon State both stole bids by virtue of winning their respective conference tournaments. One more potential bid thief remains in the AAC with Cincinnati trying to do the improbable and knock off Houston on Sunday. Needless to say, things are getting tight along the cutline.
At this point, there are five spots for some combination of Louisville, Syracuse, UCLA, Colorado State, Utah State, Drake, Wichita State, and Saint Louis. As is often the case with bubble teams, it tends to be easier to make arguments against each team as opposed to for them. These teams will account for a good chunk of the time I'll spend reviewing on Sunday, although there are a few other sections of the seed list that remain tough to sort out.
Before looking at the one seeds, here's a quick reminder about how the NCAA selection committee classifies wins based on the NET rating.
A breakdown of the four tiers:
· Quad 1: Home vs. teams ranked 1-30 / Neutral vs. teams ranked 1-50 / Road vs. teams ranked 1-75
· Quad 2: Home vs. teams ranked 31-75 / Neutral vs. teams ranked 51-100 / Road vs. teams ranked 76-135
· Quad 3: Home vs. teams ranked 76-160 / Neutral vs. teams ranked 101-200 / Road vs. teams ranked 136-240
· Quad 4: Home vs. teams ranked 161-351 / Neutral vs. teams ranked 201-351 / Road vs. teams ranked 241-351
One seeds
The one seeds remain unchanged with Gonzaga, Baylor, Michigan, and Illinois staying put on the top line, but the order changed slightly on Saturday. Illinois has jumped Michigan thanks to their win over Iowa and the Wolverines' loss to Ohio State. I'll take another look on Sunday, but these four seem locked in even if Alabama wins the SEC tournament.
The Bracket
The projections below are based on all games played through March 13, 2021. Following the bracket, I included a few thoughts on the last four in and first five out.
| | | |
| --- | --- | --- |
| REGION 1 | | REGION 2 |
| Indianapolis | | Indianapolis |
| 1) Gonzaga | | 1) Baylor |
| 16) Norfolk St. / Texas So. | | 16) Hartford |
| 8) North Carolina | | 8) Wisconsin |
| 9) Rutgers | | 9) Connecticut |
| | | |
| Indianapolis | | Indianapolis |
| 5) Villanova | | 5) Tennessee |
| 12) UC Santa Barbara | | 12) Oregon St. |
| 4) Virginia | | 4) Purdue |
| 13) North Texas | | 13) UNC Greensboro |
| | | |
| Indianapolis | | Indianapolis |
| 6) LSU | | 6) USC |
| 11) UCLA / Utah St. | | 11) Michigan St. |
| 3) Texas | | 3) Arkansas |
| 14) Eastern Washington | | 14) Morehead St. |
| | | |
| Indianapolis | | Indianapolis |
| 7) Oklahoma | | 7) Clemson |
| 10) Virginia Tech | | 10) VCU |
| 2) Ohio St. | | 2) Iowa |
| 15) Grand Canyon | | 15) Drexel |
| | | |
| REGION 4 | | REGION 3 |
| Indianapolis | | Indianapolis |
| 1) Michigan | | 1) Illinois |
| 16) App. St. / Mount St. Mary's | | 16) Iona |
| 8) San Diego St. | | 8) Florida |
| 9) Georgia Tech | | 9) Loyola Chicago |
| | | |
| Indianapolis | | Indianapolis |
| 5) Creighton | | 5) Texas Tech |
| 12) Winthrop | | 12) Georgetown |
| 4) West Virginia | | 4) Florida St. |
| 13) Ohio | | 13) Liberty |
| | | |
| Indianapolis | | Indianapolis |
| 6) Colorado | | 6) Missouri |
| 11) Drake / Syracuse | | 11) Louisville |
| 3) Kansas | | 3) Oklahoma St. |
| 14) Colgate | | 14) Abilene Christian |
| | | |
| Indianapolis | | Indianapolis |
| 7) BYU | | 7) Oregon |
| 10) St. Bonaventure | | 10) Maryland |
| 2) Alabama | | 2) Houston |
| 15) Oral Roberts | | 15) Cleveland St. |
Last Four In:
Michigan State is the last team on the seed list I feel is truly safe, which means that Louisville narrowly avoided the First Four for now. As mentioned above, I'll be reviewing these profiles again on Sunday, although if Cincinnati wins the AAC, one of them will get bumped.
UCLA – Bid thieves have pushed the Bruins into the First Four. They have a home win over Colorado and a sweep of Arizona, who would at least be in the at-large picture if they weren't serving a post-season ban. Outside of those victories though, there just isn't much there with a 5-8 mark against the top two quadrants. The Oregon State loss moved into quad 2 thanks to their run in the Pac-12 tournament. It's worth noting that two of UCLA's three worst defeats came in overtime, but the fact remains that they haven't shown an ability to consistently beat good teams. Their metrics tend to be decent, and while I still think they will make the field, there isn't a lot of breathing room at this point.
Syracuse – It wouldn't be March if the Orange weren't on the bubble, and they gave Virginia all it could handle in the ACC quarterfinals, losing on a last-second shot. To the extent that the eye test comes into play, Syracuse passed it. If you look beyond that though, the Orange have just one quad 1 win (at NC State), while home victories over Clemson, UNC, and Virginia Tech all sit in quad 2 along with two more wins over NC State. Syracuse's only losses outside of the quad 1 both came to Pitt, and they finished the season just 2-7 in road games.
Drake – Playing without two of its best players, Drake fell in the finals of the Missouri Valley conference tournament last weekend. The Bulldogs only had to win one game to get there thanks to COVID issues for Northern Iowa, but Drake's lone tournament win over Missouri State did provide a fifth quad 2 victory. A one-point overtime win over Loyola Chicago accounts for the Bulldogs' lone victory over a team in the top 90 of the NET despite having those five quad 2 wins. A pair of quad 3 losses doesn't help matters, but losses by so many of their fellow bubble teams have likely helped their case. Given the injury situation, the first four seems a likely (and logical) destination.
Utah St. – The Aggies came up short against San Diego State in the MWC final, which leaves them clinging to an at-large bid. Friday's victory over Colorado State propelled Utah State into the top 40 of the NET, and the Aggies now sit at 4-6 in the top two quadrants, which includes two wins apiece against Colorado State and San Diego State. They do have a pair of quad 3 losses, so they aren't completely safe yet.
First Five Out:
Wichita State – Had the Shockers taken care of Cincinnati and advanced to the AAC final against Houston, I'd like their at-large hopes a lot more. The loss to UC falls firmly in quad 3 and pushed Wichita State's NET into the low 70s. A home win over Houston and a road win over Ole Miss are the Shockers' only victories against the top 100 of the NET, which is partially a function of having some league games canceled. That being said, it feels like the general lack of quality wins might be too much to overcome.
Saint Louis – Thanks to a lengthy COVID pause, the Billikens played just 10 conference games, finishing at 6-4 in the Atlantic-10. Home victories over St. Bonaventure and LSU are among SLU's four wins against the top two quadrants, but the Billikens were swept by Dayton (one of which falls in quad 3) and suffered another quad 3 loss at La Salle. They took care of UMass in their first A-10 tournament game but lost by 18 to St. Bonaventure in the semis. Ultimately the argument here is based on both quad 3 losses coming right after that one-month COVID pause, so their inclusion is banking on the committee taking that into account and slotting them in the first four with a chance to prove they belong.
Colorado State – Following their semifinal loss to Utah State, the Rams are right on the cutline. They posted a 3-4 mark versus the other tournament-caliber squads in the Mountain West, and those three wins all fall in the top two quadrants. CSU has no losses outside of the top two quadrants, but a whopping 10 of the Rams' 17 D-I victories fall in quad 4. To be fair, only one of those came against a non-conference foe. A closer look at their four quad 1 losses shows that CSU lost them all by at least 12 points.
Ole Miss – The Rebels missed out on a huge opportunity on Friday, falling to LSU in the SEC quarterfinals. Ole Miss has three quad 1 wins and an 7-9 mark against the top two quadrants, with a home win over Tennessee and a sweep of Missouri the only wins against at-large caliber teams. The Rebels have a pair of quad 3 losses and a total of five losses to teams not in the at-large picture. For what it's worth, they lost their two toughest non-conference games, which came at Dayton and home against Wichita State. This year is undoubtedly unique in terms of how non-con performance can be judged, but all five of their non-con wins fall in quad 4, leaving them at just 11-11 against the top three quadrants.
Boise State – The Broncos lost to Nevada for a third time this season and closed the season on a four-game losing skid. The committee says they don't put additional weight on recent play, but it's also hard to totally overlook. Boise State is 4-7 against the top two quadrants with road wins at BYU and Colorado State to go with a home sweep of Utah State. A late-season loss to Fresno State falls in quad 4 though, and as expected, they were passed up based on Friday's results.
Conference Breakdown:
Big Ten (9): Illinois, Iowa, Maryland, Michigan, Michigan State, Ohio State, Purdue, Rutgers, Wisconsin
ACC (8): Clemson, Florida State, Georgia Tech*, Louisville, North Carolina, Syracuse, Virginia, Virginia Tech
Big 12 (7): Baylor, Kansas, Oklahoma, Oklahoma State, Texas*, Texas Tech, West Virginia
SEC (6): Alabama, Arkansas, Florida, LSU, Missouri, Tennessee
Pac-12 (5): Colorado, Oregon, Oregon State*, UCLA, USC
Big East (4): Connecticut, Creighton, Georgetown*, Villanova
Atlantic 10 (2): St. Bonaventure, VCU
Missouri Valley (2): Drake, Loyola Chicago*
Mountain West (2): San Diego State*, Utah State
West Coast (2): BYU, Gonzaga*
America East: Hartford*
American: Houston
Atlantic Sun: Liberty*
Big Sky: Eastern Washington*
Big South: Winthrop*
Big West: UC Santa Barbara*
Colonial: Drexel*
Conference USA: North Texas*
Horizon: Cleveland State*
MAAC: Iona*
MAC: Ohio*
MEAC: Norfolk State*
Northeast: Mount St. Mary's*
Ohio Valley: Morehead State*
Patriot: Colgate
Southern: UNC Greensboro*
Southland: Abilene Christian*
SWAC: Texas Southern*
Summit: Oral Roberts*
Sun Belt: Appalachian State*
WAC: Grand Canyon*
* Earned automatic bid
Follow Andy on Twitter (@andybottoms) for more thoughts on college hoops and to receive an update whenever new brackets are posted.
Filed to: 2020-2021 Bracketology