What To Expect: Purdue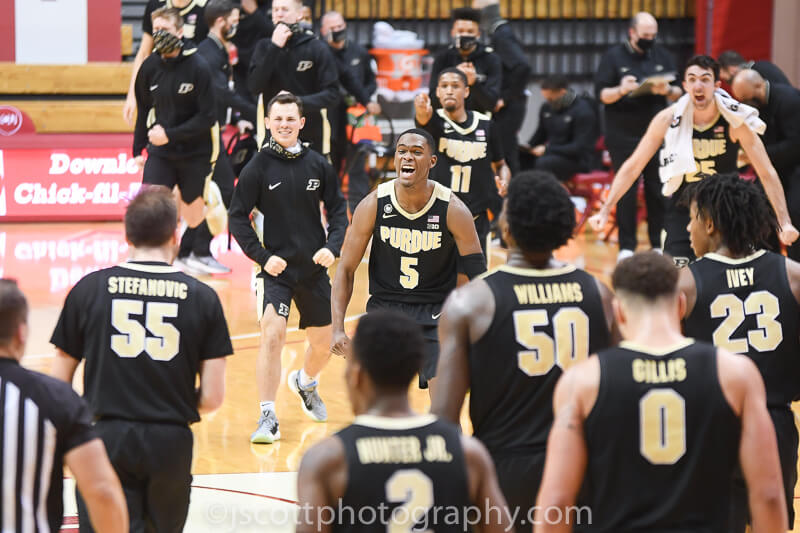 Indiana will conclude the regular season on Saturday afternoon when it takes on Purdue at Mackey Arena.
The Boilermakers are 17-8 overall, 12-6 in Big Ten play and have won four straight games. Indiana, meanwhile, has lost fourth straight games and appears to be headed toward another NCAA tournament miss.
Saturday's game will tip at 2 p.m. ET on ESPN with Jason Benetti and Robbie Hummel on the call:
Saturday's matchup between Indiana and Purdue in West Lafayette is the tale of two programs whose seasons have progressed in very different ways.
The Boilermakers were 7-5 overall and 2-3 in conference play on Jan. 2 after losing 66-58 at Illinois. Purdue responded with a four-game winning streak and has now won 10 of its last 13 games. With a mix of upperclassmen and young players who have shown steady improvement this season, Purdue appears to be peaking at the right time. The Boilermakers are a lock to make the NCAA tournament and a threat to advance.
Indiana's season likely peaked at the conclusion of the non-conference season when it beat Butler 68-60 in the Crossroads Classic in Indianapolis. Since that win, the Hoosiers are 7-11 and have cratered defensively in conference play. Archie Miller, for the first time this season, was visibly annoyed at some of the postgame questions following IU's most recent loss. Miller still hasn't beaten Purdue with an 0-6 all-time mark overall against IU's archrival.
THE FIRST MEETING
Purdue's 81-69 win on Jan. 14 in Bloomington was the eighth straight for the Boilermakers against the Hoosiers.
The game featured several of the reoccurring issues that have plagued Indiana under Miller. Indiana shot a dismal 3-of-18 from behind the 3-point line in the loss and also took (and missed) a lot of long 2s: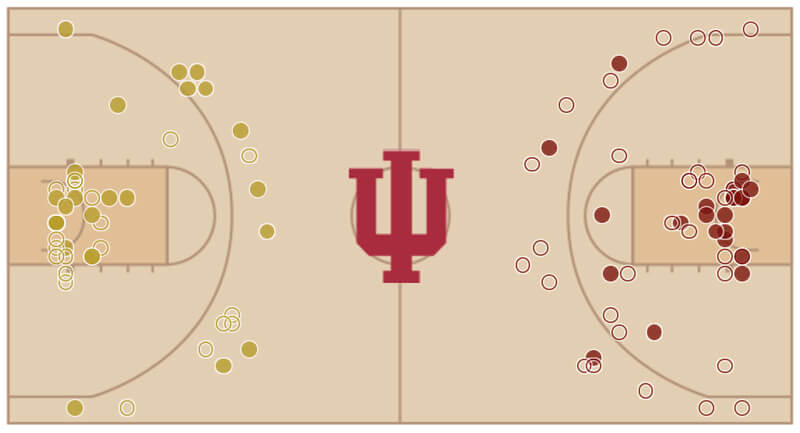 Purdue, meanwhile, spaced the floor beautifully, took almost no long 2s and torched Indiana for 1.16 points per possession. Purdue was 11-of-17 on 3s and reinforced just how vulnerable the packline defense is against teams that can space the floor and knock in 3-pointers.
Indiana also had a real issue guarding Purdue's baseline out of bounds sets, as Ryan Corazza broke down in the Film Session from the loss.
Free throws were another major issue for Indiana in the loss at Simon Skjodt Assembly Hall. Indiana's offense did its job in terms of drawing fouls and getting to the free throw line. Indiana posted a free throw rate (FTA/FGA) of 50.9 percent. The Hoosiers, however, missed 13 of their 29 free throw attempts, which was a major factor in the outcome.
Indiana's guard play also floundered in the first matchup. While Armaan Franklin returned from a three-game absence and logged 33 minutes off the bench, upperclassmen Al Durham Jr. and Rob Phinisee were thoroughly outplayed by the Purdue guards. Durham and Phinisee combined for just eight points in 51 minutes. Sasha Stefanovic and Eric Hunter Jr. combined to score 19 points on 6-of-11 shooting from the field.
Purdue's Trevion Williams also did more than hold his own against Trayce Jackson-Davis. The Purdue junior went for a double-double with 22 points and 10 rebounds. Jackson-Davis also played well, finishing with 25 points. Neither player capitalized from the free throw line with Williams going 4-of-9 and Jackson-Davis hitting just 7-of-14.
TEMPO-FREE PREVIEW AND KEYS TO THE GAME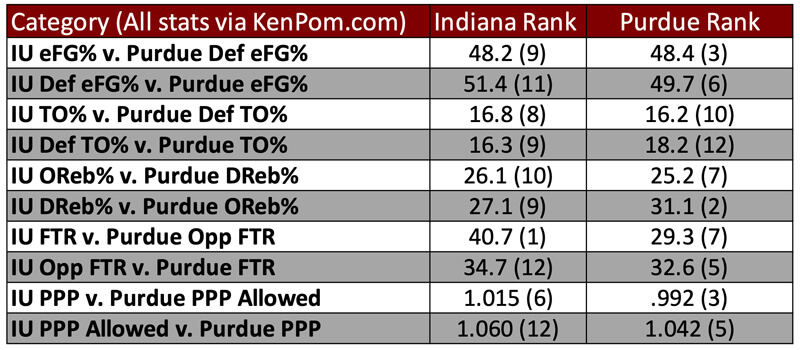 • Can Indiana keep Purdue off the offensive glass? Purdue is grabbing 31.1 percent of its missed shots in Big Ten play, which is second-best in the conference. Indiana did a solid job on the defensive boards in the first meeting as Purdue grabbed just 24.1 percent of its missed shots. The Boilermakers, however, are coming off a performance against Wisconsin in which they grabbed 11 offensive rebounds and scored 13 second-chance points. Freshman Zach Edey was a big part of that effort as he came off the bench and scored 21 points in 18 minutes. Edey had four offensive rebounds.
• Will Trayce Jackson-Davis bounce back? Indiana's star forward is coming off of his worst game of the season. The BTN broadcast against Michigan State showed Jackson-Davis visibly upset in a huddle and he finished with only nine points on 1-of-5 shooting from the field. If Indiana is going to stand a chance against a red hot Purdue team, the Hoosiers are going to need Jackson-Davis at his best.
• Does Indiana's season have a last gasp? Indiana's season is running out of rope. The Hoosiers have had numerous chances to reverse course, but look to be in a rut that is inescapable. Indiana has dropped four straight, is out of NCAA tournament projections and there is little to point to in terms of positive momentum around the program. The only thing that can change that last fact is winning. If the Hoosiers finish the regular season with another loss, the questions about what has led to this late season collapse will only intensify.
WHAT IT COMES DOWN TO
The KenPom projection is Purdue by six with a 71 percent chance of a Boilermaker victory. The Sagarin ratings like Purdue by 5.5 points when adjusted for homecourt.
Given that Indiana has dropped six straight to Purdue under Miller and eight straight overall in the series, it's hard to predict anything other than another bleak rivalry game for the Hoosiers.
Filed to: Purdue Boilermakers