News and notes from Archie Miller's radio show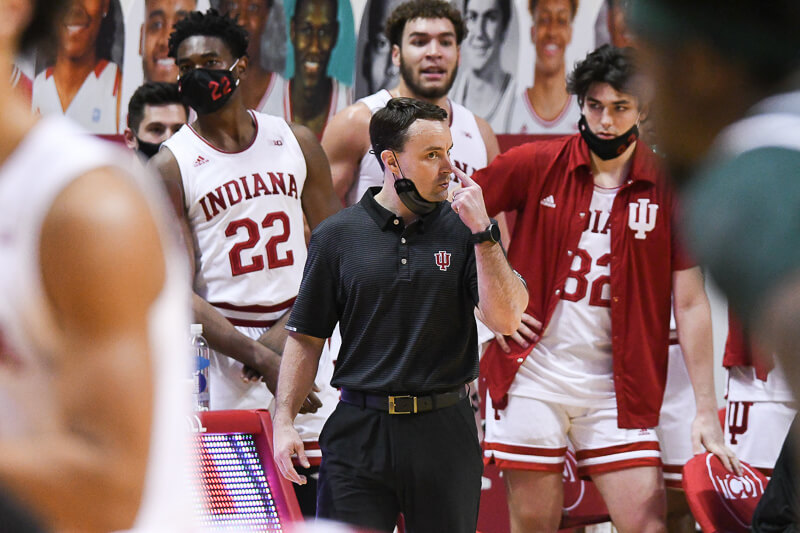 "Inside IU Basketball with Archie Miller" returned Monday night with play-by-play announcer Don Fischer. Miller recapped Indiana's win over Minnesota and loss to Michigan State. He also talked about the upcoming matchups against Rutgers and Michigan.
– Miller opens by saying that he was happy with Indiana's focus to start the game against Minnesota. "I thought we got a much better job sharing the ball," Miller said. He said Indiana "took control" in the last eight minutes of the game and was able to break it open.
– Against Minnesota, Miller said the Hoosiers consistently scored on the perimeter because "we took good ones and knocked them in." He also called it the "best offensive performance" for Indiana in conference play this season.
– In the first 30 minutes against Minnesota, Miller felt like Indiana was bad defensively and was inconsistent guarding the ball. He said organization, transition and communication were all issues. "Our help side was really standing around," Miller said. He also cited that Indiana struggled with "concepts."
– Against Michigan State, Miller said he was happy with how active Indiana was to start the game. But he said he was disappointed that Indiana only had a four-point advantage at halftime, saying they couldn't "capitalize on turnovers."
– In the second half, however, Miller said: "Defensively, we could not find a way to get organized." He said Michigan State had a smaller lineup and did a great job moving the ball. He said he felt like Michigan State's run "surprised" Indiana because they felt like they were in control. "We're not clicking in terms of our connectivity," Miller said.
– "We've had our opportunities to build momentum," Miller said about not being able to string wins together. He said they've improved in certain areas but also had "slip-ups" in other aspects.
– Miller said Indiana has to keep the turnovers at nine to ten per game. He also emphasized the importance of getting back on defense and making sure the defense is "tighter," he said. "We're too spread out."
– Miller said the team knows they missed out on the opportunity to sweep the two games last week. He said they know they have to be ready for Wednesday. "We just have to take it one day at a time."
– After watching film from the Michigan State game, Miller noted that Indiana had "costly" turnovers in the last ten minutes. Miller said the Michigan State put Gabe Brown at the four and "kept the floor completely spread." He said the recipe against Indiana is to keep the defense spread out.
– Miller said that Indiana did a bad job on ball screens and keeping the defense tight. He also emphasized Indiana's inability to stay in front of the ball. "We got exposed." He also said it mirrored the first game against Rutgers.
– Miller said Indiana's guard play needs to be more consistent shooting the ball on the perimeter. He said the Hoosiers "didn't have the ball movement, player movement."
– Again, Miller said that Indiana needs to play the freshmen more. He felt like Indiana's frontcourt was fatigued in the last eight minutes of the game against Michigan State. "It can come and ago with young guys at times," he said.
– On Jerome Hunter, Miller said: "He's competing hard. He has a real competitive spirit about him right now." He said he's playing physically, rebounding and hitting outside shots.
– On Rutgers, Miller said: "They have an attitude about them, an edge about them." In the last matchup, Miller said center Myles Johnson did a great job guarding Trayce Jackson-Davis. He also said a big concern is getting a "shell-shocking" early on. "We can not go to Rutgers and take that first punch," Miller said.
– Miller reiterated that the Hoosiers have to contain the ball because Rutgers will "drive the heck out of us." He said Indiana has to take care of the ball and contain them off of the dribble.
– Miller said that the Hoosiers have to do a better job of moving Myles Johnson out of the paint. He said the guards have to be more physical on offense.
– On the mental aspects, Miller said Indiana got "soft mentally" at the end of the Michigan State game. "Our team has battled all year… They've always come back to work. It was no different today."
– On Michigan, Miller said: "They have a very cohesive group… They have great chemistry." He praised the Wolverines' ability to bounce back after their extended pause. "Clearly they're a special, special team."
Filed to: Archie Miller