Bracketology: NCAA tournament projection as of February 23, 2021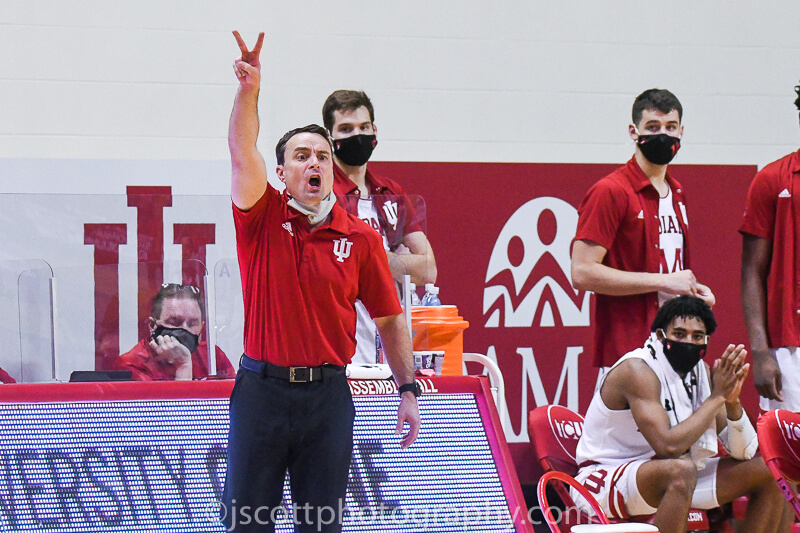 Somehow there are now less than three weeks until Selection Sunday, and there are a handful of teams that have proven tough to get a handle on, particularly in the ACC and Big East where depth at the top of the league is lacking. Here are a few of the more puzzling profiles out there.
· Virginia –  The Cavaliers rank in the top 10 of the NET, but if you look at their profile, there isn't a lot there. They have no wins against teams in the top 30 of the NET, with their three quad 1 victories coming on the road against Clemson (39), Georgia Tech (49), and Notre Dame (66). Home wins over North Carolina and Syracuse are among UVA's five quad 2 victories, but that early loss to San Francisco looms in quad 3. It will be interesting to see how the committee values a team with such strong computer numbers but a relative lack of high-end victories.
· Creighton – On the one hand, the Bluejays are 3-1 in quad 1 in opportunities and boast a combined 10-1 mark in the top two quadrants. On the other, Creighton has four quad 3 losses, three of which came at home. The committee will need to balance an impressive quantity of quad 1 and 2 wins with a quartet of bad losses.
· Louisville – The Cardinals are now just 2-4 in their last six games following Saturday's blowout loss to North Carolina, which has dropped them outside the top 50 of the NET. Louisville is 0-4 in quad 1 games, and while the Cardinals are 7-0 in quad 2, only two of those came against teams in this week's projected field (home vs. Virginia Tech and Seton Hall). They also have a quad 3 loss at Miami, but there are plenty of opportunities for quality wins remaining with road games at Duke and Virginia Tech as well as a home date with Virginia.
· Xavier – A pair of COVID pauses have really slowed Xavier down following a 8-0 start. Outside of a home win over Oklahoma, the Musketeers' best victories have come at home against Toledo (67) and St. John's (76). They don't have any bad losses, but at some point the lack of quality wins is going to catch up to them. Xavier finishes with three of its last four on the road with a home game against Creighton mixed in as well.
Before looking at the one seeds, here's a quick reminder about how the NCAA selection committee classifies wins based on the NET rating.
A breakdown of the four tiers:
· Quad 1: Home vs. teams ranked 1-30 / Neutral vs. teams ranked 1-50 / Road vs. teams ranked 1-75
· Quad 2: Home vs. teams ranked 31-75 / Neutral vs. teams ranked 51-100 / Road vs. teams ranked 76-135
· Quad 3: Home vs. teams ranked 76-160 / Neutral vs. teams ranked 101-200 / Road vs. teams ranked 136-240
· Quad 4: Home vs. teams ranked 161-351 / Neutral vs. teams ranked 201-351 / Road vs. teams ranked 241-351
One seeds
With Gonzaga running its opponents off the floor, Baylor still on pause, and Michigan picking up a huge road win at Ohio State, the top three overall seeds remain unchanged. OSU's aforementioned loss forced me to take a closer look at the Buckeyes, but I ultimately left them on the one line. Illinois is next on the seed list, but with the two teams having relatively similar records and profiles, Ohio State's win in Champaign carried a lot of weight.
The Bracket
The projections below are based on all games played through February 22, 2021. Following the bracket, I included a few thoughts on the last four in and first five out.
| | | |
| --- | --- | --- |
| REGION 1 | | REGION 2 |
| Indianapolis | | Indianapolis |
| 1) Gonzaga | | 1) Baylor |
| 16) N.C. A&T / Prairie View A&M | | 16) Bryant / James Madison |
| 8) Rutgers | | 8) UCLA |
| 9) Loyola Chicago | | 9) North Carolina |
| | | |
| Indianapolis | | Indianapolis |
| 5) USC | | 5) Creighton |
| 12) Belmont | | 12) W. Kentucky |
| 4) Texas | | 4) Tennessee |
| 13) Toledo | | 13) Winthrop |
| | | |
| Indianapolis | | Indianapolis |
| 6) Virginia Tech | | 6) Oklahoma St. |
| 11) Indiana / Seton Hall | | 11) Colorado St. / Minnesota |
| 3) Oklahoma | | 3) Houston |
| 14) Abilene Christian | | 14) UNC Greensboro |
| | | |
| Indianapolis | | Indianapolis |
| 7) Arkansas | | 7) LSU |
| 10) Drake | | 10) Louisville |
| 2) Iowa | | 2) Illinois |
| 15) Vermont | | 15) Grand Canyon |
| | | |
| REGION 4 | | REGION 3 |
| Indianapolis | | Indianapolis |
| 1) Ohio St. | | 1) Michigan |
| 16) South Dakota St. | | 16) Texas St. |
| 8) BYU | | 8) Colorado |
| 9) Oregon | | 9) San Diego St. |
| | | |
| Indianapolis | | Indianapolis |
| 5) Missouri | | 5) Texas Tech |
| 12) St. Bonaventure | | 12) Wichita St. |
| 4) Kansas | | 4) Virginia |
| 13) UC Santa Barbara | | 13) Colgate |
| | | |
| Indianapolis | | Indianapolis |
| 6) Purdue | | 6) Wisconsin |
| 11) Xavier | | 11) VCU |
| 3) Florida St. | | 3) West Virginia |
| 14) Wright St. | | 14) Liberty |
| | | |
| Indianapolis | | Indianapolis |
| 7) Clemson | | 7) Florida |
| 10) Boise St. | | 10) Maryland |
| 2) Alabama | | 2) Villanova |
| 15) Siena | | 15) E. Washington |
Last Four In:
Seton Hall – A road loss at Georgetown gave the Pirates a third loss to a team not in the at-large picture and pushed them closer to the cutline. They do have three quad 1 wins, but with those wins coming at Penn State (41), at Xavier (50), and at UConn (55), there isn't exactly a marquee win among them. Having already been swept by Villanova and Creighton, Seton Hall won't really have another crack at fixing that down the stretch, so for now, the Pirates need to avoid disaster on this week's trip to Butler.
Indiana – As if Saturday's second half collapse against Michigan State wasn't bad enough on its own, it actually gives the Hoosiers a second quad 3 loss. Even so, they are 8-8 against the top two quadrants, with the best wins coming via a sweep of Iowa and home victories over Maryland and Penn State. Wins over Minnesota and Stanford help for bubble purposes as well, and while a 6-5 mark in road and neutral games is solid, the overall 12-10 record is putting IU in real jeopardy. This week brings two more quad 1 opportunities with a trip to Rutgers and a home game against Michigan.
Minnesota – The Gophers have now lost three straight following last week's road loss at Indiana and a blowout home defeat to Illinois. All 10 of Minnesota's losses fall in quad 1, but the Gophers are 0-8 in road games and now rank 60th in the NET. Few teams can rival their trio of wins over Michigan, Iowa, and Ohio State, so a few more wins could solidify Minnesota's case, starting with this week's date with Northwestern at home followed by a trip to Nebraska.
Colorado State – The Rams had both games canceled again last week, so their status remains unchanged. They have already posted a 3-3 mark versus the other tournament-caliber squads in the Mountain West, and those three wins all fall in the top two quadrants, while a home loss to Boise State is the only one that falls outside of quad 1. That said, seven of the Rams' 13 D-I victories fall in quad 4. CSU is due to return to action this week, as the Rams host Air Force for a pair of games they can ill afford to lose.
First Five Out:
Stanford – The Cardinal split last week's games at the Washington schools, with the loss coming to Washington State in triple-overtime. They now have four wins against the top 50 of the NET, including a sweep of Arizona, a home win over UCLA, and a neutral court victory over Alabama. A 6-9 mark versus the top two quadrants is decent enough, but Stanford's NET ranking is hovering in the mid-50s due in part to five of those losses coming by double-digits. The Cardinal still have games remaining against Oregon at home and at USC, so there are chances to play their way into the field.
Connecticut – The good news is that James Bouknight returned for the Huskies last week. The bad news is that they split their two games, although there's no shame in losing at Villanova. The issue is that UConn has just two wins over teams ranked in the top 85 of the NET, a neutral court victory over USC and a road win at Xavier. This week features a pair of winnable games with a road trip to Georgetown and a home game against Marquette.
Utah St. – The Aggies came up short in both games at Boise State last week, pushing them out of the auto-bid and into the at-large pool. Home victories over San Diego State (twice) and Colorado State account for all of Utah State's wins in the top two quadrants. In total, the Aggies are a combined 3-5 in quads 1 and 2, but they also have a pair of quad 3 losses and just five total wins outside of quad 4. Utah State finishes the regular season by hosting Nevada this week, and the Aggies definitely need a sweep to remain in the conversation.
Richmond – An early road win at Kentucky doesn't hold nearly the weight the Spiders would have expected to start the season, but a neutral court victory over Loyola Chicago helps for bubble purposes. Richmond also has a 5-2 mark in true road games and is 2-0 in neutral court games, both of which help to offset a quad 4 loss to La Salle. Last week, the Spiders followed up a road loss at VCU by taking care of Duquesne at home, and Tuesday's game against UMass starts a stretch of three games in seven days.
Duke – A four-game winning streak has the Blue Devils back in the at-large conversation and inside the top 50 of the NET. Saturday's win over Virginia is by far the most impressive one during that stretch, but following Monday's victory over fellow bubbler Syracuse, Duke now has a 6-6 mark in the top two quadrants. Just two of those victories have come against teams in the at-large picture though, and a pair of quad 3 losses leave little margin for error down the stretch. All three of Duke's remaining games (Louisville, at Georgia Tech, at North Carolina) give the Blue Devils a chance to enhance their resume.
Conference Breakdown:
Big Ten (10): Illinois, Indiana, Iowa, Maryland, Michigan, Minnesota, Ohio State, Purdue, Rutgers, Wisconsin
Big 12 (7): Baylor, Kansas, Oklahoma, Oklahoma State, Texas, Texas Tech, West Virginia
ACC (6): Clemson, Florida State, Louisville, North Carolina, Virginia, Virginia Tech
SEC (6): Alabama, Arkansas, Florida, LSU, Missouri, Tennessee
Big East (4): Creighton, Villanova, Seton Hall, Xavier
Pac-12 (4): Colorado, Oregon, UCLA, USC
Mountain West (3): Boise State, Colorado State, San Diego State
American (2): Houston, Wichita State
Atlantic 10 (2): St. Bonaventure, VCU
Missouri Valley (2): Drake, Loyola Chicago
West Coast (2): BYU, Gonzaga
America East: Vermont
Atlantic Sun: Liberty
Big Sky: Eastern Washington
Big South: Winthrop
Big West: UC Santa Barbara
Colonial: James Madison
Conference USA: Western Kentucky
Horizon: Wright State
MAAC: Siena
MAC: Toledo
MEAC: North Carolina A&T
Northeast: Bryant
Ohio Valley: Belmont
Patriot: Colgate
Southern: UNC Greensboro
Southland: Abilene Christian
SWAC: Prairie View A&M
Summit: South Dakota State
Sun Belt: Texas State
WAC: Grand Canyon
Follow Andy on Twitter (@andybottoms) for more thoughts on college hoops and to receive an update whenever new brackets are posted.
Filed to: 2020-2021 Bracketology