The Minute After: Iowa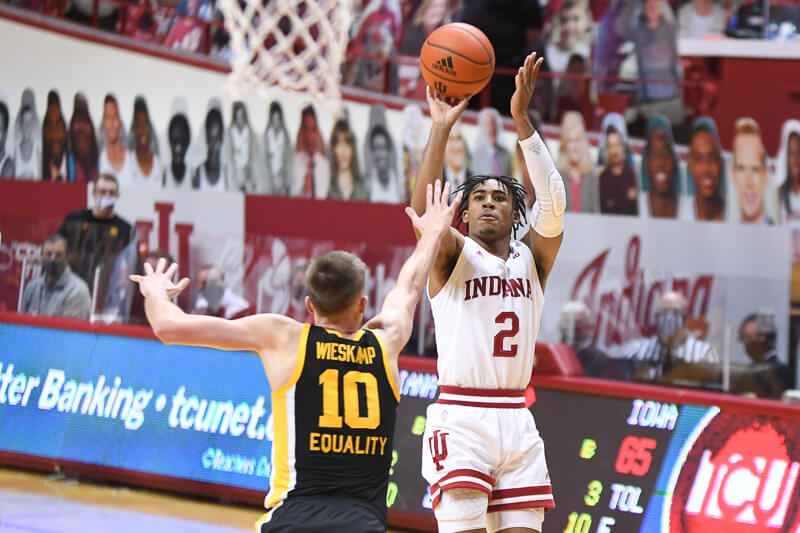 Thoughts on a 67-65 win against the Hawkeyes:
Here we were once again. Indiana right in the thick of it late against one of the better teams in the conference, let alone the country. But the stakes were even higher this afternoon. The Hoosiers desperately need victories to bolster their NCAA tournament résumé with a month of Big Ten play left. The alternative? Continue to watch the season slip away.
We know Indiana has failed to capitalize against good teams in this position too often this season. Flordia State. Wisconsin. Illinois. It's been the defining story of the season. The Hoosiers have missed key free throws, key shots, have gone cold at the wrong time, let the other team do a bit too much. They've just simply failed to get over the hump.
But this time around, Indiana stepped up and willed itself to victory. And for today, all hope is not lost.
Rob Phinisee, Al Durham and Armaan Franklin had a horrendous afternoon shooting. The trio combined to make just 4-of-26 from the field. But despite a game where the freshmen provided crucial energy and a spark of life (more on that later), Archie Miller decided to go with his older players down the stretch, opting for experience over youth. It paid off. There was less variability on defense in a game the Hoosiers held Iowa to a season-low in points per possession (.96). Indiana was rough again from the line (15-of-24, 62.5 percent) this afternoon. But the senior Durham hit two to give the Hoosiers a 57-55 lead with 4:02 to play. And after Luka Garza hit a bucket down low to give the Hawkeyes a 3-point lead at 61-58 with 2:08 to play, Phinisee hit an enormous 3-pointer from the right wing to tie the game up at 61-all with 1:39 to go.
It was Phinisee's first make from the floor since the first half against Rutgers. That game was played two weeks ago today.
"Rob hit a huge shot," Miller said after the contest. "We were in a little bit of trouble there."
Jordan Bohannon hit a clutch 3-pointer to tie the game up with 27 seconds left. Indiana held for the final shot. Franklin, just 1-of-9 for the game, then hit a stepback jumper from the left side to give Indiana a two-point lead and the win. Franklin has struggled the last few games, clearly still hobbled by his ankle injury. But in a spot Indiana needed their best player at creating their own shot to do it, the sophomore delivered.
Back to the freshmen. This was collectively their best performance of the year. Khristian Lander is still erratic with his shot at times and is giving up some on defense no doubt. But he injects a different energy into the offense. He's dynamic and can move the defense in ways IU other guards can't. Lander hit bigs on the roll and found open shooters by getting into the lane. His three assists were his most in Big Ten play and a 3-pointer he hit late in the first half was big for Indiana storming back to take the lead at halftime.
"If you look at Khristian Lander right now, he's saving us," Miller said.
The Hoosiers shot just 6-of-23 (26.1 percent) from 3-point range, but Anthony Leal made 2-of-3. Trey Galloway was less timid shooting the ball and made 1-of-2 from deep. Jordan Geronimo just makes things happen. He had six points on 3-of-5 shooting from the field and helped out on defense against Garza.
"Watching these four guys go through their ups and downs …," Miller said. "When they're able to see some good out of the work that they put in, it's very rewarding."
Indiana still has work to do. But an influx of freshmen energy and veteran shot-making made the difference in this one. It's a big victory. And yet, we've seen the Hoosiers underperform after big victories in the Miller era. Indiana travels to Evanston on Wednesday to take on Northwestern. It presents the opportunity for Indiana to change the narrative.
Filed to: Iowa Hawkeyes