Five takeaways from Indiana's win over Maryland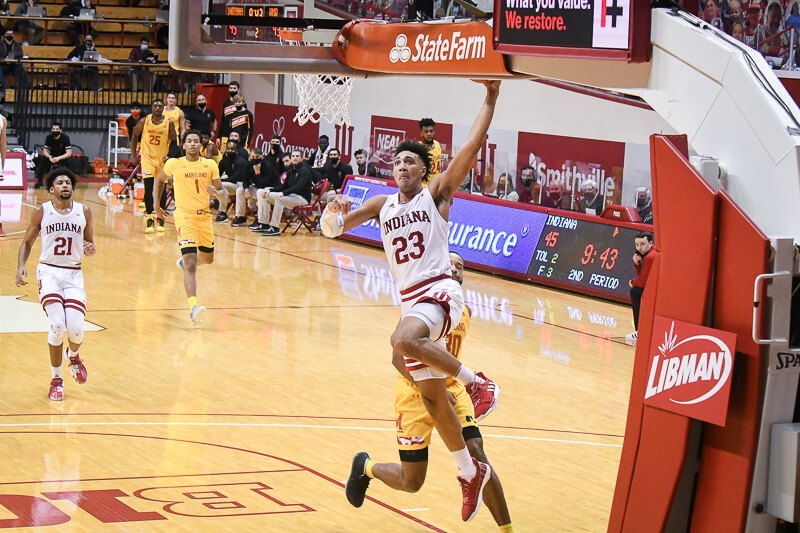 Indiana improved to 2-2 in Big Ten play with a 63-55 win over Maryland on Monday night at Simon Skjodt Assembly Hall. The Hoosiers are now 7-4 overall and are scheduled to travel to Madison to play Wisconsin on Thursday night.
Here are five takeaways from the win against the Terrapins:
• Trayce Jackson-Davis dominates down the stretch: In a press conference on Sunday afternoon, Trayce Jackson-Davis emphasized the importance of Indiana doing a better job in the final eight minutes of games.
Indiana faltered late in games against Florida State, Northwestern and Illinois, which all resulted in hard-fought losses. The missed opportunities late in games nearly continued last week against Penn State, but a couple of key plays by Rob Phinisee at the end of regulation and overtime lifted the Hoosiers to a narrow 87-85.
On Monday, Indiana reversed the trend by pulling away from Maryland in the final 10 minutes. Jackson-Davis, after a shaky first half in which he struggled to finish point-blank looks at the rim, was dominant late in the game. The sophomore forward scored 17 of his 22 points in the second half and finished with his third double-double of the season with 22 points and 15 rebounds.
While Jackson-Davis has been a reliable force in the paint all season, his consistency within games has often waned. In the Maryland win, Jackson-Davis seemed to flip a switch in the game's final stretch.
"Trayce was big, he obviously flipped it around in the second half which is what good players do," Archie Miller said. "I didn't think he could have played any weaker around the rim in the first half. Then in the second half he was much more himself jumping, rebounding, offensive stick backs, got fouled and really had a great second half for us."
• Indiana dominates the offensive glass: Rebounding has been a weakness for Indiana this season, but the Hoosiers took advantage of a Maryland frontline that has taken a major step back following the departure of lottery pick Jalen Smith.
The Hoosiers grabbed 12 offensive rebounds for an offensive rebounding percentage of 30.8 on Monday. Indiana had 14 second-chance points to just four for Maryland, which was a key reason the Hoosiers were able to overcome a dreadful shooting performance (37.3 percent).
"It really just came down to rebounding," Maryland coach Mark Turgeon said. "We just got our tails kicked on the boards, and 14 second-chance points, and that was the difference."
As it continues to struggle to make perimeter shots, Indiana needs to continue improving its offensive rebounding. Through four Big Ten games, Indiana ranks just 11th in the league in offensive rebounding percentage (21.9).
• Indiana's 3-point shooting still hasn't shown tangible improvement: After a stretch of four above-average 3-point shooting games against North Alabama, Butler, Northwestern and Illinois, Indiana's 3-point shooting percentage has regressed to levels of the previous three seasons over the last two games.
The Hoosiers were a season-worst 18.2 percent on 3s on Monday. Through four Big Ten games, they're shooting just 31.2 percent on 3s. While Miller's offense has never prioritized 3-point shooting as a main source of points, the lack of a perimeter threat continues to limit the ceiling of the program's offense.
Armaan Franklin had provided an answer to some of Indiana's perimeter shooting woes by knocking down 47.6 percent of his 3s through the first 10 games, but he went down with an ankle injury early in Monday's win.
Franklin is considered doubtful for Indiana's next two games, according to Miller, which could leave the Hoosiers without its only reliable shooting threat to close out the week.
• Defense locks down Maryland late: Indiana struggled at times defensively in its first three Big Ten games as all of its league opponents scored 1.04 points per possession or more. The Hoosiers did hold Illinois to just 69 points in a 69-60 loss on Dec. 26, but gave up 74 points to Northwestern and 87 to Penn State in its first two league home games.
On Monday, Indiana held the Terrapins to just 12 points over the game's final 10:20. By the final buzzer, Maryland had scored just .855 points per possession, its second-lowest output of the season and its worst output so far in Big Ten play.
"Our perimeter guys for the most part did a really good job switching and in the communication game where you have to do a lot of switching," Miller said. "We switched more so than we had in the past couple of games. In this one we didn't get burned as much."
• Thompson delivers much needed frontcourt production on both ends: As good as Jackson-Davis was, the performance of Race Thompson was equally important in grinding out the win over Maryland.
Thompson also had a double-double with 13 points and 11 rebounds. He was an efficient 4-of-6 on 2s, made all five of his free throws and did an excellent job defensively in ball screen situations.
"I thought Race Thompson probably had one of his best games of the season for our team," Miller said. "He had a double-double, but I thought his defense in particular in this game, guarding the dribble was really important. He did a really good job there."
Thompson still needs to rebound better consistently, but he continues to be a strong defender at the rim with 19 blocked shots through 10 games. His block percentage in conference play is fourth in the league.
"Coach says that if you get the most rebounds in the game, you win the game," Thompson said. "So, at the end of the day, me and Trayce have got to do our job and get as many rebounds as we can throughout the game and the outcome will be what we want if we get more than the other team."
Filed to: Maryland Terrapins, Race Thompson, Trayce Jackson-Davis