The Minute After: Maryland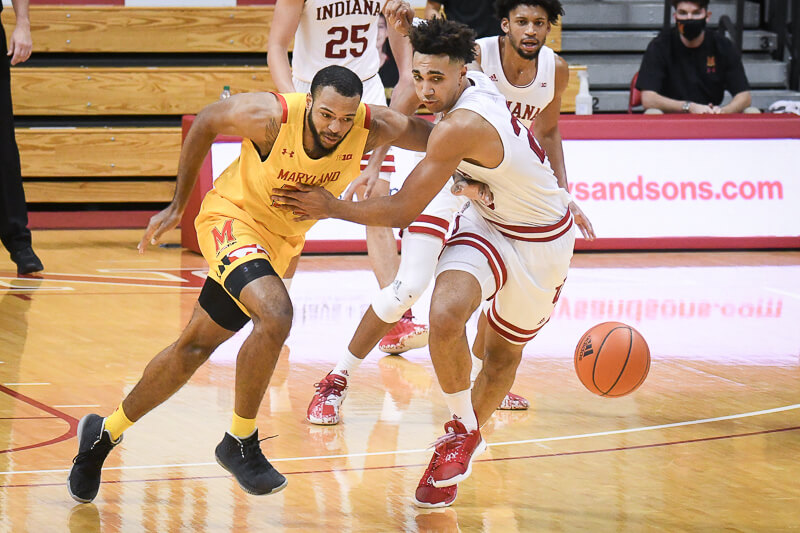 Thoughts on a 63-55 win against Maryland:
As Aaron Wiggins splashed home a 3-pointer with 15:14 to go in the contest, Indiana found itself down 10 points and in trouble. The first 25 minutes of action had been an abysmal, forgettable affair for the Hoosiers.
Armaan Franklin left the game with an ankle injury. Trayce Jackson-Davis made just three of his first 11 shots and was again looking gassed. Indiana missed all 11 of its 3-point attempts. The offense looked stiff as a board, Maryland's defense forcing Indiana into tough, late-in-the-shot-clock situations be it via man or zone.
But then Rob Phinisee finally knocked home Indiana's first 3-pointer of the game to cut that 10-point Maryland lead to seven. Al Durham barreled his way to the basket for a lay-in to cut it to five points. He hit a 3-pointer on Indiana's ensuing possession. Suddenly, Indiana found itself down just two and with life. Donta Scott made a second-chance score to put Maryland back up four. Jackson-Davis converted on an and-1 to bring the Hoosiers within a point.
Media timeout with 11:53 to play.
Whatever was said in that timeout, it seemed to galvanize the Hoosiers, as they built off their mini-run. Inside a mostly empty Assembly Hall, the bench became the home crowd, hooting and hollering and cheering like mad. Energy begot energy and the players on the floor turned it up on both ends, the Hoosiers eventually exchanging that 10-point deficit for a 12-point lead of their own before settling in for an eight-point victory. After a sluggish first half where he seemed to be a bit sped up or maybe looking for contact where it didn't come, Jackson-Davis came alive down the stretch, scoring 17 second half points including 12 in the final 11:53 of the contest. At one point, he knocked knees before heading to the line for a pair of free throws. He made sure the coaching staff knew he was staying in the game.
The sophomore also beasted on the boards, helping the Hoosiers to nine second-chance points in the second half. He finished the night with 22 points (9-of-18) and 15 boards, another dominant performance for him and just in the nick of time for the Hoosiers. Indiana's defense also turned it up down the stretch, making things tougher for a Maryland team playing without Darryl Morsell. The Terrapins seemed to tire as Indiana rallied late.
It also helped that during IU's rough first 25 minutes, Maryland didn't shoot it well either. On paper, Maryland's offensive style has been Indiana's kryptonite so far this season — 5-out, above-average 3-point shooting — but the Terps hit just 7-of-25 from deep tonight. They also scored just .85 points per possession, the first Big Ten opponent the Hoosiers have held under 1.0 this season.
This was far from a beautiful game. But credit to the Hoosiers. They came together during the final 10 minutes or so of the contest and didn't let Maryland slide back into it late. The win gets them to 2-2 in conference play where victories are never guaranteed, where you take them where you can get them in whatever fashion works.
Filed to: Maryland Terrapins