News and notes from Archie Miller's radio show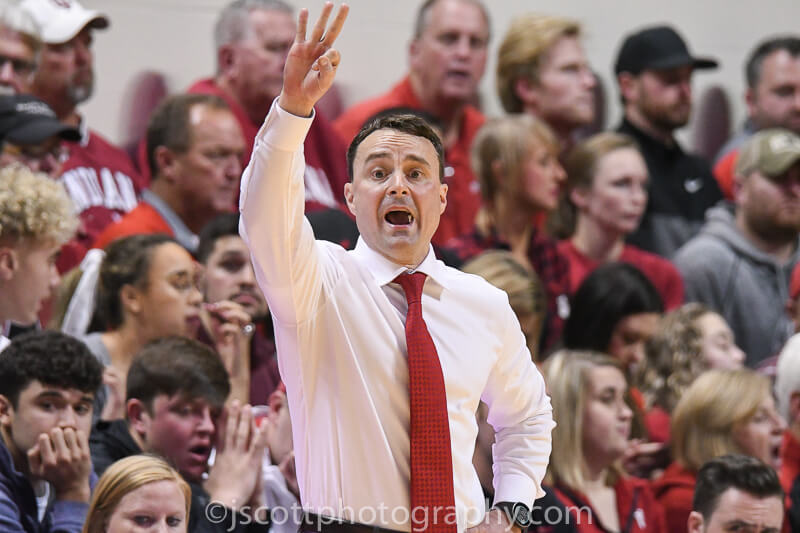 "Inside IU Basketball with Archie Miller" returned Monday night as Miller spoke with play-by-play announcer Don Fischer. Miller reflected on Indiana's nail-biting loss to Florida State in the Big Ten/ACC Challenge and recent blowout win over North Alabama. He also previewed the upcoming Crossroads Classic matchup against Butler.
– Miller opened by saying that Indiana's overtime loss to Florida State on Wednesday came down to "us not being able to secure balls all game long." Miller said the Hoosiers were forced to defend the Seminoles seven times in the last two minutes of the game due to offensive rebounds and loose balls. Overall, he was pleased with his team's approach and energy. "It was a heck of a game."
– Offensively, Miller thought Indiana's guards did a good job attacking off the dribble and creating spacing. Miller said he would have liked Trayce Jackson-Davis to get more touches in overtime.
– Rebounding-wise, Miller praised Jerome Hunter and Jackson-Davis, who were both able to create some second-chance opportunities. Defensive rebounding was more of a concern for Miller. He reiterated that his team has "to have that mentality to get the ball."
– Miller said he felt like fatigue played a role late in the game and Indiana was worn down by Florida State's size and depth. Miller said they also need more production out of the bench. Hunter was the lone reserve to score in the game.
– Following the game, Jackson-Davis said he got into some of his teammates. "When he does say something, he has their attention," Miller said. He also praised Jackson-Davis' passion and intensity, saying he's taken his game to another level since the loss to Texas.
– Moving to the blowout win over North Alabama, Miller was pleased with his team's defensive effort again, saying they even made improvements from against Florida State. "I think we continue to hang our hat on that side of the ball."
– Miller attributes the defensive prowess to having a more versatile roster. He points to Rob Phinisee and Armaan Franklin as "dependable guys" defensively. He still wants the Hoosiers to improve their communication in transition and overall hustle back on defense.
– After hitting 13 3-pointers against North Alabama, Miller said that the team sacrificed good shots for great shots and stayed in "rhythm." He said the success was a result of spacing against the zone and inside-out ball movement. "Armaan got us going," Miller said about Franklin's five 3-pointers.
– One of the concerns for Indiana, though was turnovers. "I thought we were sloppy at times against the zone," Miller said. He also said the Hoosiers need to be more controlled in transition.
– On team chemistry, Miller said: "They like one another. They spend time with one another." It starts with Jackson-Davis who has "no agenda," Miller said. "He's about winning." He also called them a "coachable group" that understands "winning is the most important thing."
– Regarding the evolving schedule due to the pandemic, Miller said Indiana needs to embrace the "bumps in the road," and the team that "sticks together" has the best chance of being successful. "That's what our guys have pretty much done this season."
– Look ahead to the Crossroads Classic against Butler, Miller said it's always special to play at Bankers Life Fieldhouse. With Butler returning three starters, Miller said guard Aaron Thompson is the "heart and soul" of the Bulldogs. They also have two physical forwards that can shoot.
– Butler has only played one game after their program went on pause, but Miller said: "I feel like the game on Saturday right now is a go." This would be Indiana's final non-conference game. "We're going to have a heck of a resume," Miller said. He added that seeing different styles of play will help Indiana as they move forward.
– On the Big Ten, Miller said it's the "hardest league in the country" and it will be interesting to see how teams are evaluated come tournament time. "I feel like this is the year for the Big Ten to hit the final four," Miller said. Indiana's Big Ten opener is Dec. 23 against Northwestern.
Filed to: Archie Miller