The Minute After: Providence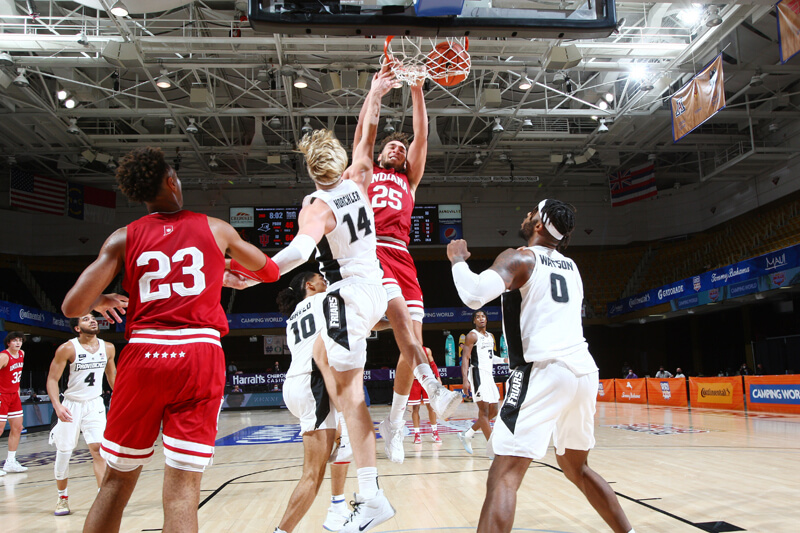 Thoughts on a 79-58 win against the Friars:
With all the missed ramp-up time heading into this unprecedented season, it was hard to know just how Indiana was going to look against their first high-level opponent of the season.
But the Hoosiers left no doubt early on this afternoon against Providence. They were the better, more aggressive, more polished and put together team in just about every facet of the contest. It was a dominant, inspired performance from IU and spring boards them off to a great start in its threes games in three days jaunt through the Maui Invitational in Asheville.
Race Thompson put on an absolute show in this one, playing his best game as a Hoosier by far. Thompson posted the first double-double of his career and it was buoyed by a career-high in both points (22) and rebounds (13). Those 22 points more than double his previous career high of 10. Archie Miller rode the junior to a team-high 35 minutes and Thompson kept delivering. Eight of his 13 rebounds were on the offensive glass, where he capitalized with second-chance points. Thompson also flashed a smooth-looking midrange jumper to help him finish an efficient 8-of-12 from the field.
It's early, but if there's anything to predict so far this year, it's that the junior from Minnesota is primed for a breakout season if he can stay healthy. There's no question he's bigger, stronger, more skilled and has a better confidence and feel for the game. Thompson's performance helped balance out a quieter game from Trayce Jackson-Davis. The sophomore still put up 12 points and seven rebounds, but it came on just 5-of-15 shooting and everything looked a little harder for him out there this afternoon.
Indiana's defense made things difficult for the Friars in the first half and they had difficulty getting much going in their half court sets. The Hoosiers played strong on-ball defense to not allow Providence to gain advantages or break down the defense. As a result, the Friars mustered just 24 points and .76 points per possession entering halftime. Indiana let it slip right before half and wasn't as good after the break, but it still held Providence to .87 points per possession for the game, which more than did the job.
Indiana's 3-point shooting did not start out great. It also took a few quick, ill-advised ones in the first half. But thanks to Al Durham knocking a couple down in the second half, the Hoosiers finished the contest with a respectable 35.7 percent mark (5-of-14) from deep. And after the debacle from the line against Tennessee Tech, they were much improved there today (18-of-24, 75 percent). While not elite, if the Hoosiers can hit those percentages as an average the rest of the way, it would go a long way to alleviating the shooting concerns. Further, if you couple those sorts of numbers with everything else Indiana is doing on offense — great passing, spacing and unselfishness; several weapons scoring in a multitude of ways — it bodes well for the season.
Trey Galloway had just four points on 1-of-6 shooting, coming down to Earth a bit after his stellar debut. Still, he continues to show an ability to relentlessly attack the basket and is deserving of his minutes. Khristian Lander went scoreless in nine minutes of action. His first two shots came quick and felt unnecessary. Jerome Hunter fouled out in just eight minutes of action. Durham followed right behind Thompson with 19 points on 6-of-9 shooting, including 3-of-5 from deep.
Indiana faces a tougher game tomorrow when it takes on No. 17 Texas. But bring this kind of performance once more and it should be right there in position to challenge for a spot in the championship game on Wednesday.
(Photo credit: Maui Invitational)
Filed to: 2020 Maui Invitational, Providence Friars