6-Banner Sunday: ITH and UMHoops tout Big Ten's top-25 players ahead of season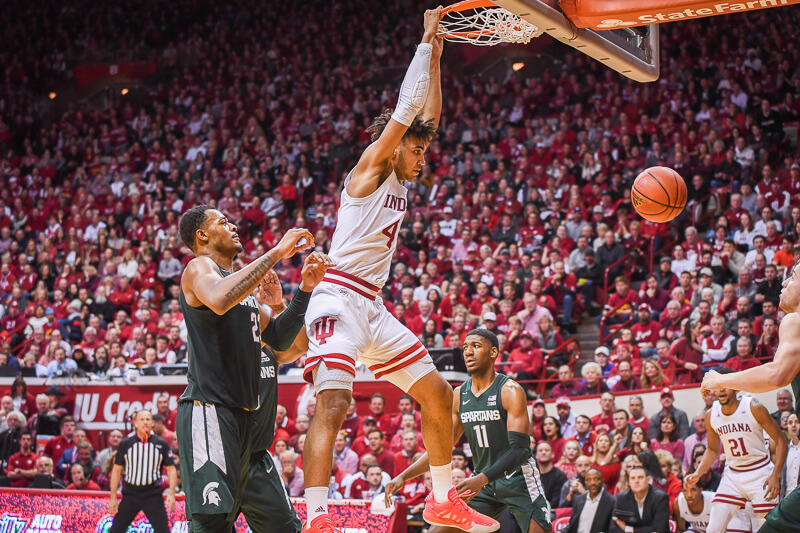 6-Banner Sunday is Inside the Hall's weekly newsletter in partnership with The Assembly Call. More than 7,000 Indiana fans receive the newsletter each week. In addition to appearing each week on the site, you can also opt to receive 6-Banner Sunday by email. A form to subscribe via email is available at the bottom of this week's 6-Banner Sunday.
Welcome to another edition of 6-Banner Sunday, a joint production between The Assembly Call and Inside the Hall where we highlight the five most essential IU basketball stories of the past week, plus take a look at how the other IU sports programs are doing.
Indiana basketball's workouts are back in full swing after a brief hiatus due to positive COVID-19 tests. As of right now, the Hoosiers can participate in sports-related activities for 12 hours per week. Official preseason practice will start on Oct. 14, allowing for up to 20 hours per week. The newest edition of Podcast on the Brink started to preview the upcoming season.
As the season approaches, Inside the Hall and UMHoops unveiled its annual installment of the top-25 players in the Big Ten, with two Hoosiers making the cut. The list was discussed in this week's edition of Assembly Call Radio. In other preseason predictions, Indiana redshirt sophomore Jerome Hunter was listed as a candidate for a breakout season by Jon Rothstein.
This week, Indiana missed out on another 2021 prospect in John Camden. With center Logan Duncomb as the lone 2021 commitment for Indiana, pressure to bolster next year's class is mounting.
In other recruiting endeavors, 2023 McCutcheon guard Dravyn Gibbs-Lawhorn has emerged as an important prospect for the Hoosiers. Inside the Hall caught up with Gibbs-Lawhorn's high school coach to talk about his growing skill set.
All of that, plus COVID-19 updates at Indiana:
• Inside the Hall touts Big Ten's top-25 players
• The potential of 2023 guard Dravyn Gibbs-Lawhorn
• De'Ron Davis inks contract to play overseas
• 2021 small forward commits to Memphis over Indiana
• Indiana University COVID-19 update
• Hoosier Sports Roundup
Banner #1
Inside the Hall touts Big Ten's top-25 players
This week, Inside the Hall and UMHoops released their annual preseason list of the Big Ten's top-25 players. Two Hoosiers made the cut, with one ranking in the top-5.
Iowa's Luka Garza checked in at No. 1. The Hawkeye forward decided to return to school for his senior season after averaging 23.9 points and 9.8 rebounds per game, while shooting 54 percent from the field in his junior campaign. Prior to last season, Garza ranked No. 15 on Inside the Hall's list.
Illinois had two players in the top-5, with sophomore center Kofi Cockburn and junior guard Ayo Dosunmu. Illinois, Iowa, Michigan State and Wisconsin tied for the most players on the list with three each. Northwestern, Maryland and Nebraska failed to have any players land on the list.
Banner #2
The potential of 2023 guard Dravyn Gibbs-Lawhorn
McCutcheon High School 2023 guard Dravyn Gibbs-Lawhorn is making a name for himself early-on in his prep career. As a freshman, he scored 21 points per game, gaining the attention of both Indiana and Purdue. The Boilermakers extended an offer in late August, and the Hoosiers followed in early September.
Current Indiana guard Rob Phinisee also attended McCutcheon and became the first scholarship player from Lafayette to choose Indiana since 1948. McCutcheon head coach Tyler Scherer said that Gibbs-Lawhorn looks up to Phinisee.
A recent MRI revealed that Gibbs-Lawhorn had suffered a fractured right foot, and he will most likely miss the entirety of the upcoming high school season as he recovers.
On Wednesday, 247Sports announced their initial 2023 rankings, and Gibbs-Lawhorn came in at No. 9. Even though there's still a long way to go in his recruitment, Gibbs-Lawhorn is a name to keep an eye on over the next couple of years.
Banner #3
De'Ron Davis inks contract to play overseas
Former Indiana forward De'Ron Davis signed to play with the Killester Dublin Basketball Club in Ireland, Strategic Athlete Initiatives announced Friday.
Davis, who graduated last spring, appeared in 110 games in his four year career for the Hoosiers, averaging 5.4 points and 2.6 rebounds per game. Davis' tenure in Bloomington was plagued with injuries, and his most productive year came in his sophomore campaign when he averaged nearly 10 points per game.
Killester competes in the SuperLeague, the top tier men's basketball association in Ireland. The 12-team division is recognized by FIBA. Killester finished runner-up in the 2013-14 and 2015-16 seasons.
Banner #4
2021 small forward commits to Memphis over Indiana
John Camden, a 2021 small forward from Wolfeboro, New Hampshire, announced his commitment to Memphis on Wednesday. Despite not pursuing him hard as of late, Indiana was in Camden's final five along with Nebraska, Miami and Virginia Tech.
Camden averaged 15.8 points per game last season and is the No. 126 prospect in the country, according to the 247Sports composite. This isn't the only time in recent history that Penny Hardaway out-dueled Indiana in a recruiting battle. Last year, the Tigers secured the commitment of four-star guard Lester Quinones over the Hoosiers, who were listed in his top-5.
Indiana will continue to focus their pursuit of four-star Silver Creek forward Trey Kaufman and five-star shooting guard Aminu Mohammed to add to their 2021 class.
Banner #5
Indiana University COVID-19 update
For the third consecutive week, new cases and positivity rates dropped, according to Indiana University's COVID-19 dashboard.
Across all IU campuses, the overall positivity rate decreased from 1.9 percent to 1.3 percent. At IU-Bloomington alone, the positivity rate was 1.43 percent, with 152 new reported cases, which is less than the prior week's 215.
On Thursday, Indiana handed out cease and desist orders to three Greek Houses for violating public health regulations. The Indiana Daily Student reported that an event of "roughly 20 people" took place at a Greek residence.
Banner #6
Hoosier Sports Roundup
• Several former Hoosiers competed in the NFL in week three.
• Baseball also had former players take part at the pro level this season. Due to this, IU coach Jeff Mercer is looking to maintain an MLB pipeline as reported by the Herald Times' Jon Blau.
• The current Football Hoosiers who are three weeks from their season, have resumed practice and several participants met with the media on Monday (when head coach Tom Allen announced a season ending injury for starting husky defender Marcelino Ball), Tuesday and Wednesday, Thursday and Friday.
• Also defensive lineman Jeramy Passmore was named the Scholar Athlete of the Month and offensive lineman Harry Crider was named a semi-finalist for the William V Campbell Trophy.
Thanks for your continued support for The Assembly Call. We'll be back next weekend with a new roundup.
Now go enjoy yourself a 6-banner Sunday.
Filed to: