The potential of 2023 guard Dravyn Gibbs-Lawhorn and his impressive freshman season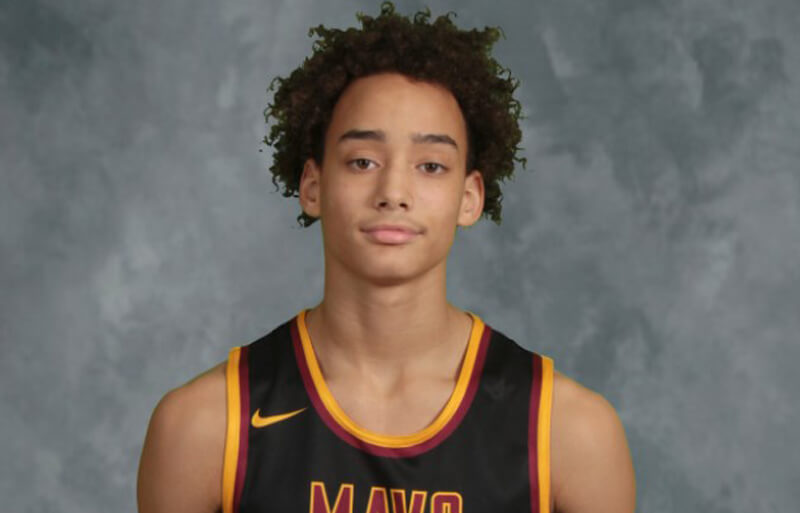 It had been 10 months. That's what the doctor said. Based on the size of the break, the injury most likely had been around for a while. For the last 10 months, there's a good chance that Dravyn Gibbs-Lawhorn played on a fractured right foot.
That means the 21 points per game Gibbs-Lawhorn averaged last season as a freshman at McCutcheon High School was on a broken foot. That means the 31 points he dropped in a game with Indiana Elite this summer was on a broken foot. That means he played well enough to be ranked No. 9 in the 2023 class and earn offers from both Purdue and Indiana before his sophomore year. All on a broken foot.
In late August, Gibbs-Lawhorn traveled to a tournament in Kansas. After competing the first two days, his foot was bothering him enough to sit out the final day. He got an MRI when he returned to his home in Lafayette, Indiana. A week later, he got news of the fracture. Then, last Friday, he underwent surgery, having two screws inserted into his foot.
Standing 6-feet tall, Gibbs-Lawhorn has stood out early in the recruiting process, becoming one of the most enticing guards in the 2023 class.
"For him to be that explosive off of an injured foot, kind of speaks to his ceiling and potential athleticism when he gets to 100 percent," McCutcheon head coach Tyler Scherer told Inside the Hall.
Scherer's relationship with Gibbs-Lawhorn goes way back before McCutcheon, when Gibbs-Lawhorn was still in elementary school. Scherer coached with Gibbs-Lawhorn's father at Tri-County High School.
Scherer watched Gibbs-Lawhorn dominate Tri-County's halftime promotions, with the winners of the shooting contests taking home sodas. Gibbs-Lawhorn would regularly triumph, securing a sugary drink. Sometimes, other fans would give Gibbs-Lawhorn the $1 entry fee and have him shoot in place of them. After winning, he'd tote the sodas back to them.
When Gibbs-Lawhorn was in 5th or 6th grade, he was always around the Tri-County practices. During a break in practice, Scherer would sometimes see a ball soaring through the air, thinking it was from one of the players on the team. Only it was Gibbs-Lawhorn, swishing a NBA range 3-pointer with a wide smile on his face.
As Gibbs-Lawhorn grew older, he began entrenching himself in the McCutcheon program. As an eighth grader, he'd sit behind the bench with the varsity team during the JV games to familiarize himself with his future teammates. He'd also catch Scherer in the hallway before the games, where he'd ask about how they were planning to attack the upcoming opponent, and who had been performing well in practice.
"That doesn't always happen," Scherer said. "That was fun to witness."
Gibbs-Lawhorn had also played in national events and gained attention as a middle schooler. Those were the initial signs that it wouldn't take Gibbs-Lawhorn much time to establish himself as a force at the high school level.
In his second career varsity game, Gibbs-Lawhorn knocked down a 3-pointer at the buzzer against Lafayette Central Catholic High School to send the game to overtime, with McCutcheon eventually prevailing. Three days later, he hit a 3-pointer with less than 10 seconds left in a 55-52 victory over West Lafayette High School.
By his sixth game? He netted another go ahead basket, this time a mid-range jumpshot.
"Right away we realized that instead of just being a piece of the puzzle, we really need to be trying to get the ball into his hands as much as possible in clutch moments and in winning time," Scherer said.
All of it, of course, on what was most likely a broken foot. There were times during the year when he was forced to take it lighter in practice because of the pain, but it was never enough to stop him from playing a game.
Gibbs-Lawhorn filled his 21 points per game in a variety of ways. In 136 attempts from 3-point range, he shot a red hot 46 percent. He curled around screens, showing off his lightning quick release, one that Scherer says sets him apart from other knock down shooters. He also handles the rock with ease, his quickness leading to crafty finishes at the rim. He shot 49 percent from the field, a consistent mid-range game holding steady in his repertoire.
In 23 games last season, Gibbs-Lawhorn only failed to score in double-digits twice. There was a 10-game stretch early in the season where he scored more than 20 points nine times. In February, he dropped 28 on Lafayette Jefferson and 33 against Marion in back to back games, shooting a combined 22-of-34.
"I really think he can be a combo guard," Scherer said. "He's good enough to play the point, but he's also a skilled scorer to where from a coaching standpoint you want those guys to play the two some as well."
"In a sense like a Jamal Murray type player with the Denver Nuggets that really broke out. It's a high bar but that's kind of the blueprint that I'd like to see him follow."
As a freshman, there were some obvious struggles, too. He turned the ball over seven times in a December game against Lebanon. Then, another six times against Logansport.
"As the season went along he was able to add a little bit more consistency," Scherer said. "Through the first half of the season he'd have some games where some different double teams would bother him and maybe he would turn it over or he'd lose the handle in a crowd."
McCutcheon concluded the year with a 12-11 record, dropping in the first round of the sectional to Marion. Gibbs-Lawhorn's skill set not only garnered the attention of coaches, but also executives in the film industry.
One day, Gibbs-Lawhorn was scrolling through Instagram when he saw a direct message asking if he could help with a basketball commercial. At first, he thought it was a small company. It turned out to be Gatorade. So, he went to a gym where they shot clips of him dunking and drinking Gatorade. In early March, a commercial featuring Zion Williamson, Serena Williams, Jayson Tatum and Gibbs-Lawhorn made its debut.
"It's any dream that a kid should have that's a freshman in high school," Gibbs-Lawhorn said in an interview this summer.
Late in the summer, there were more thrills for Gibbs-Lawhorn after playing for Indiana Elite, the same program that featured Indiana freshmen Anthony Leal, Trey Galloway and Khristian Lander. In mid August, he picked up his first Division I offer from his hometown team Purdue. Then, in early September, Indiana offered.
Scherer talked to Gibbs-Lawhorn and his father after Indiana offered, saying Gibbs-Lawhorn was "thrilled." His dad, who used to hoop himself, mentioned the best offer he got was the worst MAC school at the time, and joked that his son was already ahead of him.
"From talking to coaches and stuff, I think their pitch to him is IU plays a system that basically plays four guards a lot of the time, with positionless basketball," Scherer said. "With Dravyn that could benefit him in a lot of ways because he can score in transition as a wing. He can score in transition with the ball."
Another factor in Gibbs-Lawhorn's recruitment that could prove to be pivotal is his ties with current Indiana guard Rob Phinisee, who also attended McCutcheon. In 2017, Phinisee became the first scholarship player from Lafayette to attend Indiana since 1948. Scherer said that Phinisee is someone Gibbs-Lawhorn looks up to.
As he recovers from surgery, Gibbs-Lawhorn is currently in a boot. In three weeks, he can start movement in a swimming pool. The injury is expected to sideline him for 4-6 months, meaning he probably won't be available on the court for his sophomore season at McCutcheon. Scherer says the next step for Gibbs-Lawhorn is getting stronger and impacting the game with more than just scoring. Last season, he averaged 1.3 assists and three rebounds per game.
It's still another three years before Gibbs-Lawhorn will suit up for a collegiate program. By that time, Phinisee will have graduated and Indiana's freshmen class of Galloway, Leal, Lander and Jordan Geronimo will be seniors. But Gibbs-Lawhorn has already shown promise to anchor IU's next backcourt.
On Wednesday, 247Sports released their 2023 class rankings. Gibbs-Lawhorn checked in at No. 9. Sometimes, Gibbs-Lawhorn tells Scherer about some of the top players around the nation and how he aspires to be better than them.
"He's really positioning himself at the high school level when he comes back, he'll be the best player on the floor constantly night in and night out," Scherer said. "Certainly being ninth speaks to that."
"It's more than just a local thing. It's more than just good for Lafayette thing for Dravyn. He's always hungry to be one of the best across the country in his recruiting class."
Filed to: Dravyn Gibbs-Lawhorn