What to expect: Penn State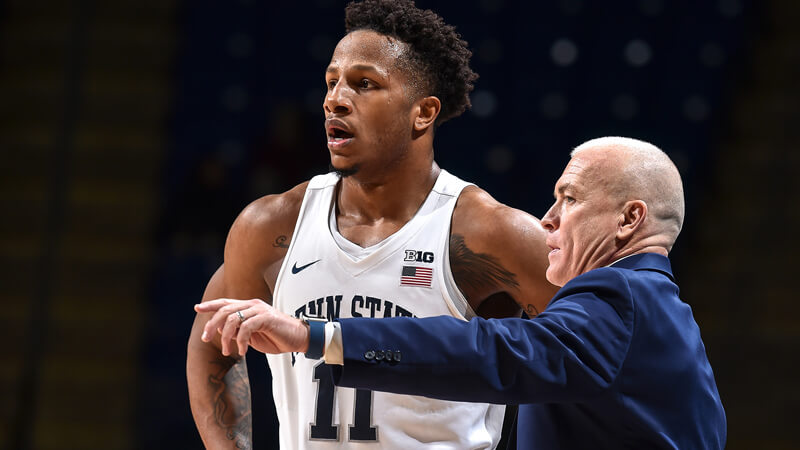 Indiana begins a two-game road trip tonight when it takes on Penn State at the Bryce Jordan Center. The Nittany Lions are 14-5 overall and 4-4 in Big Ten play.
Tonight's game will tip at 8:30 p.m. ET on BTN with Kevin Kugler and Seth Davis on the call:
After being picked to finish ninth in the preseason Big Ten media poll, Penn State has been a surprise through its first 19 games.
The Nittany Lions were ranked No. 43 in the initial KenPom ratings, but have climbed all the way to No. 22 despite playing the toughest schedule in league play thus far.
The emergence of Penn State is further proof of just how deep the Big Ten is this season. The league has 12 teams with legitimate NCAA tournament aspirations and the Nittany Lions would be firmly in the field if the regular season were to end today.
MEET THE NITTANY LIONS
Senior forward Lamar Stevens has been the go-to guy in State College for two straight seasons and is one of the more difficult frontcourt matchups in the conference.
Stevens leads the Nittany Lions in scoring at 16.7 points per game and has a strong midrange game. Stevens is a poor 3-point shooter (25.5 percent) and isn't an elite finisher at the rim, but as his shot chart below shows, the 6-foot-8 forward excels in the midrange.
He's also a very strong defensive rebounder – sixth best in the league – and a good free throw shooter at 80.5 percent in league play.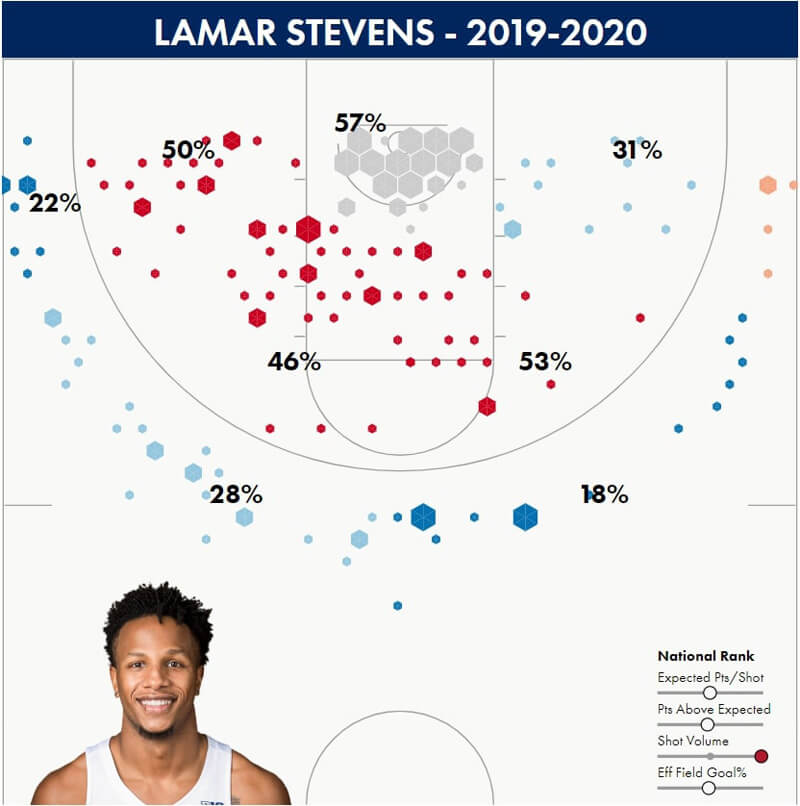 Sophomore Myreon Jones played limited minutes for Pat Chambers last season, but has emerged this season as one of the Big Ten's best shooters and scorers from the guard position.
Jones is second on the team in scoring at 14.3 points per game and is shooting 41.1 percent on 3s, 50.5 percent on 2s and 81.8 percent from the free throw line. He's 5-for-8 over Penn State's last two games from distance and has made at least two 3-pointers in 14 of Penn State's 19 games. Jones is dangerous from virtually anywhere on the perimeter: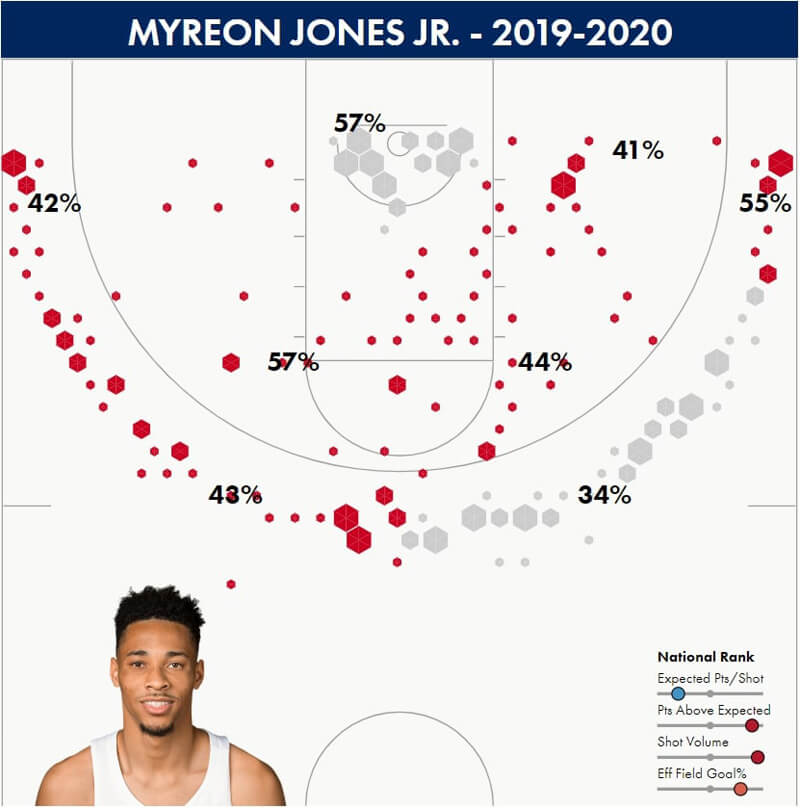 Senior big man Mike Watkins struggled with some off court issues last season, but is quietly putting together a very good season for Pat Chambers.
Watkins is third on the team in scoring at 9.8 points per game and leads the Nittany Lions in rebounding at 7.9 per contest. He's second in the conference in block percentage and 14th in steal percentage. Late in close games, Watkins is the prime candidate to foul on Penn State as he's shooting just 51.8 percent from the free throw line.
Junior guard Izaiah Brockington, who sat out last season after transferring from St. Bonaventure, is a very good defender who likes to get into the lane and finish or draw fouls. Brockington is second in the conference in steal percentage and 59 of his 67 made field goals this season have been 2s.
Sophomore guard Myles Dread has taken a team-high 112 3-point attempts, but is shooting just 28.6 percent from distance. The Detroit native is an excellent free throw shooter (93.3 percent), but is just 12-for-45 from the field so far in league play.
Two other guards, junior Jamari Wheeler and graduate senior Curtis Jones, also see significant minutes in the Penn State backcourt. Wheeler's 2.8 assists per game lead the team while Jones, who started his career in Bloomington, is coming off an 18-point game last Wednesday at Michigan.
Junior John Harrar and freshman Seth Lundy log the majority of the backup minutes in the frontcourt for Chambers. Harrar is a rugged forward who finishes close to 66 percent of his 2s and the 6-foot-6 Lundy provides floor spacing as he's knocked down 40.5 percent of his 3-point attempts.
TEMPO-FREE PREVIEW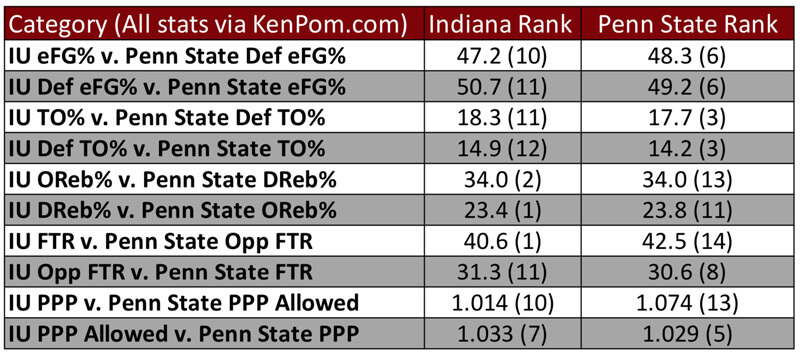 There are two key areas that Indiana must exploit in Wednesday's game. Penn State is one of the league's worst rebounding teams on both ends and Indiana is arguably the best rebounding team in the conference.
Through eight league games, Penn State is allowing its conference opponents to grab 34 percent of their missed shots, which ranks 13th in the conference. Indiana currently ranks second in the conference in offensive rebounding percentage.
Indiana must also find a way to get to the foul line to generate offense. Penn State has the worst opponent free throw rate (FTA/FGA) in the league at 42.5 percent and Indiana is getting to the line better than any other team in the league with a free throw rate of 40.6 percent.
WHAT IT COMES DOWN TO
The Vegas line favors Penn State by six, KenPom likes the Nittany Lions by five and Sagarin also likes Penn State by five.
This is just the third meeting between these two teams since Archie Miller took over the Indiana program in the spring of 2017. Indiana has won both contests, but it wasn't easy either time as the Hoosiers won by four in Miller's first season in Bloomington and by two last season in State College.
Penn State has been one of the most physical teams in the league under Chambers and teams that don't match that physicality typically don't win in the Bryce Jordan Center. Only Wisconsin, who limited the Nittany Lions to 49 points, has a win on Penn State's home floor this season.
Filed to: Penn State Nittany Lions