Big Ten Power Rankings: January 13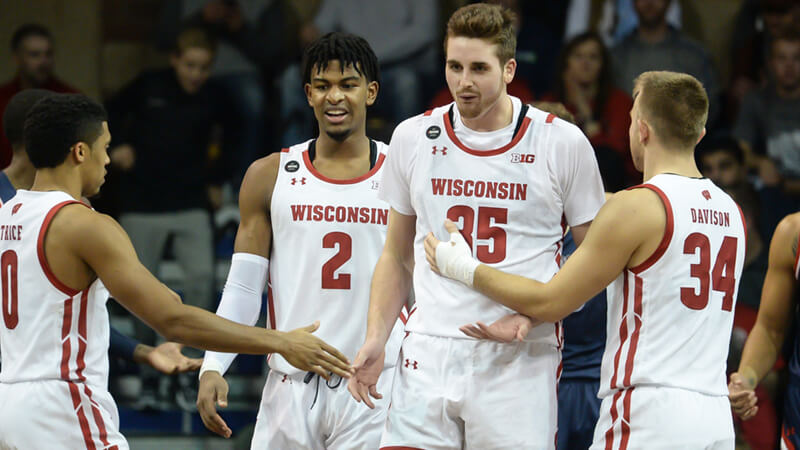 League play is a quarter of the way over and the middle of the conference is a glut of teams with legitimate NCAA tournament aspirations. Through Sunday's games, the Big Ten has 12 teams ranked in the top 38 of the KenPom ratings and could shatter last season's mark of eight tournament bids.
The power rankings will run each Monday throughout the remainder of the regular season.
14. Northwestern (1-4, .915 PPP, .995 PPP allowed)
Northwestern snapped a five-game losing streak and recorded its first league victory of the season by defeating Nebraska 62-57 at Welsh Ryan Arena on Saturday. The Wildcats actually have the Big Ten's seventh best defense through five games, but with just eight scholarship players available, this group is seriously challenged offensively. The lack of scoring cost Northwestern a chance at a road win last Wednesday in Bloomington as the Wildcats scored just 12 points over the final 11:59 in a 66-62 loss.
13. Nebraska (2-3, .994 PPP, 1.016 PPP allowed)
Nebraska has proven to be a capable team at Pinnacle Bank Arena thus far in league play as it owns wins over Purdue and Iowa. However, the Huskers also lost by 17 at home to Rutgers and who can forget the home losses it suffered in non-conference play to UC Riverside, Southern Utah and North Dakota. Nebraska has proven to be a better team without Jervay Green in the lineup, which is an interesting subplot for Fred Hoiberg as the season moves forward.
12. Penn State (2-3, .99 PPP, 1.109 PPP allowed)
The Nittany Lions are still in good shape for the NCAA tournament with a 12-4 record overall, but from an efficiency margin standpoint, this is currently the worst team in the conference. Penn State's defensive numbers are still being skewed by its abysmal performance last month against Ohio State in Columbus, but the offense was the major issue in losses last week to Rutgers and Wisconsin. Penn State scored just .848 points per trip at Rutgers and was even worse against the Badgers, managing a season-worst .788 points per possession.
11. Michigan (2-3, 1.071 PPP, 1.118 PPP allowed)
Michigan was a defensive juggernaut in league play the last two seasons with Luke Yaklich guiding the ship, but the Wolverines are now searching for answers under first year coach Juwan Howard. Michigan's defense is currently the Big Ten's worst and was scorched in the paint last week by Purdue's Trevion Williams (36 points) and Minnesota's Daniel Oturu (30 points).
10. Indiana (3-2, 1.00 PPP, 1.04 PPP allowed)
The Hoosiers righted the ship last week with home wins over Northwestern and Ohio State. The win over the Wildcats was painful to watch at times as IU trailed by 10 at the midway point of the second half before rallying late to win by four. The Ohio State win was far more impressive as Rob Phinisee set the tone early with hot perimeter shooting and Indiana looked like a connected team defensively, holding the Buckeyes to 30.8 percent on 2s.
9. Ohio State (1-4, 1.008 PPP, 1.035 PPP allowed)
A season that once looked like it could end with a top line NCAA tournament seed is teetering on the edge of disaster in Columbus. Ohio State has now dropped four straight, but the Buckeyes have a chance to get back on track Tuesday at home against Nebraska. The key challenge for Chris Holtmann moving forward is figuring out his guard rotation. Ohio State has four capable guards in DJ Carton, CJ Walker, Luther Muhammad and Duane Washington Jr., but needs to establish more defined roles for each guy.
8. Minnesota (3-3, 1.028 PPP, 1.055 PPP allowed)
Daniel Oturu might be the Big Ten's best post player and on Sunday, he dominated Jon Teske in a 75-67 win over the Michigan at the Barn. Oturu is shooting 66.7 percent on 2s and has scored 14 or more points in 11 straight games. Oturu's 30 points against Michigan were a career-high and he had 29 points and 18 rebounds in a double overtime loss at Purdue earlier this month.
7. Purdue (3-3, .926 PPP, .921 PPP allowed)
The Boilermakers narrowly missed out on a road win on Thursday night in Ann Arbor, but bounced back with a statement win on Sunday at home over Michigan State. Purdue handed the Spartans their first league defeat in convincing fashion, 71-42. At 10-7 overall, Purdue has played the 11th toughest schedule in the country according to KenPom and owns the nation's seventh best defense.
6. Maryland (3-2, .92 PPP, .908 PPP allowed)
Maryland had a three-game winning streak snapped on Friday night in a 67-49 beatdown from Iowa at Carver Hawkeye Arena. The Terps had a strong start to the week by beating Ohio State at the XFinity Center, but failed to reach 50 points for the second time this season in Friday's loss. The .699 points per possession against Iowa raises eyebrows given the fact that Hawkeyes are historically one of the most inept defenses in the league under Fran McCaffery.
5. Iowa (2-3, 1.086 PPP, 1.038 PPP allowed)
The Hawkeyes are fourth in the league in efficiency margin, but have just two wins to show for it through five games. Like most teams in the league, Iowa had an up-and-down week as it lost at Nebraska and then registered a rout of Maryland to conclude the week. Iowa's offense continues to be elite as the Hawkeyes sit sixth in the country in Pomeroy's adjusted offensive efficiency metric.
4. Rutgers (3-2, .994 PPP, .935 PPP allowed)
The Scarlet Knights had a six-game winning streak snapped on Saturday with a narrow 54-51 loss to Illinois in Champaign. Rutgers is 11-0 at the RAC and is quietly building an NCAA tournament resume with wins over Seton Hall, Wisconsin and Penn State. Guard Geo Baker remains out with a thumb injury for Rutgers, which hosts Indiana and Minnesota this week.
3. Wisconsin (3-2, 1.074 PPP, .994 PPP allowed)
Ohio State transfer Micah Potter has proven to be a big midseason addition for the Badgers, who are now 5-1 since he became eligible. Potter went for 24 points and 13 rebounds in a win over the weekend at Penn State and the Badgers now have two impressive road wins on the ledger (at Ohio State, at Penn State).
2. Illinois (4-2, .949 PPP, .903 PPP allowed)
The Fighting Illini have won three straight since a 76-56 blowout loss at Michigan State on Jan. 2. Illinois smashed Purdue at home to begin the streak and followed that up with a one-point win at Wisconsin last Wednesday before holding off Rutgers by three on Saturday. Credit Brad Underwood for his defensive adjustments that currently have Illinois in pole position as the league's best defense at .903 points per possession allowed through six games.
1. Michigan State (5-1, 1.045 PPP, .943 PPP allowed)
Despite suffering a 29-point loss at Purdue on Sunday, Michigan State is still the top dog in the league with a 5-1 record and the league's best efficiency margin. The 2-for-16 3-point shooting performance at Purdue was a season-worst (12.5 percent) and the loss snapped an eight-game winning streak for the Spartans.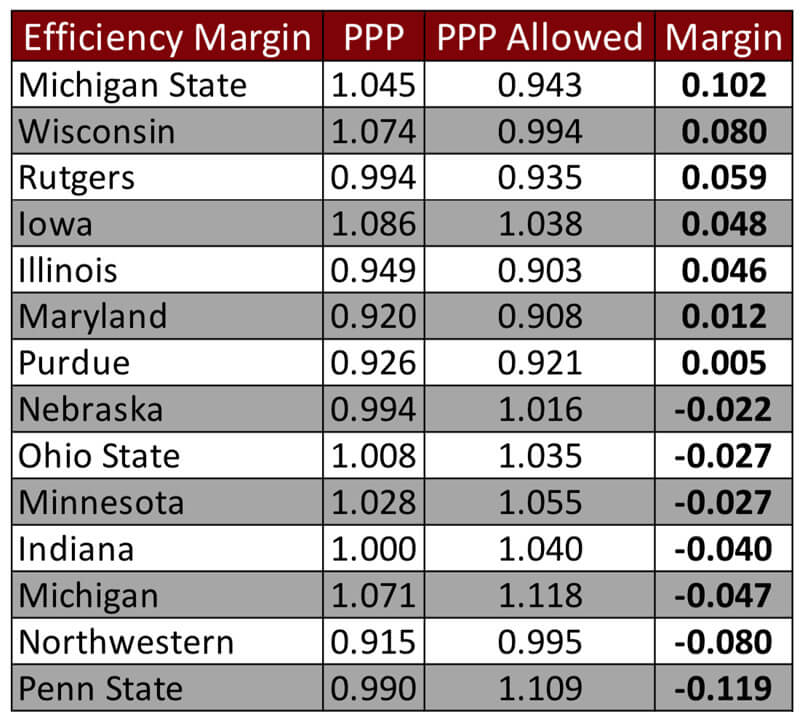 Filed to: Big Ten Power Rankings