What to expect: Ohio State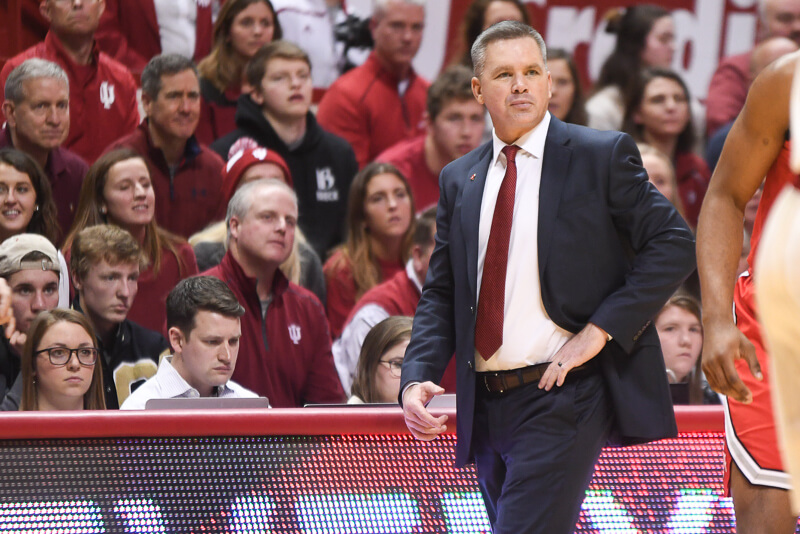 Indiana will seek its third Big Ten home win on Saturday afternoon when it hosts No. 11 Ohio State at Simon Skjodt Assembly Hall.
The Buckeyes are 11-4 overall and 1-3 in the Big Ten and enter Saturday's game on a three-game losing streak. The noon tip will be broadcast by FOX with Gus Johnson, Jim Jackson and Lisa Byington on the call:
Saturday's game between Indiana and Ohio State in Bloomington has plenty of interesting subplots.
Both teams enter the game in a rut. Ohio State, once ranked No. 2 in the Associated Press top 25 poll, has dropped three straight games. Injuries have played a part in this for the Buckeyes, who have missed glue guy forward Kyle Young. The junior forward had his appendix removed earlier this month and hasn't played since. Duane Washington Jr. hasn't been himself since missing two games in December with a rib injury.
Indiana lost back to back games against Arkansas and Maryland and then barely squeaked past lowly Northwestern on Wednesday in Bloomington. The Hoosiers could be looking at a dramatic rotation change on Saturday based on Archie Miller's postgame comments following the win over the Wildcats.
This is also the fifth matchup between the two programs since Chris Holtmann and Miller took over in 2017. The series has been dominated by the Buckeyes, who have won all four contests. And off the court, Indiana will have a large gathering of former players, staff and managers in attendance for the noon tip.
MEET THE BUCKEYES
Junior big man Kaleb Wesson is one of the most difficult post matchups in the country. The 6-foot-9 center currently sits in fourth in KenPom's national player of the year ratings and is averaging a team-best 14.7 points and 9.3 rebounds per game.
After operating almost exclusively in the post as a freshman, Wesson has worked to stretch his offensive game to beyond the 3-point line. As a sophomore, he was 26-for-75 from distance and this season, he's 21-for-50 on 3s (42 percent).
Wesson is the Big Ten's best defensive rebounder and an efficient scorer on the block. According to Synergy Sports, he's scored 100 points on 101 post-up possessions this season. Wesson also reshaped his body in the offseason, which has allowed him to play more minutes. He's cut back on the fouling (4.3 per 40 minutes) and is playing a team-high 27 minutes per game.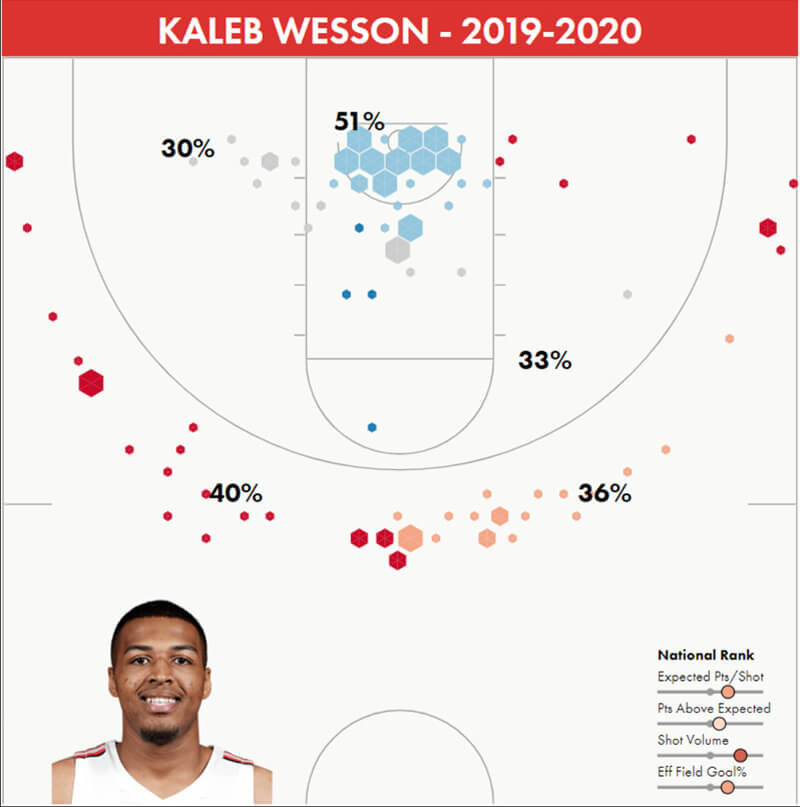 With Young out, Andre Wesson has slid over to play the four and in Tuesday's loss at Maryland, the Buckeyes went with Washington Jr., DJ Carton and Luther Muhammad to start in a three-man backcourt. Young's status for Saturday is uncertain as he's been listed as "day-to-day" by the program.
The older Wesson is a 43.2 percent 3-point shooter, a good defender and is the team's fourth leading scorer at 8.4 points per game. In last season's game in Bloomington, his game winning dunk propelled the Buckeyes to a 55-52 victory.
Freshman forward EJ Liddell was a top 50 recruit nationally who was off to a solid start through the team's first 12 games, but his production has fallen off dramatically over the last three. Liddell has just six points in 47 minutes during Ohio State's three-game losing streak.
Holtmann's backcourt rotation consists primarily of Washington Jr., Carton, Muhammad and CJ Walker with Justin Ahrens getting spot minutes.
Washington Jr., a 6-foot-3 sophomore, is second on the team in scoring at 11.4 points per game, but his 3-point shooting percentage has plummeted over the past four games. Washington Jr. is still shooting 43.9 percent from distance on the season, but is just 7-for-25 on 3s over his last four games. He still grades out as an excellent spot-up shooter, per Synergy Sports. In 43 spot-up possessions, Washington Jr. has 50 points, which ranks in the 87th percentile nationally.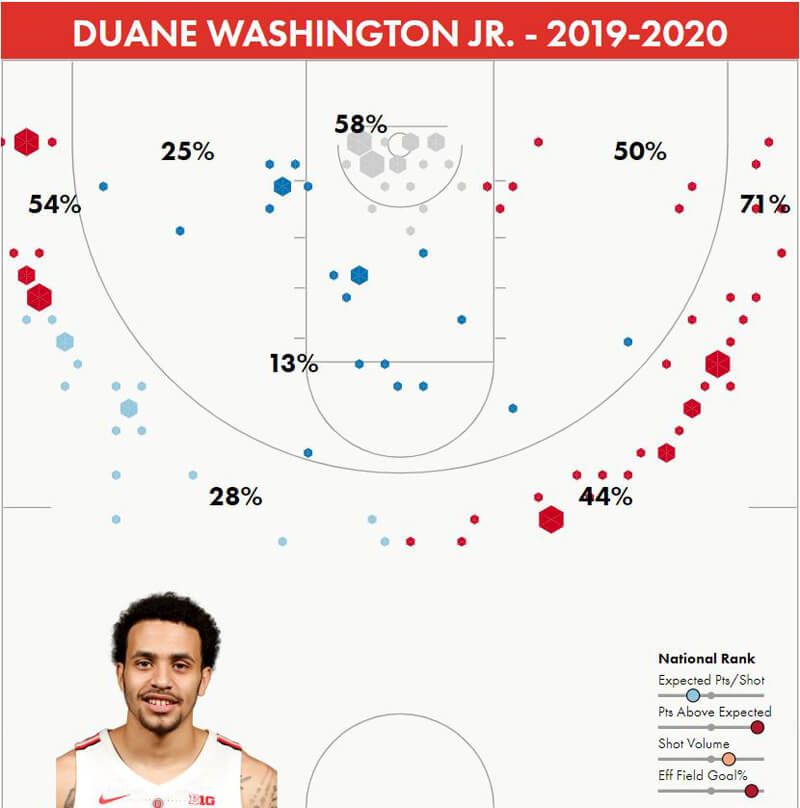 Muhammad, another 6-foot-3 sophomore, has started 43 of the 49 games he's played in for the Buckeyes and is a career 36.8 percent 3-point shooter. Muhammad is a plus defender and is also an effective shooter in spot-up situations, per Synergy. His 40 points on 40 spot-up possessions ranks in the 70th percentile nationally.
Walker is the team's primary point guard with Carton getting backup minutes there and also spending a good chunk of time alongside Walker at the two. The 6-foot-1 Walker, who spent the first two seasons of his career playing for Leonard Hamilton at Florida State, sat out last season and brings high level backcourt experience to Columbus. Walker has only committed one turnover in Big Ten play and is shooting 37.1 percent from distance overall.
Carton, who chose Ohio State over Indiana and Michigan, has the highest upside of any player in the Ohio State backcourt. He's shooting 40 percent on 3s, 55.2 percent on 2s and is excellent in ball screen situations.
In 41 ball screen possessions, Carton has 40 points. That ranks in the 86th percentile nationally, according to Synergy. Although he's just 6-foot-1, Carton can finish above the rim and plays with a swagger that is uncommon for a freshman in the Big Ten.
TEMPO-FREE PREVIEW
Note: We've updated these numbers to reflect Big Ten games only moving forward.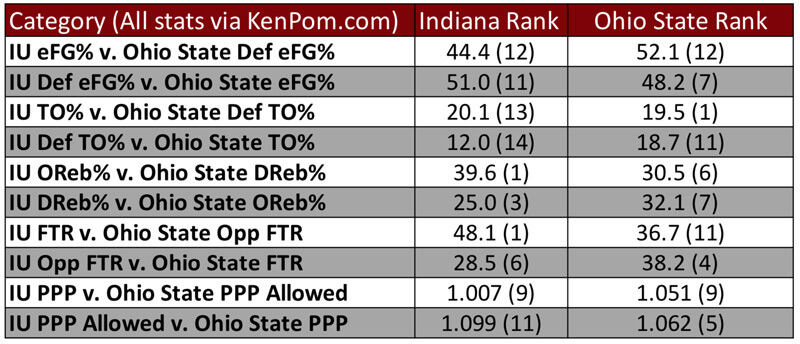 Indiana's strengths in Big Ten thus far are clear: rebounding and getting to the foul line. Ohio State has been middle of the pack on the glass through four league games and has struggled to keep its opponents off of the line.
On the flip side, the Hoosiers have one of the league's worst defenses and have been far too turnover prone through four games. Indiana ranks 13th in turnover percentage (20.1 percent) and last in opponent turnover percentage (12 percent), so the points off of turnovers battle could loom large in this one.
While its adjusted offensive efficiency ranks sixth nationally overall, Ohio State's defense is yielding 1.05 points per trip in league play thus far. Big Ten opponents are shooting close to 52 percent on 2s against the Buckeyes, but Indiana is likely going to have to make a few perimeter shots to avoid a repeat of last season when Ohio State basically didn't guard certain guys outside of 10 feet.
WHAT IT COMES DOWN TO
The KenPom projection likes Ohio State by 3 and Sagarin's numbers like the Buckeyes by just a half of a point once adjusted for homecourt.
It's proven foolish to try and determine what to expect from Indiana on a game-to-game basis. This is a team that beat Florida State easily at home and has also been down by 30 at Wisconsin and Maryland and needed a late rally to get past Northwestern at home. The fact that Miller is still having to coach effort in year three is a concern.
We've seen Indiana respond to great crowds in Bloomington under Miller. Last season, Marquette and Michigan State were big time wins. And we've also seen the Hoosiers lay plenty of eggs – Nebraska and Michigan were prime examples of that last season.
"We've got to punch through this wall right now," Miller said. "We're struggling a little bit of a rut and we've got to punch through that wall a little bit and I'll say if you're not ready to go on Saturday, that's a problem."
Filed to: Ohio State Buckeyes