Depth shows for IU as Damezi Anderson brings physicality in win over FSU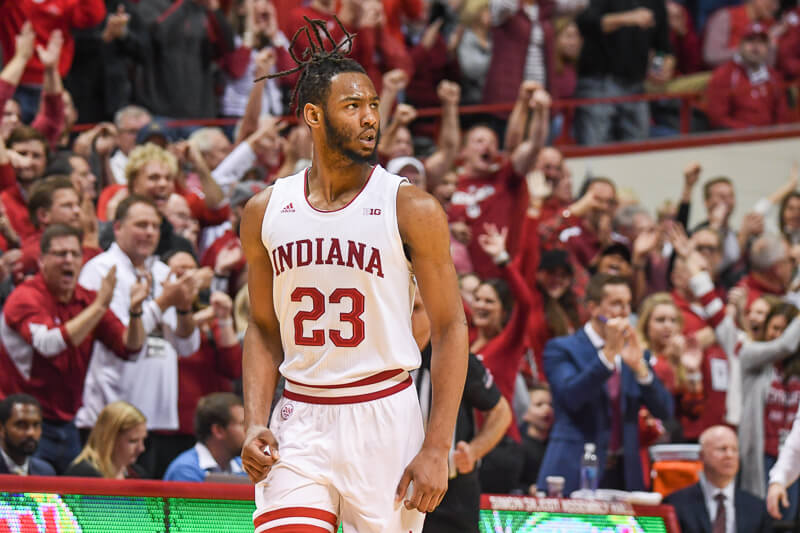 On a Tuesday night full of chest slaps and muscle man flexes, it was a celebration of joyous exuberance that defined Indiana's 80-64 home win against No. 17 Florida State.
During his career-high 30 point performance, Devonte Green's displayed a military salute to former IU great Victor Oladipo, who was seated courtside, while freshman forward Trayce Jackson-Davis' one-handed dunk in the second half was punctuated by a running flex from the versatile frontcourt player.
But as the Hoosiers pulled away from the Seminoles for good with four minutes left, it was the 6-foot-7 frame of sophomore forward Damezi Anderson doing the celebrating.
He bounded toward midcourt while furiously flapping his arms up and down, trying to further whip the Assembly Hall crowd into a frenzy.
Anderson's lone basket of the game came at a critical time for the Hoosiers.
Indiana had just regained its double-digit lead and the under-four timeout loomed. A drive to the basket by Armaan Franklin drew in all five Florida State defenders and left Anderson open on the side for a 3-pointer, a shot he's made 40 percent of the time this season prior to Tuesday's game.
He knocked down this open shot, pushing the Indiana lead to 14 (Florida State wouldn't get closer the rest of the game) and skipping back on defense before Leonard Hamilton called a Florida State timeout.
Then came the cheers.
A standing ovation from the raucous crowd, Oladipo included, and an outward display of emotion rarely seen from Anderson during his time in Bloomington.
"He was ready to play," Archie Miller said of Anderson postgame. "I knew he was ready to play on Sunday. He worked out on Sunday for a good 30, 40 minutes and I mean no one was more excited for him to be in the gym at 4 o'clock on a Sunday afternoon and he was ready to play.
"He brought the physicality that we needed."
Anderson's offensive contributions were minimal Tuesday (the 3-pointer was his only made basket and he only had one assist in 20 minutes), but it was the sophomore's defense which stood out.
Much maligned by Miller during Indiana's opening seven games, the defense forced 14 turnovers (including six travels) from Florida State, with Anderson among the most active and engaged players on that side of the ball.
"He guarded a lot of good players and he hung in there, used his sturdy frame," Miller said. "He was able to really hang in there for us, which is what he's been doing, he's getting more comfortable."
For an Indiana team with a set offensive plan to feed the ball to Jackson-Davis in the post, get to the foul line and pick and choose its moments for outside shots, Anderson's best chance to alter games comes from these kinds of outings.
Situational shooting will present itself, but on a far more consistent basis Anderson will be asked by Miller to serve as an in-between player, guarding opposing wings who are big enough to work their way inside yet skilled enough to shoot from distance.
Florida State's top three scorers — Trent Forrest (13), M.J. Walker (10) and Devin Vassell (10) — all came from the backcourt.
A nearly eight-minute stretch in the first half saw Indiana prevent Florida State from making a field goal, and for the game the Hoosiers kept the Seminoles below a point per possession.
"They have physical driving guards, physical wing players that they try to, for lack of a better term, they really try to get their shoulder down and get by you," Miller said. "I thought we made some good 50/50 plays, maybe some blocked shots. We challenged some things."
Indiana's sizable rebounding advantage (35-25) wasn't helped by Anderson, who failed to pull down a board in his time on the court.
Shortcomings still exist for Anderson in the halfcourt offense. One particularly egregious second-half turnover came when he picked up his dribble some 25 feet from the rim.
The learning moments are still there. Anderson remains a raw presence on an Indiana team that largely wasn't fazed when the game got close Tuesday.
Throughout the summer and into the early months of fall, Miller repeatedly placed faith in Anderson, praising his shooting ability and his readiness to contribute.
Miller's tone and rhetoric was the same Tuesday night, only now with an additional on-court result to support his rationale.
"It was good for him to stick that last one," Miller said. "That was a big shot for our team in general because he can shoot the ball for us. So he's another added guy out there that I think helps stretch the floor a little bit."
Filed to: Damezi Anderson