News and notes from Archie Miller's radio show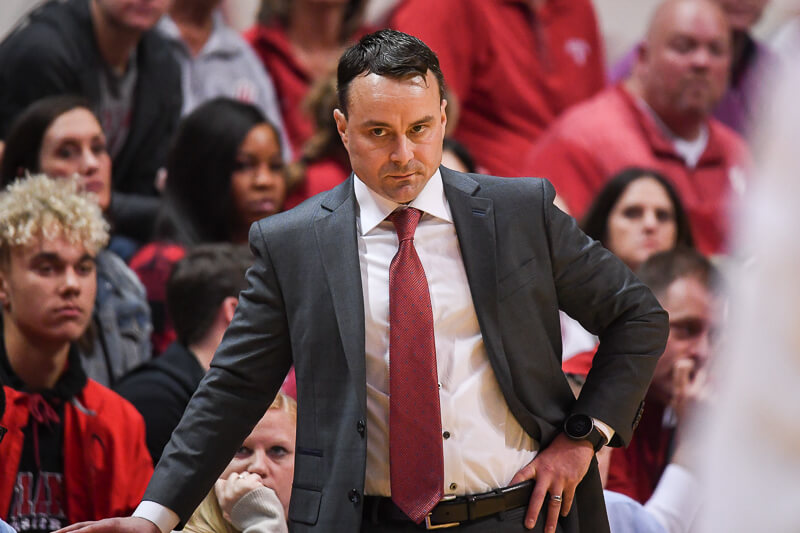 "Inside IU Basketball with Archie Miller" had its second episode of the season Monday night, as Archie Miller and junior guard Al Durham discussed the start to the 2019-20 Indiana basketball season and upcoming games against North Alabama and Troy.
Here are the highlights from Miller and Durham's evening with host Don Fischer.
– Miller praised the offensive rebounding success that Indiana had against Portland State, adding that the Hoosiers' rebounding margin against the Vikings (41-24) as well as Indiana's ability to limit turnovers against Portland State's press were both critical elements of the win. But, Miller expressed a desire for the Indiana offense to be better against defenses which switch frequently. Portland State did this a lot and Indiana didn't always make the right pass or take advantage of the right matchup, although IU did rebound 48 percent of its shot misses during the win.
– Defense was also another talking point for Miller, as he wants his Indiana team to be more aggressive and locked in against North Alabama, a team ranked No. 284 in KenPom and No. 310 in adjusted offense.
– Miller said the experience of Al Durham and Justin Smith have served both players well to start the new season, and both men have earned the trust of their teammates and the IU coaching staff. Regarding Durham, Miller said "he's making guys better in transition," while Smith's shot selection has been significantly better during the first two games compared to moments from last season.
– Miller also offered a glimpse into the recovery process for sophomore guard Rob Phinisee. Miller said Phinisee isn't full-octane and hasn't been playing at full speed yet as he recovers from a lower abdominal injury, but he remains a strong and steady defense presence for the Hoosiers. "In Rob's defense, it's like asking a guy to go 0 to 100, but we need you to run 85 before you get warmed up," Miller said of how much Phinisee has played during the first two games compared to very little practice time.
– IU's magic number for turnovers is 12. Miller said IU aims to record under 12 turnovers each game, and the Hoosiers' chance to win increases significantly when this is achieved. IU recorded 11 turnovers against Western Illinois and 10 turnovers against Portland State.
– The inside-out playing style outlined by Miller to start the season has paid strong dividends so far this season, as Miller said "it's not a secret how this team has to play." Success rebounding and scoring in the paint (Indiana has scored 110 of its 183 points, 60.1 percent, in the paint so far) has been the bread-and-butter of the offense so far.
– Miller also stressed getting to the foul line as something that must become a hallmark of this Indiana team throughout the season. "Are we making more than our opponents shoot? Are we in the bonus early?" Miller said. He also called offensive rebounding a weapon for the Hoosiers and said if the team is getting fouled then it is playing the right way.
– Race Thompson was singled out by Miller as one of the team's most versatile players in the wake of his game-shifting performance (10 points, 9 rebounds) against Portland State. "Race gives us a chance to be a bit more mobile…he can pass, he can think, he can move."
– Looking ahead to Indiana's next two opponents, Miller described North Alabama as "a feisty team, great pressure, very very athletic" and said most of Indiana's preparations for the game have centered around defense after IU allowed more than a point per possession to Portland State. The Lions forced 47 turnovers in their first two games (a loss at South Carolina and a home win against Carver College), and they use a full-court press while also having very quick guards and smaller, more mobile frontcourt. Miller also said North Alabama's halfcourt defense is the best one Indiana will face in this opening three-game stretch. Miller was less specific when describing Troy, Indiana's Saturday night opponent, saying only that the Trojans have a new coaching staff and a pretty new team.
– When asked about freshman guard Armaan Franklin, Miller said he never expects too much from a true freshman in terms of production because of all the factors that go along with starting a college career. But in the case of Franklin, he's "been a stellar worker" so far and has "impacted the game in a positive way" during Indiana's exhibitions, scrimmages and early-season games. Miller did mention though that Franklin still needs to learn to be properly physical with opponents, and must continue to adapt to marking bigger players in the post and stopping himself from committing unnecessary fouls while still being a "very smooth, confident basketball player." Miller also said he wants Franklin to be a bit "dirtier" after games from mixing it up in the battle for rebounds and loose balls.
– During his appearance on the show as a player guest, Durham admitted Monday's snowfall in Bloomington gave him his first chance to ever drive his Jeep in the snow, something the Lilburn, Georgia native doesn't experience on a normal basis.
– When discussing his hot early-season start (20.25 points per game average and a 77.8 shooting percentage from the field), Durham said he "wanted to shock the world" and cited a perceived lack of respect for Indiana during preseason projections as a reason he and his team wanted to start the season strong.
– Justin Smith's strong start (20 points and 7.5 rebounds per game averages) also didn't surprise Durham, who said of his fellow junior "I knew Justin was going to break out…I've just been waiting for everyone else to see it…I honestly couldn't wait for it to happen to him."
Filed to: Archie Miller