What to expect: North Alabama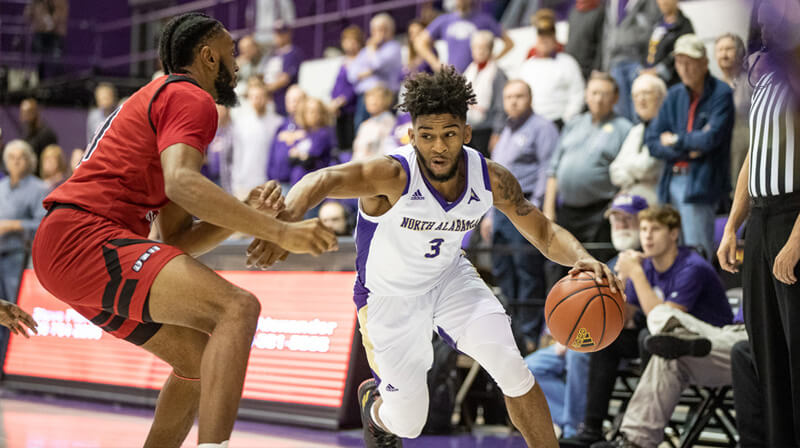 Indiana's non-conference slate continues Tuesday as the Hoosiers host Division I transition program North Alabama at Simon Skjodt Assembly Hall.
The Lions, members of the Atlantic Sun conference, began D1 play last season and are ineligible for the NCAA tournament until the 2022-23 season. North Alabama finished last season 10-22 and was picked to finish sixth in the nine-team Atlantic Sun by the league's coaches and media.
Tuesday's game will be broadcast on BTN at 7 p.m. ET with Brandon Gaudin and Brian Butch on the call:
Saturday's 85-74 win over Portland State showed that Indiana still has a long way to go defensively.
The Hoosiers allowed the Vikings to score 1.08 points per possession on Branch McCracken Court. In his postgame comments, Archie Miller didn't sugarcoat anything when speaking about his team's defensive performance.
"To be honest with you, if we don't get our defense going in another direction here, we're going to experience some really hard moments in games," Miller said. "We can't get stops."
Indiana didn't allow an opponent to score more than a point per possession last season until its Big Ten-ACC Challenge loss at Duke, so the soft performance on Saturday against Portland State is definitely a cause for concern.
For a team that Miller has said will have to hang its hat on defense, Indiana only has three weeks to figure it out.
MEET THE LIONS
North Alabama is led by sophomore guard Jamari Blackmon, a preseason second team all-Atlantic Sun selection. The 6-foot-1 guard from Hoover, Alabama is a poor 3-point shooter (27.8 percent for his career), but did a solid job of getting to the line and converting as a freshman.
Blackmon went to the free throw line 147 times last season and knocked down 76.2 percent of his attempts. The Atlantic Sun freshman of the year led North Alabama in points (14.6), assists (2.7) and steals (1.8) per game last season.
Sophomore Christian Agnew was on the Atlantic Sun all-freshman team last season and averaged 11.3 points last season. Agnew, a 6-foot-2 guard, came off the bench the first two games as CJ Brim, a 5-foot-9 JUCO transfer, started at point guard with Blackmon at the 2.
Up front, North Alabama is undersized with 6-foot-7 freshman Mervin James, 6-foot-7 sophomore Emanuel Littles and 6-foot-5 redshirt junior Payton Youngblood.
Youngblood appeared in just four games due to an injury, but has 20 points and is 3-for-7 on 3s through North Alabama's first two games. James, a native of the Virgin Islands, had a pair of blocks in North Alabama's loss at South Carolina to open the season. And Littles started 18 games last season and averaged a team-best eight rebounds. That number ranked fourth among Atlantic Sun players.
TEMPO-FREE THOUGHTS
North Alabama was one of the worst offensive teams in Division I basketball last season as the Lions ranked 342nd nationally in both 2-point and 3-point shooting, according to Ken Pomeroy. Those are two numbers to keep in mind when evaluating how the Hoosiers play defensively on Tuesday evening.
North Alabama was one of the nation's best defensive rebounding teams a season ago, ranking 43rd nationally. On average, opponents only grabbed 25.1 percent of their missed shots against the Lions.
Through two games this season, Indiana is grabbing 45.5 percent of its misses, which ranks seventh nationally through Sunday's games.
WHAT IT COMES DOWN TO
The Pomeroy prediction is Indiana by 22 with a 98 percent chance of a win for the Hoosiers and the Sagarin ratings like the Hoosiers by just 15.5.
This is a game Indiana should win comfortably as North Alabama didn't beat a Division I team last season in non-conference play and lost its only opportunity this season thus far by 22 at South Carolina.
While the Hoosiers are expected to keep piling up wins this month in non-conference play, it bears watching how the rest of the league performs this month.
Thus far, the Big Ten is 0-4 against Big 12, SEC and Pac-12 opponents and with the Gavitt Tipoff Games tipping off this week, it's important for the league to find its footing quickly. With a non-conference schedule that isn't going to turn any heads come March, Indiana needs the rest of the league to perform well over the next month and a half to make Big Ten wins carry some weight. If that doesn't happen, the Hoosiers could end up regretting playing such a soft November slate.
(Photo credit: RoarLions.com)
Filed to: North Alabama Lions