News and notes from Archie Miller's radio show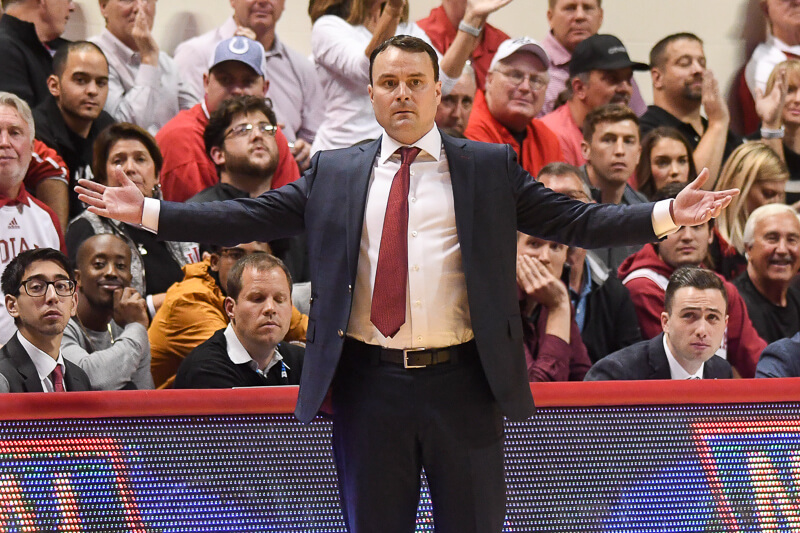 "Inside IU Basketball with Archie Miller" returned Monday night, with the radio program's debut episode of the season featuring Archie Miller and new assistant coach Mike Roberts reflecting on Indiana's offseason ahead of Tuesday night's season-opening game against Western Illinois.
Here are the highlights from Miller and Roberts' discussion with host Don Fischer.
• Miller looked back on Indiana's 84-54 exhibition victory against Gannon on Oct. 29 by focusing on the shift in how the Hoosiers played from the first half to the second half. Indiana led by just eight points at halftime, before blowing away the Golden Knights with an inside-out approach, as the IU frontcourt players took control going at the basket and drawing fouls. Miller admitted the Hoosiers "aren't anywhere near good enough yet or where we are supposed to be" defensively though.
• On that note about the frontcourt, Miller focused on this core group of players as vital to Indiana's success this season. He said the versatility of players like Justin Smith and Jerome Hunter can allow IU to play big or small depending on opponent matchups and foul trouble. "If that's our strength, we really have to play to it," Miller said of his frontcourt.
• Armaan Franklin's stat line in the exhibition victory (34 minutes, 12 points, 8 rebounds) stood out to many Hoosier fans, as well as Miller, especially considering his only prior point guard experience with the Hoosiers came in walkthroughs the day of the game. With Al Durham and Devonte Green out injured, and Rob Phinisee playing sparingly as he makes his way back from a lower abdominal injury, Franklin's performance showed Miller he could handle ball-handling responsibilities to start the season. "He's played well, he's played a lot of minutes and he's given himself the chance to have a lot of confidence entering the regular season."
• The Hoosiers will be without Green (hamstring) for Tuesday night's game, but he along with Durham have continued to provide Indiana with leadership on and off the court in their roles as team captains. "Al is as good of a teammate as I've been around," Miller said. Speaking about Green, Miller called him an offensive weapon who finally knows what his set role will be for the Hoosiers this season, after spending the early part of his career uncertain in this regard.
• IU's frontcourt newcomers, Joey Brunk and Trayce Jackson-Davis, were also praised by Miller as bringing a positive team approach and helping with team chemistry since their arrivals in Bloomington. While Jackson-Davis has dominated in practice, leading the Hoosiers in various statistical categories as well as the arbitrary "practice points" assigned by Miller, he's also allowed Miller to help mold his game. "He's really brought a calmness to how he's approached things, he's an unbelievable guy to coach right now."
• Tuesday night will likely be the regular season debut of Jerome Hunter. Leg surgery and recovery from it last season meant Hunter was unable to practice or play in any games, but Miller has long been plotting ways to maximize Hunter's shooting and skillset on the court. Miller said scenarios exist where Hunter could play as a fourth guard or a wing for Indiana, and he'll also be tasked with guarding smaller players when opponents use a small-ball lineup against IU. "We're just giving him the best chance to see where he fits in with a lot of things," Miller said.
• Phinisee's time on the court against Gannon (14 minutes, 5 points, 1 rebound) represented his first 5-on-5 action of the new season, since the abdominal injury sidelined him for most of October. It's still unknown if Phinisee will play against Western Illinois, but his slow road to recovery should provide at least a bit of security should Franklin need to take on the bulk of the point guard duties. "His legs are back, his body's starting to feel a little bit better," Miller said of Phinisee.
• Contrasting this year's team with last year's, Miller provided some interesting insight into the mental makeup of the two squads. "Deep down inside there's a sick feeling that we underachieved to the standard that we want," Miller said of last season. "Every single guy in this year's group sees themselves as being impactful," Miller said.
• A silver lining to the injuries suffered by so many members of the Indiana backcourt has been the repetitions given to players like Damezi Anderson, Hunter and Smith, Miller said. Those three players have been forced to defend the perimeter more in practices this season, giving them chances to improve on their close-down defense ahead of a season which will test the IU frontcourt's ability to defend against 3-pointers.
• Looking at Western Illinois, Miller says the Fighting Leathernecks will likely employ a man-to-man defense against the Hoosiers. Junior guard Kobe Webster (who went to Park Tudor School in Indianapolis) led Western Illinois with 17 points per game last season, and is projected to be an all-Summit League player this season. Western Illinois coach Billy Wright and Miller also have previous ties. Wright was an assistant coach at Pike High School in Indianapolis while Miller was a first-year assistant coach at Western Kentucky, which signed Pike product Courtney Lee.
• Mike Roberts described his return to Bloomington as a dream opportunity. IU's newest assistant coach was hired away from UNC-Greensboro in late August, and is pleased to be back in his home state. Roberts grew up in Terre Haute, his father worked in construction management helping build CD-ROM factories, before that work whisked the Roberts family away to Oregon. Stops since for Roberts include Texas Tech, where he was a graduate assistant for Bob Knight, as well as Cal and Rice. Roberts said depth is the most striking feature he's noticed so far about this Indiana team. "It's very rare that every scholarship player you have on the roster has a legitimate chance to play in the games," Roberts said. "We can come at you in waves."
Filed to: Archie Miller