Big Ten's top 25 players for 2019-20: 10-6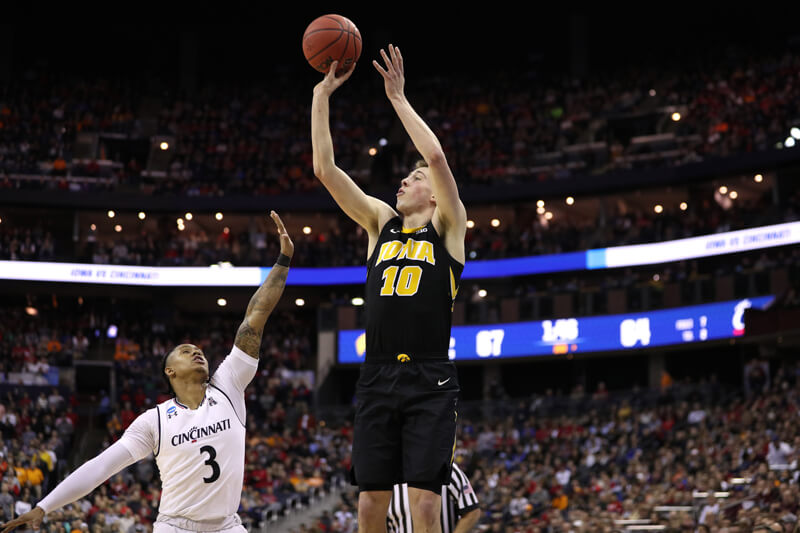 With the official start of practice quickly approaching, UMHoops and Inside the Hall have again partnered to bring you a preseason breakdown of the top 25 players in the Big Ten for the 2019-2020 season.
Our selection process involved much deliberation to arrive at a list we hope will provide plenty of reaction and debate. The series will be broken into five parts and our fourth installment of players 10-6 is available below:
(Previously: Big Ten's top 25 players for 2019-20: 25-21, Big Ten's top 25 players for 2019-20: 20-16, Big Ten's top 25 players for 2019-20: 15-11)
10. Jon Teske, Michigan (7-foot-1, center, senior)
Michigan center Jon Teske was elite in his role last season. He is one of the conference's best defensive big men and led in the country in roll man scoring, per Synergy Sports. Teske only made 3-of-22 3-pointers in non-conference play, but improved to 36 percent in league play and grew into a reliable pick-and-pop threat.
We know that Teske is capable of providing everything that John Beilein wanted at the center position, but we don't know what Juwan Howard will ask of his post players. Teske was not a reliable low post scorer last season and he could face a difficult transition if his role changes too dramatically.
9. Kaleb Wesson, Ohio State (6-foot-9, forward, junior)
After testing the NBA draft waters, Wesson opted to return to Columbus for his junior season. That was a smart decision as his below the rim post game is unlikely to ever land him on an NBA roster. In the college game, however, Wesson is a productive, high usage big who can also step out to the perimeter.
As a sophomore, Wesson was seventh in the Big Ten in usage rate and shot a stellar 52.8 percent on 2s and 36.1 percent on 3s in league play. He also ranked in the top 25 of the conference in offensive and defensive rebounding percentage, assist rate, block percentage and steal percentage.
While Wesson's usage rate could drop a bit as a junior as Ohio State looks to integrate the league's top recruiting class, he will still be the first offensive option for Chris Holtmann as the Buckeyes look to reach the NCAA tournament for a third straight season.
8. Joe Wieskamp, Iowa (6-foot-6, guard, sophomore)
Wieskamp is already one of the best shooters in the Big Ten and his game has plenty of room to grow. The 6-foot-6 wing posted a 65.8 effective field goal percentage on catch and shoot jumpers last season, per Synergy Sports, which ranks in the top five among returning players in the conference.
Wieskamp averaged 11.1 points and 4.9 rebounds per game as a freshman despite playing on a deep squad loaded with offensive weapons. While Wieskamp was effective and efficient playing off of Tyler Cook, Isaiah Moss and Jordan Bohannon last season, he should move into a more featured role in the offense this year. Wieskamp is ready for the shift. Despite limited usage, he graded out in the 94th percentile as a pick-and-roll playmaker last season.
He might have flown a bit under the radar when compared to other freshmen in the conference last season, but Wieskamp should be in the conversation for All-Big Ten honors by year's end.
7. Jalen Smith, Maryland (6-foot-10, forward, sophomore)
In today's era of college basketball, it is rare to see a player like Jalen Smith return for his sophomore season. 6-foot-10 big men with long arms, coordination and a developing jumpshot are not expected to hang around a college campus for more than a few months. Smith could have made the jump to the NBA but opted to return to school an anchor a Maryland team picked to finish near the top of the conference.
Smith was so raw as a freshman that it is fair to expect his game to improve across the board. He'll also have more opportunities now that he's not sharing the frontcourt with Bruno Fernando. Smith is already a great finisher, offensive rebounder and rim protector, but his offensive game should expand as a sophomore.
6. Xavier Tillman, Michigan State (6-foot-8, forward, junior)
Tillman's breakout sophomore season made Nick Ward's decision to head overseas to pursue a professional career much easier for Michigan State fans to swallow.
The 6-foot-8 forward shot 65.7 percent on 2s last season in league play, which ranked third in the conference. When he wasn't finishing, he was getting to the line and converting. Tillman was second in the conference in free throw rate and hit 81.2 percent of his attempts in league play, good for ninth in the league. He's also an elite offensive rebounder – 12.2 offensive rebounding percentage in Big Ten games – and a very good shot blocker.
With Cassius Winston back in East Lansing for his senior season, Tillman will be in line for another season of productivity as the roll guy in the pick-and-roll.
Subscribe to Inside the Hall's YouTube channel and like our page over on Facebook.
(Photo credit: Hawkeyesports.com)
Filed to: 2019-2020 Big Ten preview