Big Ten's top 25 players for 2019-20: 15-11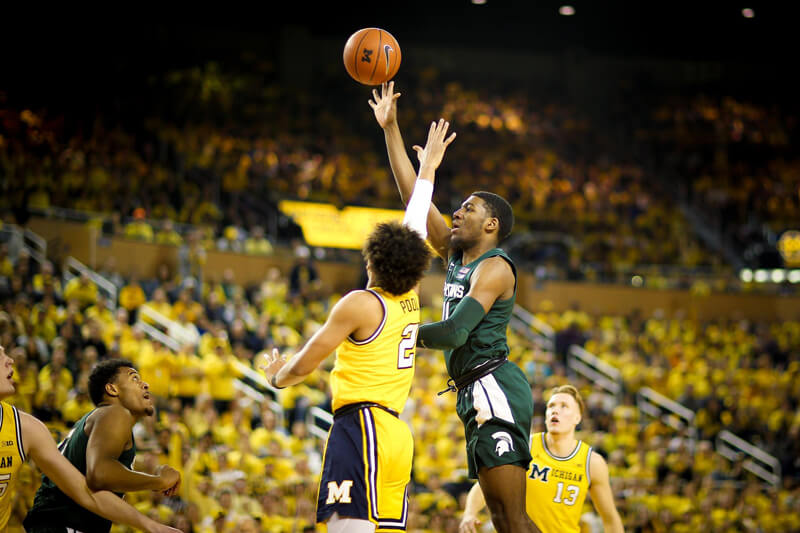 With the official start of practice quickly approaching, UMHoops and Inside the Hall have again partnered to bring you a preseason breakdown of the top 25 players in the Big Ten for the 2019-2020 season.
Our selection process involved much deliberation to arrive at a list we hope will provide plenty of reaction and debate. The series will be broken into five parts and our third installment of players 15-11 is available below:
(Previously: Big Ten's top 25 players for 2019-20: 25-21, Big Ten's top 25 players for 2019-20: 20-16)
15. Luka Garza, Iowa (6-foot-11, center, junior)
Despite the fact that he's a below the rim player, Garza proved that he was one of the best frontcourt players in the conference as a sophomore. His 13.1 points per game were second on the Hawkeyes and he shot 60.8 percent on 2s and 80.4 percent from the free throw line.
Garza's game is built on being cerebral in the post and his footwork and fundamentals are excellent. According to Synergy Sports, his 1.18 points per possession on post-up opportunities last season ranked in the 97th percentile nationally.
The departure of Tyler Cook means that he'll take on a more prominent role in Iowa's offense as a junior. If he can become a better rebounder – his offensive and defensive rebounding percentages both sunk last season – he has All-Big Ten potential.
14. Giorgi Bezhanishvili, Illinois (6-foot-9, forward, sophomore)
Georgian born center Giorgi Bezhanishvili emerged as one of the most entertaining players in the Big Ten both on and off the court. He showed flashes of potential early in the season but turned that into consistent production by year's end. Bezhanishvili averaged 15.7 points per game over Illinois' final 11 contests last season, reaching double figures in all but one game.
Bezhanishvili is a versatile offensive weapon who is effective playing with this back to the basket, operating as a roll man out of ball screens or crashing the offensive glass. If his momentum last season carries over into 2019-20, he might end up one of the more underrated names on this list.
13. Nate Reuvers, Wisconsin (6-foot-11, forward, junior)
Wisconsin post players developing in relative obscurity only to emerge as all-conference caliber centers late in their career is a phenomenon that even casual Big Ten fans are familiar with. As Wisconsin looks to re-tool without Ethan Happ's incredible 35.6 percent usage rate, all eyes will be on Nate Reuvers in the frontcourt.
Reuvers is already one of the Big Ten's best defensive bigs and a reliable 3-point shooter. He made 38.1 percent of his 3s last season and finished 50th nationally in block rate. The larger question is what his offensive game looks like as a go-to option inside rather than a complementary piece next to Happ. History tells us not to bet against a Wisconsin big man, but that adjustment will determine his ceiling.
12. Nojel Eastern, Purdue (6-foot-6, guard, junior)
Eastern is a rarity in today's game – a guard who never shoots from the perimeter but is still a highly effective player. His offensive game is built on his ability to drive and either finish or get to the foul line. His free throw rate of 54.1 percent was third in the conference in league games and he improved his free throw percentage significantly (from 41.7 percent to 65 percent) last season.
His game is well rounded – he ranked in the top 25 in the conference in offensive and defensive rebounding percentage, assist rate and steal rate – and he's also an elite defender. Eastern and Michigan's Zavier Simpson are the only two returning players from last season's all-defensive team.
11. Aaron Henry, Michigan State (6-foot-6, forward, sophomore)
This ranking for Henry is a bet on his breakout potential and his play in last season's NCAA tournament suggests he's ready to take a major step forward.
In five NCAA tournament games as a freshman, Henry averaged 10.4 points, 5.2 rebounds and 2.8 assists as Michigan State advanced to the national semifinals. As a sophomore, he'll move into a bigger role for Tom Izzo on the nation's preseason No. 1 team. It also doesn't hurt that the Spartans welcome back elite point guard Cassius Winston, who will make it a priority to find Henry for open 3s and also on the break, where he's a more than capable finisher at the rim.
Subscribe to Inside the Hall's YouTube channel and like our page over on Facebook.
(Photo credit: MSUSpartans.com)
Filed to: 2019-2020 Big Ten preview