6-Banner Sunday: Trayce Jackson-Davis is ready to be a key part of Indiana's future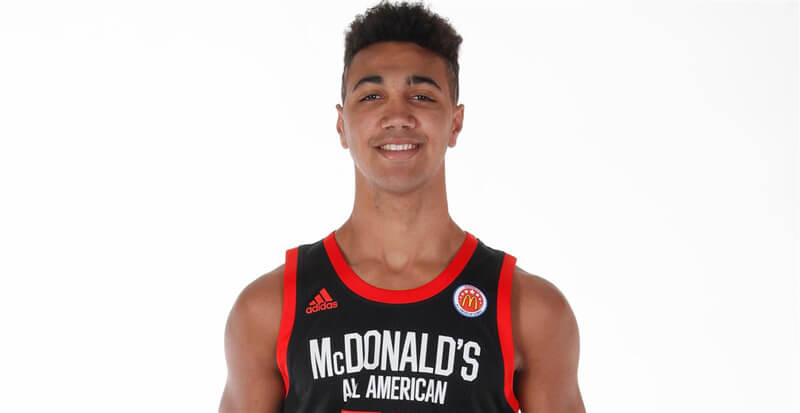 6-Banner Sunday is Inside the Hall's weekly newsletter in partnership with The Assembly Call. More than 6,000 Indiana fans receive the newsletter each week. In addition to appearing each week on the site, you can also opt to receive 6-Banner Sunday by email. A form to subscribe via email is available at the bottom of this week's 6-Banner Sunday.
Welcome to another edition of 6-Banner Sunday, a joint production between The Assembly Call and Inside the Hall where we highlight the six most essential IU basketball stories of the past week.
With Little 5 occurring this weekend (congrats to Cutters and Teter for their victories), our student interns weren't sure they would be in the right "frame of mind" for compiling this week's news roundup. So they asked the old guy to step in, and I was happy to oblige.
There may be no more college basketball games to watch, but there are still plenty of intriguing IU hoops (and spring sports) storylines to follow.
In this week's edition:
• Trayce Jackson-Davis is ready for what awaits him in Bloomington
• IU coaching staff hard at work to fill open roster spots
• Greg Graham reflects fondly on his time playing for Bob Knight
• IU basketball program value slips, but still top-5 overall
• Regular season ends for former Hoosiers in the NBA
• Spring sports update … including the football spring game
Banner #1
Trayce Jackson-Davis is ready for what awaits him in Bloomington
Everyone knows it is going to be difficult for Indiana to simultaneously replace a versatile low-post presence (Juwan Morgan) and an Indiana-bred McDonald's All American (Romeo Langford).
And while all eyes right now are fixated on who Archie Miller will find to fill his three open scholarships, it's worth remembering that one of the two incoming freshman already inked for next season is a versatile low-post presence and an Indiana-bred McDonald's All American all rolled into one player.
But, you know, no pressure or anything, Trayce.
While it's true that Trayce Jackson-Davis' high school skillset and pedigree share similarities with Juwan and Romeo, most Indiana fans are reasonable enough to know that the young man often referred to simply by his initials, TJD, is unlikely to come right in and replace the production of even one of the Indiana's departing stars, let alone two.
But as recent pieces by Gregg Doyel and Seth Tow highlight, Trayce's long-term potential is tantalizing, and it certainly seems that he has the proper mindset to maximize it.
Doyel was so impressed by Trayce's play in the recent North-South All Star Game, that he dialed up a couple of his coaching buddies to get their objective take on Trayce's ability.
Which brings me back to that question I asked earlier, not of Jackson-Davis, but about him: What, exactly, did he show? How good is he?

For those answers, I went to two college coaches. No, they weren't in the Martinsville gym on Saturday. They couldn't be, according to the NCAA recruiting calendar. But these guys, both with deep Midwest roots, know Jackson-Davis' game. They've seen him over the years, one a high-level assistant, another a mid-major head coach. I called each of them after Saturday's all-star game. To be as transparent as possible, this is what I told them:

"I have no idea what I just watched. It was an all-star game, and Trayce was the biggest player on the court, with the quickness of the guards. But he dunked on everything and everyone. Will that translate to the Big Ten?"

One of them, the mid-major head coach, laughed out loud. Then he said:

"Oh, it'll translate!" the guy said, and I used that exclamation point for a reason, the reason being he was shouting. "I saw him as a (Center Grove) freshman, when he really couldn't score yet, and the first time I saw him I said: 'Well, we can forget about getting him.' Because of what you're saying: He just moves so well (for his size). I think it'll translate well. It won't happen his first season, but he'll be one of the better players in the Big Ten eventually, and he'll get some NBA talk."

The high-level assistant was a bit more restrained, pointing out that other schools in the Big Ten will have guys as big as Jackson-Davis, as strong, as quick.

Yes, I said, but how many Big Ten teams have one guy who are all three of those things?

"That's a fair point," the assistant told me. "Look, he's going to be a good player. Will he dominate as a freshman? No. But he's going to be really good."
Tow wrote an in-depth profile about Trayce this week for Inside the Hall. Read it, and you'll get a pretty good grasp on the type of player and person who will be enrolling at IU this summer.
Jackson-Davis will have a role for next year's Hoosiers. How significant that role will be could vary, depending on how the roster evolves and how Miller decides to deploy his front court next season. He should have a chance to start, but he could also come off the bench as a sixth man, or even have to work his way up to major minutes.

Bart Torvik, who uses analytics to create projections for teams and players on his site, says his system projects Jackson-Davis at 9.7 points and 5.5 rebounds per game for next season. While the projections for incoming freshmen are basically only derived from height and recruiting rank, they're a useful baseline for setting expectations. Last year, Torvik projected Romeo Langford to score 14.5 points per game — pretty close to his actual tally of 16.5. The Jackson-Davis projection is representative of a player who'd both solidly contribute as a freshman and have room to improve down the road.

Long-term, he's essentially the heir apparent to Juwan Morgan. Their games bear some similarities: passing prowess inside, strong post game and finishing ability, and an outside shot that could improve over time. Jackson-Davis doesn't see himself filling that role immediately, but thinks that's a mold he could fit into in a few years as he continues developing his game.
For a program mired in one of the most unstable and unsuccessful three-year periods in its proud history, a player like Trayce Jackson-Davis has the potential to be a rock on which consistent success is once again built.
And it sounds like Trayce will be ready to face that challenge head on.
Banner #2
IU coaching staff hard at work to fill open roster spots
With Romeo Langford making his NBA intentions official, and both Clifton Moore and Jake Forrester electing to seek more playing time elsewhere, Archie Miller and his staff suddenly went from having no open scholarships for next year to three open scholarships that need filling.
Here is an update on where things stand with the most prominent players Archie and his staff are trying to lure to Bloomington:
• Indiana remains in the picture for Trendon Watford, but Memphis seems like the leader here, with Alabama and LSU also still in the mix.
• Memphis is also in good shape with Class of 2019 sharp shooter Lester Quinones, but he did set his official visit to Bloomington for April 24-26th. (He originally scheduled it for this weekend but had to cancel due to a family matter.)
• Harlond Beverly is another highly regarded guard in Class of 2019 that the Hoosiers are pursuing, along with Kansas, Michigan, and others. Some of the recent buzz (including four Crystal Ball picks on Saturday) suggests that Georgia is actually trending for Beverly.
• The outlook is more positive for Butler grad transfer Joey Brunk. Corey Evans labeled Indiana "the favorite" to land Brunk, who will have two years of eligibility.
• Per Evan Daniels, Indiana met with Anthony Harris on Saturday. Harris is one of the top point guards in the country and reopened his recruitment after Buzz Williams left Virginia Tech for Texas A&M.
• Jalen Windham is another name to keep an eye on. The Ben Davis product reopened his recruitment after Ron Hunter left Georgia State. Windham will visit Creighton April 22-24th. There is mutual interest between Windham and the Hoosiers, but Archie Miller may be waiting to see what happens with Watford, Quinones, and Beverly before offering a scholarship.
And one final recruiting note: Archie Miller spent time with Class of 2021 guard Khristian Lander on Friday. The Hoosiers have made Lander their top in-state priority and will assuredly be in a dogfight with a number of prominent schools to secure his commitment.
Banner #3
Greg Graham reflects fondly on his time playing for Bob Knight
On Tuesday night, Alex and I had the pleasure of chatting with IU legend Greg Graham for this week's edition of Podcast on the Brink.
My biggest takeaway from the discussion was how appreciative Greg is of the coaching he received from Bob Knight during his four years in Bloomington. Greg clearly came to Bloomington with the right mindset for handling a coach like Knight, and Greg's development as a player over four years was a testament to his ability to focus on the meaning of Knight's words rather than the color of their delivery. (And yes, we asked him about the infamous Bob Knight locker room rant. His response is great.)
It's also clear that Greg doesn't feel much of a connection to the IU program right now. And I left the conversation feeling sad and a little dismayed by that fact. It's also not entirely clear who or what is at fault for it.
Archie Miller clearly has made an effort to build relationships with a number of former players, and Greg clearly still has a lot of passion for Indiana basketball … but for whatever reason, that particular connection hasn't been made. Hopefully, as time goes by, and old wounds continue to (start to?) heal, the entire IU basketball family can feel like one again.
And if you missed this week's edition of Assembly Call Radio, you'll get more discussion on this topic as well as an insightful conversation about what IU-centric lessons we can learn from this year's Final Four.
Banner #4
IU basketball program value slips, but still top-5 overall
How resilient is the brand of Indiana basketball? Well, consider that Indiana has missed the NCAA tournament in each of the last three seasons (and seven of the last 11). Also consider that Indiana is eight games under .500 in Big Ten play during the span. Yet the IU basketball program remains the nation's 5th-most valuable program and the most valuable program in the Big Ten.
While being top 5 is undoubtedly impressive, the context and current trend is important. Indiana's value has dropped significantly over the last three seasons — from $277.8 million in 2016 to $196.2 million for these 2018 numbers.
So while the brand IU basketball continues to remain strong in comparison to other top college basketball brands, even a blue blood program is going to have its limit for how many decidedly non-blue blood seasons it can sustain without eroding its prestige and profit.
Here's hoping next season gets IU's program value back on an upward trajectory again.
Banner #5
Regular season ends for former Hoosiers in the NBA
Two former Hoosiers are on teams that will be playing games beyond the regular season: Eric Gordon (Houston) and OG Anunoby (Toronto). But right now, only Gordon is guaranteed to see game action.
That's because OG is likely to miss the first two rounds of the playoffs after undergoing an emergency appendectomy. Toronto earned the #2 seed, so they are a favorite to make the Eastern Conference Finals, at which point OG might be available.
For the season, OG averaged 7.0 points and 2.9 rebounds per game. He only started six games this season after starting 62 last season as a rookie, but his minutes stayed roughly the same at 20.0. He remains a versatile, effective defender and is a key part of Toronto's rotation.
Gordon finished the regular season averaging 16.2 points per game. He shot 36% from the downtown. The Rockets earned the #4 seed in the Western Conference and will face #5 Utah in the first round.
Cody Zeller had an injury-shortened season, playing just 49 games. He averaged 10.1 points per game, the second-highest scoring average of his career. He also averaged 6.8 rebounds per game and 2.1 assists per game, both career highs. The Hornets narrowly missed making the playoffs.
Zeller's Indiana teammate Victor Oladipo also had an injury-shortened season. He played 36 games before suffering a season-ending injury. Before getting hurt, Victor was averaging 18.8 points per game (down from his season-high 23.1 points per game last season) and a career-high 5.6 rebounds and 5.2 assists per game. He chatted on Indy radio last week and said he is "feeling great."
Yogi Ferrell appeared in 71 games for the Kings, but played a career-low 15.0 minutes per game. He averaged 5.9 points per game (down from 11.3 and 10.2 during his two seasons in Dallas) and 1.9 assists while shooting 36.2% from the field. He has now completed the first year of his 2-year, non-guaranteed contract with Sacramento.
While Yogi put up some of the worst stats of his career, Noah Vonleh had a resurgent season in New York and put up the best numbers of his 7-year NBA career. Still just 23 years old, Vonleh started 57 games for the Knicks and averaged 8.4 points and 7.8 rebounds. He is now a free agent.
And speaking of having a career year, Thomas Bryant impressed everyone with his play in Washington. After being traded by the Lakers, Bryant played in 72 games (starting 53) and scored 10.5 points while grabbing 6.3 rebounds. He led the NBA with a 2-point field goal percentage of 68.5%, showing that his elite skill in college has translated to the NBA. Bryant is now a free agent.
Finally, Jordan Hulls continues to have success, as he was recently named the Game Hero for his performance in helping his Wurzburg win and important game in the FIBA Europe Cup. He scored 19 points, dished five assists, and pilfered three steals.
Banner #6
Spring sports update … including the football spring game
This section contributed by Aaron Shifron
Spring sports continue to be in full swing. This week's addition has updates from Baseball, Softball, Tennis, Golf and Football. It also has exclusive live coverage of the IU Soccer spring match vs. Notre Dame that includes a spring recap.
• Assembly Call was on site for the exhibition IU Soccer spring match vs. Notre Dame Friday and the only media there to cover it. The Hoosiers lost to a really strong Irish team 4-2. IU lost 10 of 11 starters from last year while Notre Dame returned most of their team including Jack Lynn who was the difference with 2 goals. Those with a subscription to the Assembly Call private discussion community can read about the game and the spring season by going to the Assembly Call website and clicking on the "Community" link, and then finding the "Spring Sports" topic. Included with the article about the game is a full interview with IU coach Todd Yeagley.
• Baseball had a strong week. It started that day with Matt Lloyd doing everything but serving dinner to the team in a double header sweep of Penn State. This game also included the much publicized return of former IU coach Bobby Knight. On Wednesday IU got a walk off win on national television against arch rival Purdue. On Friday IU finally solved its woes against ace pitchers in series openers with a 5-0 win over Evansville.
• Softball got swept by Michigan last weekend then split a double header with main rival Purdue before dominating Maryland on Friday.
• Men's Tennis lost 5-2 vs. Minnesota.
• Women's Tennis continued a week of several IU vs. Purdue battles with a 5-2 loss before rebounding for a 5-2 win vs Penn State.
• Women's Golf finished 15th in an 18 team field at a tournament in Sunset, South Carolina with the final round cancelled.
• In Football the Hoosiers ended the spring with a unique modified game.
And with that, the joy of hanging Banner #6 is now one week closer.
Thanks for your continued support for The Assembly Call and Inside the Hall. We'll be back next weekend with a new roundup.
Now go enjoy yourself a 6-banner Sunday.
Filed to: