What to expect: Minnesota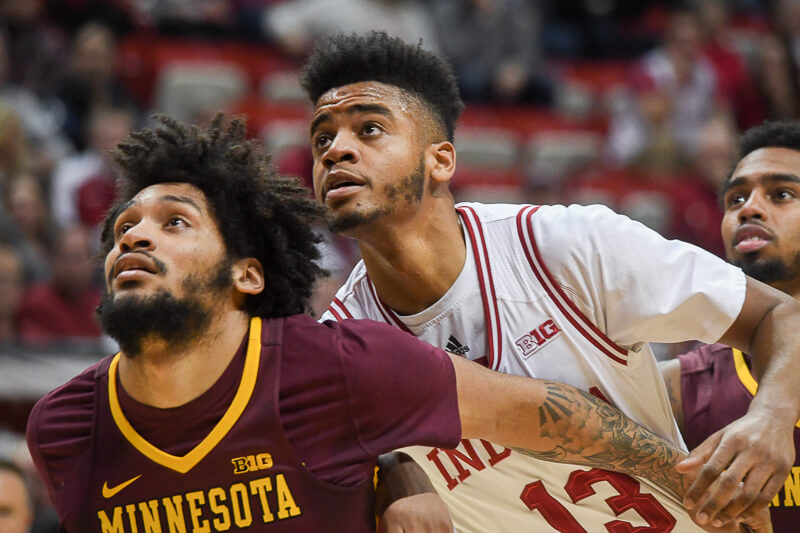 Indiana is seeking its third road win of the season on Saturday as the Hoosiers travel to Williams Arena to take on Minnesota. The Golden Gophers are 16-9 overall, 6-8 in the Big Ten and have lost four straight.
The game will be broadcast at 2 p.m. ET on ESPN2 with Jason Benetti and Dan Dakich on the call:
Minnesota's recent swoon hasn't been nearly as bad as Indiana's nine losses in 10 games, but the Golden Gophers come into Saturday's game at the Barn on a four-game skid.
Richard Pitino's Gophers are still firmly in most NCAA tournament projections, but have a tough close to the season that includes road games at Northwestern, Rutgers and Maryland and home games against Michigan and Purdue in addition to Saturday's tilt against the Hoosiers.
Three of Minnesota's four straight losses have come on the road and the home loss during the stretch came at the hands of Wisconsin, 56-51, on Feb. 6. While Indiana's NCAA tournament hopes are dangling by a thread at this point, Minnesota's are not and that makes Saturday's game pivotal for the Gophers.
MEET THE GOLDEN GOPHERS
Minnesota plays its starters heavy minutes and depending on the matchup, may not go beyond two or three deep on its bench. That was the case on Wednesday at Nebraska as only one backup logged double figure minutes in a 62-61 loss to the Huskers.
Senior Jordan Murphy is one of the best rebounders in Big Ten history and a double-double machine. Despite being undersized at just 6-foot-7, Murphy is the league's best defensive rebounder and is currently fifth in offensive rebounding percentage.
Murphy is an efficient post-up scorer (.97 PPP, per Synergy) and is also terrific on putbacks from offensive rebounds (1.33 PPP). No Big Ten player does a better job of drawing fouls as Murphy's free throw rate (FTA/FGA) is first in the league at 64 percent. He's shooting 69.8 percent from the free throw line this season.
Minnesota is a poor 3-point shooting team (29.7 percent in Big Ten play), but having Murphy on the glass can quickly turn a missed perimeter shot into an easy putback. Given Indiana's struggles throughout the season on the defensive boards, accounting for Murphy on the offensive glass is a key.
Junior wing Amir Coffey has battled injuries throughout his career, but is a unique player because of his size and versatility. The 6-foot-8 lefty can handle the ball, is a solid distributor and can also draw fouls and get to the line.
He's Minnesota's leading scorer at 15.2 points per game and is shooting 50.4 percent on 2s in conference play. Coffey is very good in transition at 1.18 points per possession, which ranks in the 73rd percentile nationally. He's also got the 10th best free throw rate (FTA/FGA) in the league and is shooting 75.9 percent from the stripe in Big Ten play.
Two freshmen, Daniel Oturu and Gabe Kalscheur both play significant roles for the Gophers.
The 6-foot-10 Oturu can be foul prone, but is seventh in the league in block percentage and is shooting 58.3 percent on 2s against Big Ten opponents. Kalscheur, meanwhile, is a 38 percent 3-point shooter who is scoring 1.22 points per possession in spot-up situations, per Synergy.
Senior guard Dupree McBrayer acts as the team's point guard and has the ninth best assist rate in the league. While not a natural at the position, he's been a solid alternative to the turnover prone Isaiah Washington, who has been a massive disappointment as a sophomore.
Redshirt sophomore Eric Curry has missed the last two games with a calf injury. Curry, who has played in just 11 games this season, is averaging 4.5 points in 19.5 minutes per game.
TEMPO-FREE PREVIEW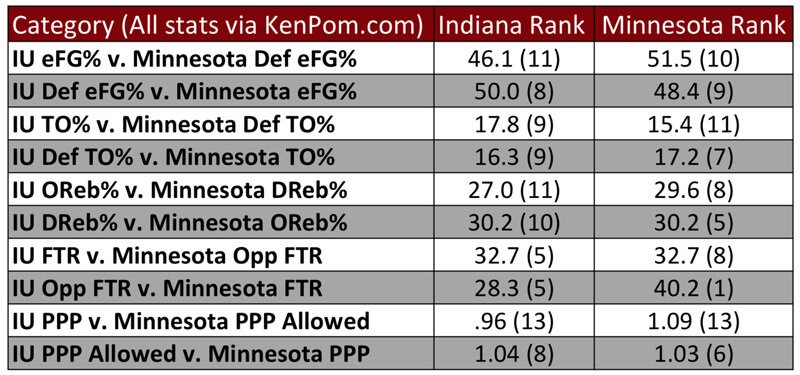 Minnesota is not a perimeter oriented team as the Gophers rank first in the Big Ten in points generated on 2s and free throws.
According to KenPom, Minnesota is scoring 22.1 percent of its points in Big Ten play from the free throw line and 58.2 percent of its points on 2s. Combine that with the fact that Minnesota ranks first in the league in free throw rate (FTA/FGA) at 40.2 percent and foul trouble is a real concern for Indiana in this contest.
The Gophers have one of the Big Ten's worst defenses at 1.09 points per possession allowed in league play, but Indiana is only going to be able to exploit that if it can make some perimeter shots. As Ryan showed in Film Session after the Ohio State loss, the book is out on how to defend Indiana and until players not named Romeo Langford and Juwan Morgan step forward to make plays consistently, teams are going to continue to clog the paint.
WHAT IT COMES DOWN TO
Indiana swept the season series against Minnesota last season, but this is a better Gophers team than a season ago. The KenPom projection is Minnesota by three and the Sagarin ratings have this game as basically a pick 'em.
Given the recent success of teams like Rutgers and Illinois, Indiana is in real danger of playing on Wednesday of the Big Ten tournament for the first time ever if it can't pick up some wins down the stretch.
Of its three remaining road games, this might be the most winnable given the fact that Minnesota is currently on a slide and Illinois and Iowa are currently rolling. Indiana has played somewhat better recently (Michigan State, Iowa), but took another step backward on Sunday with an inept offensive performance against Ohio State. Unless the Hoosiers can find a way to generate some easier opportunities offensively, its slide into the Big Ten cellar is likely to continue.
Filed to: Minnesota Golden Gophers