6-Banner Sunday: Hoosiers have quality wins, now they need quantity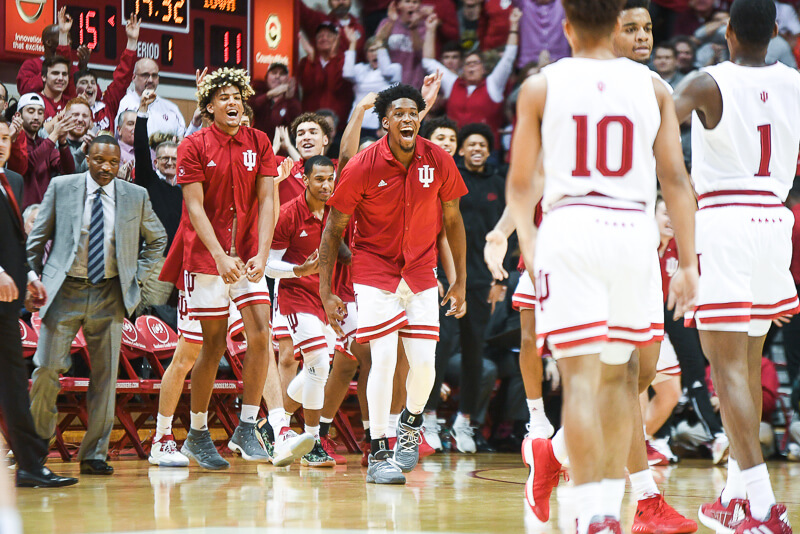 6-Banner Sunday is Inside the Hall's weekly newsletter in partnership with The Assembly Call. More than 6,000 Indiana fans receive the newsletter each week. In addition to appearing each week on the site, you can also opt to receive 6-Banner Sunday by email. A form to subscribe via email is available at the bottom of this week's 6-Banner Sunday.
Welcome to another edition of 6-Banner Sunday, a joint production between The Assembly Call and Inside the Hall where we highlight the six most essential IU basketball stories of the past week.
Indiana just can't find any consistency.
On the heels of a potentially season-defining win at Michigan State, the Hoosiers dropped a tough game to Iowa at home on Thursday as they failed to execute what they needed to when it mattered.
Indiana had its chances against the Hawkeyes, and had any number of decisive factors gone their way the Hoosiers might have escaped with a win. It's just as notable, however, that few, if any, of those things did swing in IU's direction.
The team has a chance to right the ship on Sunday. Until then, let's run through some of the biggest stories in IU basketball right now.
In this week's edition:
• Indiana looks to bounce back against Ohio State
• Re-evaluating IU's non-conference schedule
• An abbreviated history of IU hoops
• Mark Titus joins The Assembly Call
• Big Ten roundup
• Hoosiers in the NBA
Banner #1
Indiana looks to bounce back against Ohio State
After picking up the biggest win of the season last Saturday against Michigan State, Indiana followed it up with another disappointing loss — this time to Iowa at home.
The Hoosiers showed flashes of the energy and connectedness that helped them knock off the Spartans in East Lansing, but could not string together enough solid possessions to catch Iowa, who held a one or two-possession lead for most of the second half.
Indiana will have an opportunity to get back into the win column on Sunday afternoon as Ohio State visits Assembly Hall. The Hoosiers will wear their new uniforms celebrating Black History Month and honoring the 70th anniversary of Bill Garrett breaking the Big Ten basketball color barrier.
Led by sophomore big man Kaleb Wesson, the Buckeyes are 15-7 on the season and 5-6 in the Big Ten. They held off Penn State, 74-70, in their last game, but have lost six of their last nine games overall. Here's what else to expect from Ohio State.
For Indiana, every remaining game represents an important chance to salvage its NCAA tournament hopes. IU will likely need to win at least four of its final eight games to even have a chance to sneak into the tournament, and with games still left to play against Purdue, Wisconsin, and Michigan State, opportunities like the one in front of the Hoosiers on Sunday are nearly must-wins.
Banner #2
Re-evaluating IU's non-conference schedule
Indiana has looked drastically different in Big Ten play than it did in in its non-conference season, but with its postseason destiny in question, a fairly strong non-conference résumé could help boost the Hoosiers should they wind up on the tournament bubble. Wins over Marquette and Louisville have aged well through the first week of February.
The Golden Eagles edged out Villanova Saturday afternoon, giving them nine wins in their last 10 games and a 20-4 record overall. The Cardinals, meanwhile, were ranked 16th in the country before dropping a close game against Florida State in Tallahassee, and they sit just below the elite ranks of Duke, UNC, and Virginia in the ACC standings.
Both Louisville and Marquette (along with Michigan State) were among the teams included in CBS' Sunday reveal of the current top 16 teams in the early-early bracket discussions being held by the committee. While Indiana's last nine games have been underwhelming (to say the least), few teams in the country have wins over three of the top 16 teams.
Those wins will certainly help Indiana's chances, but now the Hoosiers need more. Perhaps the team that knocked off those squads still exists. Indiana has eight games to decide.
Banner #3
An abbreviated history of IU hoops
As Indiana has struggled to find identity and consistency this year, our friends at CrimsonCast — a staple of the IU media landscape — take a look at some of the larger context behind the program's current state and how it got there.
From the episode's description:
"The 2018-19 season has been the cause of some soul-searching on the part of the IU fanbase. CrimsonCast delves into the larger questions of the program as a whole by turning back the clock and looking at the antecedents that led us to this point. How does IU basketball's historical narrative answer the question of "Why are we here?"
IU Artifacts and Matthew Blaszka join for this episode, as we take you on an abbreviated history of Hoosier hoops, touching on Branch McCracken's final years, the evolution and devolution of the Knight era, the chaos of the 2000s, and the transition from Tom Crean to Archie Miller, plus a whole lot more in between."
This, and every episode of CrimsonCast, is essential listening for any die-hard Hoosier fan.
Banner #4
Mark Titus joins The Assembly Call
On a special edition of The Assembly Call, Mark Titus of The Ringer joined Jerod Morris to discuss the current state of IU hoops, his time at Ohio State, playing for Archie Miller, and much more.
Subscribe and listen to every episode of The Assembly Call and Podcast on the Brink to stay up to date on the latest news and analysis of Indiana basketball.
Banner #5
Big Ten roundup
The top tier of the Big Ten has grown over the last few weeks as Purdue has surged into second place in the conference. The Boilermakers trail Michigan (11-2) by just a game for the best record in conference play and have lost only to Michigan and Michigan State during the conference schedule.
Meanwhile, Wisconsin has surged despite a loss to Michigan on Saturday, tying them with Maryland for fourth place at 9-4. Iowa appears to have gained momentum, though remains a tier below the best in the conference, as six teams are jostling in the middle of the pack between four and six conference wins.
These final games will be crucial not just for Indiana, but for nearly every team in the conference to achieve the best possible seeding in the Big Ten tournament. One of Maryland and Wisconsin will get a double-bye while the other plays on Thursday. Rutgers, Illinois, Indiana, and Northwestern are all at risk of dropping into the dreaded bottom four and playing on Wednesday.
Banner #6
Hoosiers in the NBA
Eric Gordon has slowly begun to look more like the player that played a critical role in the Rockets reaching the Western Conference Finals last season. Since returning from an eight-game absence, Gordon is shooting nearly 38 percent from three on over eight attempts per game over his last 10 contests.
Even when his shot wasn't falling consistently, Gordon was essential for Houston during Chris Paul's absence, and has remained in the starting lineup next to Paul and James Harden as of late.
OG Anunoby, meanwhile, hasn't quite been himself this year. His minutes and per-game production are slightly up, but with the cost of reduced efficiency. Any time he finds some sort of offensive rhythm, he seems to miss a stretch of games or fall out of Nick Nurse's rotation.
Toronto's addition of Marc Gasol at the trade deadline could complicate Anunoby's role for the remainder of the season. The Spanish center will play major minutes at center, meaning either Pascal Siakam or Serge Ibaka will come off the bench. Either way, there may be fewer available minutes at power forward, where Anunoby most frequently plays with second units.
Gasol's arrival may also move Siakam to the wing more often, cutting down on Anunoby's opportunity even further. Still, the Raptors are at their best when they fly around with fast, rangy lineups, and Anunoby is an important component of those units (as I've repeated in this space before). Siakam should play some center in the playoffs, and Toronto will need a healthy and functional Anunoby for that to happen.
Anunoby's teammate of two years, Thomas Bryant, remains one of the most surprising stories in the NBA this season. The second-year big man is posting 9.6 points and 5.8 rebounds per game for Washington while shooting 65 percent from the floor and 38.5 percent from distance. Bryant is playing on a one-year minimum and has surely earned himself a fatter contract this offseason. Ideally, he'd play a backup role for a good team, but as a rim-running, floor-spacing center on a mediocre team, Bryant has been more than serviceable.
Cody Zeller returned from a prolonged injury-related absence Tuesday night and has come off the bench in each of Charlotte's last two games. The Hornets were quiet at the deadline, and it may be only a matter of time before Zeller reclaims his starting spot from Bismack Biyombo. His rebounding and screen-setting is integral to Charlotte's offensive success – it's just not enough to lift the team out of mediocrity.
Noah Vonleh stayed put at the trade deadline after minor speculation (or just hope) that he might be on the move to a contender. That's fine. Vonleh is having a nice season with New York – even if he doesn't appear to be in the Knicks' future plans. Either way, he's earned himself a heftier contract than the minimum deal he signed this summer.
Yogi Ferrell continues to provide solid backup point guard play for the Kings, who remain squarely in playoff contention. Ferrell is averaging six points and two assists on 38.5 percent shooting from three.
All stats current through February 8.
And with that, the joy of hanging Banner #6 is now one week closer.
Thanks for your continued support for The Assembly Call and Inside the Hall. We'll be back next weekend with a new roundup.
Now go enjoy yourself a 6-banner Sunday.
Filed to: