Indiana falls just short as inconsistencies manifest against Iowa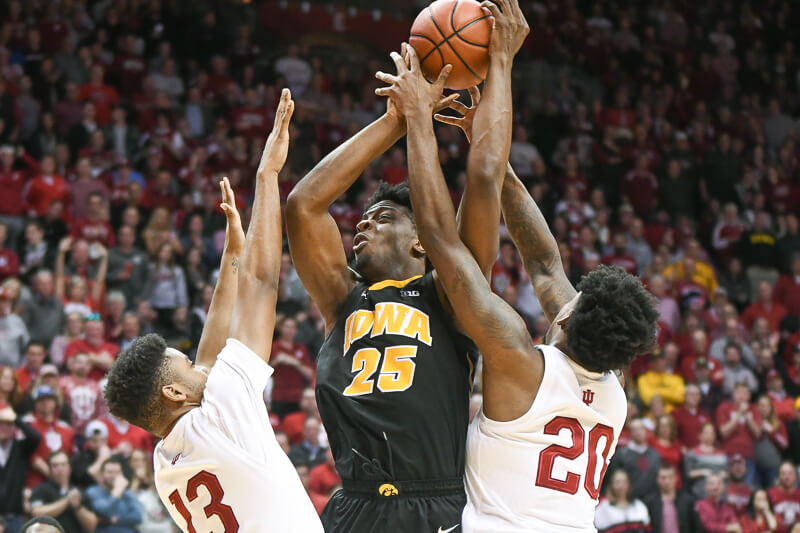 The cause of the five-point gap that separated Indiana and Iowa Thursday night can be traced to any of a few factors, depending on the lens through which one views the game.
It could have been Iowa's 3-point shooting or its scoring edge off of turnovers, or the foul trouble that limited Juwan Morgan to just 22 minutes. Perhaps it was Iowa's ability to quell every Hoosier run with a timely stop or silencing bucket. Indiana played well enough to have won the game had any one factor swung its way, yet poorly enough that none did. Ultimately, that five-point margin was a matter of execution and consistency – and Indiana's lack thereof when it most mattered.
Schematically, the Hoosiers bore a close resemblance to the team that escaped East Lansing Saturday night with an upset win over Michigan State. The ball moved crisply, save for the time it took Indiana to figure out Iowa's 2-3 zone, and IU finished the night with 17 assists on 26 made field goals. The team generated 1.09 points per possession, nine dunks, and 21 three-point attempts, nearly all of which were clean looks. Romeo Langford had 22 points on just 12 shots while Morgan scored 17 points in his limited time on the floor. De'Ron Davis, despite attempting just two shots, dished a game and career-high seven assists. Indiana's process was good and its approach well-intentioned.
The results told another story.
The same jumpers that snapped the nets on Saturday caromed off the rim Thursday night. The loose balls that always seemed to bounce IU's way seemingly deflected into Iowa's hands. Indiana dug itself in such a hole in the first half that a 36-31 margin in the second couldn't quite pull within striking distance of the Hawkeyes. Most notably, Iowa outscored Indiana 19-9 off of turnovers, and IU sliced its turnover figure in half in the second period, its early struggles were too much to overcome.
"We were always constantly clawing," Archie Miller said. "This game right here is going to be evaluated just like Michigan State. Are we in check with our attitude, did we come together, did we play hard, and did we play unselfish? And I think we did a lot of those things. We just weren't quite good enough to finish this one off."
Indiana struggled to contain the combination of Iowa's shooting and Tyler Cook's relentless interior scoring. Cook finished with 21 points and seven rebounds, and when the Hoosiers made a point to force the ball out of his hands, Iowa's shooters punished them. The Hawkeyes hit 10 of their 25 3-point attempts, including four by Joe Wieskamp in the first half and three daggers from Jordan Bohanon late in the second to keep Indiana at arm's length.
"Our defense wasn't able to finish possessions tonight. We had that on Saturday. We were able to get one-time stops and rebounds and be able to hang in there. Tonight, we fouled, we didn't come up with the loose ones, the long ones, and they made some big ones and tough ones at the end of the clock.
"I wasn't terribly disappointed in our team tonight. I thought we were really together again offensively," Miller said. "But give them credit. They are really, really hard to guard, and it showed tonight."
Despite its inability to find consistent rhythm on either end of the floor, Indiana played Iowa to a draw in Morgan's 22 minutes – an imperfect measure of his impact, but a telling one nonetheless. He managed 17 points on just nine shot attempts, with four rebounds and just one turnover to boot.
But his foul trouble was of equal consequence to his team. Morgan had two personals in the first half, and picked up his fourth just 3:11 into the second. Regardless of the merit of those calls, it is incumbent upon Morgan to realize his value and be smarter about how he plays defense. It's the senior's nature to swipe at the ball and take risks on defense – often with the reward of prodigious block and steal numbers – but the cost of him risking foul trouble far outweighs the benefit of his gambles.
"It's tough for our team not to have him on the floor for that amount of time with foul problems. We've got to find a way to keep him on the floor. He's got to be able to be a little bit smarter, I guess, but it was tough when he got that fourth one so early."
Davis helped weather Morgan's absence, but Indiana indisputably missed having its best player on the floor. Still, Davis has now given IU two consecutive strong performances and appears to once again be a reliable presence off the bench. The mere fact of having a trustworthy option to spell Morgan and Justin Smith gives Indiana, who has dealt with depth concerns for most of the season, a significant lift. Thursday night, Davis kept Indiana afloat as Morgan battled foul trouble. His passing was crucial in solving Iowa's zone as he connected the dots from the high post, swiftly spotting shooters behind the arc or cutters from the short corner.
He fits with most any forward on IU's roster despite limited shooting range, and has learned to read defenses more quickly and accurately while his bruising presence on the block forces defenses to account for his scoring. As a result, he has become a crucial connective tissue for a developing offense that desperately needs it.
"He's a physical post presence for us and also he just has great feel for the game. He knows where guys are and he doesn't really force anything," Morgan said. "He takes his time in there, he finds open guys, and he makes the right pass."
Foul trouble mandated that Davis play 23 minutes Thursday, and he even played alongside Morgan down the stretch when Smith sat – a look Indiana hasn't shown often this year. Davis' role this season was complicated by injury and the presence of better options. Credit the junior for reinventing himself and fitting in just the same.
Filed to: Deron Davis, Iowa Hawkeyes, Juwan Morgan