Big Ten Power Rankings: Three-way tie at the top means title race is on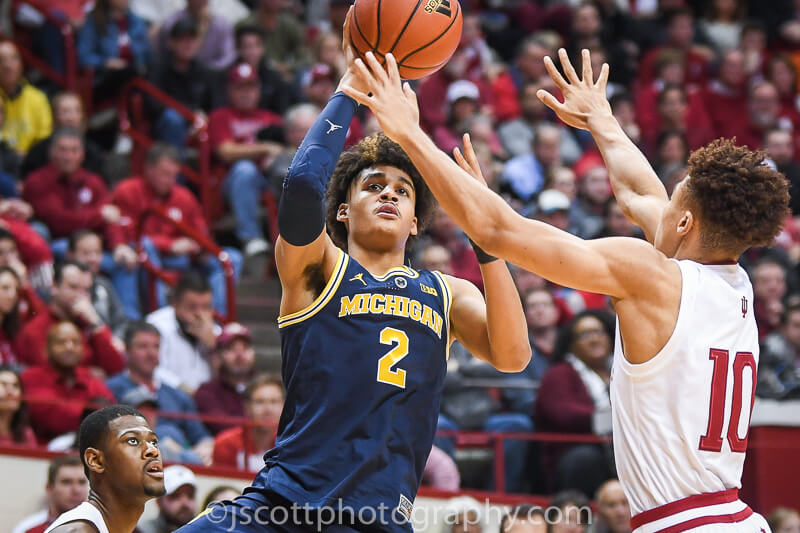 We're just past the midway point of Big Ten play and there is a clear top tier at the top of the league with Purdue, Michigan State and Michigan.
The middle of the pack, meanwhile, remains a jumbled mess as teams jockey for position in attempt to avoid falling into the cellar and a Wednesday Big Ten tournament appearance.
Here's a look at where things currently stand in the nation's strongest conference:
14. Penn State (0-10, .95 PPP, 1.07 PPP allowed)
The lone bright spot for Penn State this season was a win over Virginia Tech in the Big Ten-ACC Challenge. That's the only KenPom top 100 win this season for Pat Chambers, who will likely be seeking a new employer when the season ends in State College. And if Penn State does move on from Chambers, it will be a move that is justified. This is his eighth season at Penn State and his postseason resume currently includes a CBI appearance and a NIT championship. This year's team shouldn't be this bad. The Nittany Lions have three talented upperclassmen in Josh Reaves, Mike Watkins and Lamar Stevens and while the backcourt is young, that's not a valid excuse in year eight of a coach's tenure.
13. Northwestern (3-7, .92 PPP, 1.03 PPP allowed)
The Wildcats may be an NIT team this season if they can win three or four more Big Ten games. And that's likely to happen as Northwestern still has six Big Ten home games remaining, including tonight's contest against Penn State. What's interesting about Northwestern, however, is its uncertain future. Chris Collins will lose three seniors from this year's roster in Dererk Pardon, Ryan Taylor and Vic Law and it appears the program has failed to parlay its 2017 NCAA tournament appearance into sustained success.
12. Nebraska (3-8, 1.02 PPP, 1.05 PPP allowed)
Issac Copeland's season ending injury was a killer for the Cornhuskers, who have dropped five in a row since their win in Bloomington. Nebraska's depth was already limited before the Copeland injury and as the losses pile up, so do the questions about the future of Tim Miles. Nebraska is in jeopardy of missing the NCAA tournament for the fifth straight season and given its financial commitment to the program, the accomplishments of Miles may not justify keeping him around beyond this season.
11. Illinois (3-8, 1 PPP, 1.06 PPP allowed)
After an 0-5 start in league play, the Illini are 3-3 in their last six Big Ten games with wins over Minnesota (home), Maryland (neutral) and Nebraska (home). The schedule is favorable the rest of the way as Illinois still plays Penn State twice and also gets Rutgers, Indiana and Northwestern at home. One thing that hasn't changed much, however, is a putrid 2-point field goal defense for the Illini. Brad Underwood's team ranks 13th in 2-point field goal percentage defense in league play.
10. Rutgers (4-7, .96 PPP, 1.07 PPP allowed)
Rutgers earned its first three-game winning streak since joining the Big Ten on Wednesday with a 66-58 win over Indiana at the RAC. Slowly but surely, Steve Pikiell is changing the culture in Piscataway and while there's still plenty of work to be done, Rutgers is not the Big Ten's doormat this season. There's legitimate hope for the future, too, as the Scarlet Knights have just one senior in the rotation on this year's team in Shaquille Doorson. Pikiell will need to do a better job of recruiting offensive talent in future recruiting classes, but he's done an excellent job of getting this team to play hard which is resulting in success.
9. Indiana (4-7, .95 PPP, 1.04 PPP allowed)
The Hoosiers finally stopped their losing streak on Saturday with an impressive 79-75 overtime win in East Lansing. That triumph is arguably the best conference win thus far as it marked the first time one of the league's top three teams (Michigan State, Michigan and Purdue) has suffered a home loss this season. It was also totally unexpected as Indiana was just coming off of a loss at Rutgers and also lost Juwan Morgan to a shoulder injury late in the first half. Juniors Devonte Green (11 points) and De'Ron Davis (12 points) were pivotal in the win after missing the previous three games.
8. Ohio State (4-6, 1.02 PPP, 1.03 PPP allowed)
After sinking to 2-5 in Big Ten play, Ohio State has rebounded nicely over the last week and a half with wins over Nebraska and Rutgers. The Buckeyes probably overachieved in the non-conference, but those early wins might push this team into the NCAA tournament. Sophomore Kaleb Wesson has been terrific for Chris Holtmann and is likely to end up on one of the All-Big Ten teams. Wesson is seventh nationally in fouls drawn per 40 minutes (7.6) and has made 18 3-pointers after making just four last season as a freshman.
7. Minnesota (6-5, 1.05 PPP, 1.09 PPP allowed)
The Golden Gophers blew an opportunity for a key road win on Sunday in West Lafayette. Minnesota led Purdue 47-34 with 14:05 remaining and lost 73-63. Minnesota is still in very solid position for an NCAA tournament bid at 16-6 overall and 6-5 in the Big Ten, but its remaining Big Ten schedule is a gauntlet. Of its final nine league games, KenPom is projecting just two wins, which could have Richard Pitino sweating things out on Selection Sunday. Senior Jordan Murphy recently moved into second place all-time on the Big Ten's rebounding list, which is a significant accomplishment.
6. Iowa (6-5, 1.1 PPP, 1.09 PPP allowed)
Is Iowa good? That's a question that is still outstanding in my mind, even after the Hawkeyes beat Michigan last Friday in Iowa City. Iowa is 17-5 overall and a virtual lock to make the NCAA tournament, but its defense is still a problem. The Hawkeyes are allowing 1.09 points per possession in league games, which is the worst in the conference. In other words, Iowa looks like many of the IU teams of the Tom Crean era that were susceptible to losses when perimeter shots weren't falling because of no reliable defense to fall back on.
5. Maryland (8-4, 1.06 PPP, 1.01 PPP allowed)
The second tier of the league begins here with the Big Ten's youngest team. It looked the Terps would challenge for the Big Ten title after their 7-1 start in league play, but losses in three of their last four have dashed those hopes. The glaring blemish on Maryland's statistical profile is turnovers. The Terps are last in turnover percentage in league play and they are also last in opponent turnover percentage. That's a bad combination. So far, Maryland has masked the issue with elite rebounding and its ability to stay out of foul trouble, but a recent neutral court loss to Illinois doesn't inspire confidence that the Terps are built for a long run in March.
4. Wisconsin (8-3, 1.04 PPP, .93 PPP allowed)
The Badgers have won five straight and will get a chance to avenge a home loss to Minnesota this Wednesday in Minneapolis. That early January loss to the Gophers is the only reason the Badgers aren't in a four-way tie for first place in the conference. Ethan Happ continues to prove that he's the nation's most versatile post player and as of Monday, he sits in second place in KenPom's national player of the year rankings.
3. Michigan State (9-2, 1.14 PPP, .97 PPP allowed)
The Spartans have lost two in a row and Saturday's home loss to Indiana may have damaged Big Ten title hopes in East Lansing. Michigan State will be without Joshua Langford for the remainder of the season, which gives the Spartans one less scoring option moving forward. Michigan State needs to get back to dominating on the glass and getting the 50-50 balls. In its two losses last week, it failed to do both with any consistently.
2. Michigan (9-2, 1.03 PPP, .90 PPP allowed)
Michigan's loss at Iowa on Friday may have put Purdue in the driver's seat for the Big Ten regular season title. The Wolverines have a tough schedule remaining with double plays against Michigan State and Maryland still to go. The most disappointing part of Michigan's loss at Iowa was its offensive performance. The Wolverines managed to score just .81 points per possession against the Big Ten's worst defense. Michigan shot just 8-for-33 from behind the 3-point line in the loss.
1. Purdue (9-2, 1.14 PPP, 1.04 PPP allowed)
Purdue is third in the league in efficiency margin, but is currently playing the best basketball of any Big Ten team. The Boilermakers have won seven straight and have no games remaining against Michigan State, Wisconsin or Michigan. The emergence of freshman Trevion Williams has been a game changer for Matt Painter. Williams gives the Boilermakers a legitimate post scoring threat to pair with Carsen Edwards, who is one of the nation's most dynamic offensive players. Toss in a solid supporting cast that can make 3s and Purdue currently has the Big Ten's most efficient offense. It's been quite the turnaround for a team that was 6-5 after a loss to Notre Dame in mid-December.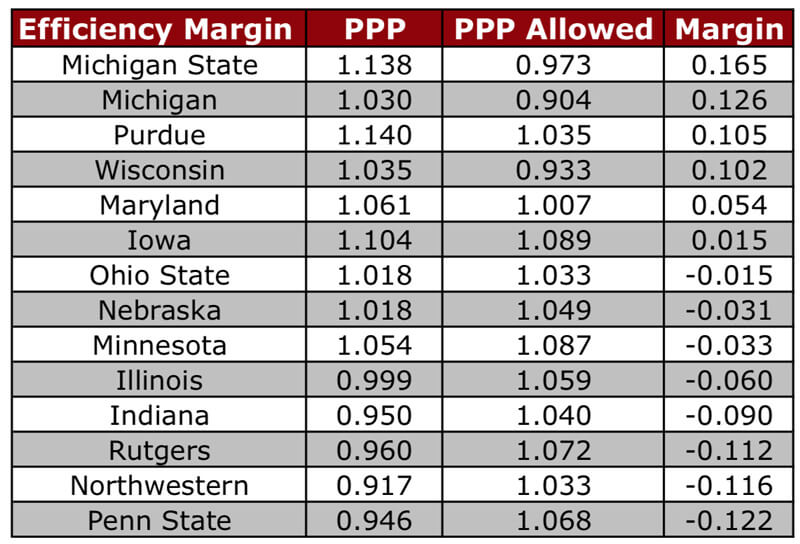 Filed to: Big Ten Power Rankings