News and notes from Archie Miller's radio show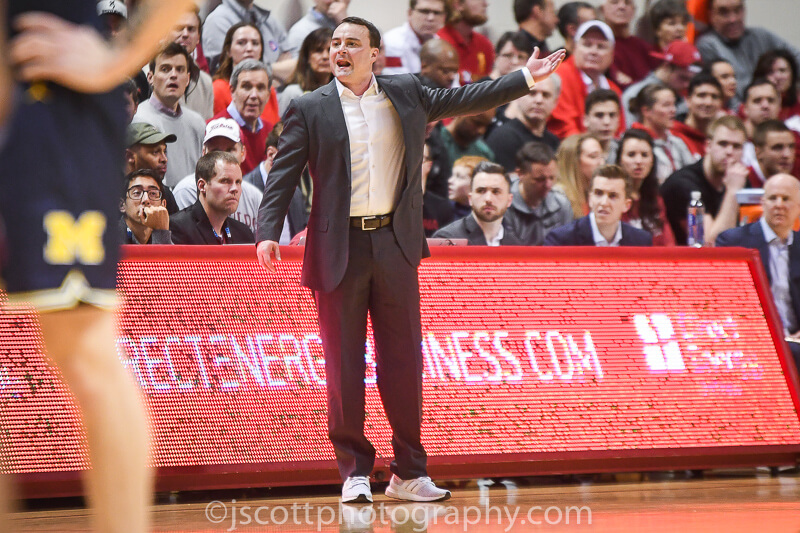 For the first time in a month, Archie Miller addressed the media following an IU win on his weekly radio show with Don Fischer. The coach discussed a wide variety of topics including his team's monumental win over Michigan State, how the Hoosiers pushed through a seven-game losing streak, and the remaining 10 games on Indiana's schedule.
Here are some of the highlights:
• The team is approaching the final 10 games of the season as a fresh season of its own. With half of the conference schedule behind them, the Hoosiers have a bit of a hole to climb out of, but Miller feels the win in East Lansing will help the team finish the year strong. "One of the most important things we can do as a group is, you only have a second half of the conference season to focus in on," Miller said. "The first half is the first half."
• He added that the team's win over Michigan State provided a significant morale boost going into the home stretch of the year, and was pleased with the way Indiana moved the ball against and the confidence with which the Hoosiers played. "We had a much better alertness about winning the game," he said. "There's a difference in playing to win and trying to play well. When you're playing to win, you're fearless. If we're all engaged and doing what we're supposed to do, we can be a pretty good team."
• Lately, Miller and the coaching staff have searched for ways to make IU harder to guard, and the team's assist numbers are usually a good indication of whether or not that's happening. "The balls that go in are supposed to go in, because you knew the pass was correct. You knew the player made the right read," Miller said. "It's amazing how those balls seem to always go in rather than the other ones, which were more 1-on-1."
• In addition to unselfishness, Miller also pointed to rebounding and shooting as decisive factors in East Lansing. He was happy with how many players contributed, and called the win the team's "most complete game in a long time."
• As for the remaining portion of the schedule, Miller highlighted three key areas of emphasis for his club: playing hard on defense, moving the ball on offense, and consistently playing as a cohesive unit. "For us, the identity and the team defense approach has got to continue to be what we're about. Offensively, we have to be a team committed… to moving the ball… And then the third thing is togetherness. Whether it's good or bad, how together are we through good and bad?"
• For that to happen, Miller said, the Hoosiers will need their upperclassmen – namely Juwan Morgan, De'Ron Davis, Zach McRoberts, and Devonte Green – to act as the team's standard-bearers on the court. "Our leadership has to come from our older guys," Miller said. "You need your oldest players to have a voice of calmness and of poise."
• He said that his team's connection and communication against Rutgers wasn't where it needed to be, and focused the following film session on individual accountability. "We can't have those guys not as engaged as they need to be," Miller said.
• Indiana's frontcourt has been banged up this year, though Davis' contributions against MSU were a positive sign for the team's depth moving forward. Miller acknowledged that Davis should have been shut down after the Illinois game, but said the center is more mobile and less sore than he has been in weeks.
• Miller doesn't expect Morgan to miss much time despite a shoulder injury that caused him to exit Saturday's game. "He probably dodged a bullet," Miller said. "We kind of knew when he got back to the bench in the second half that he was feeling a little bit better."
• Morgan was limited in the team's most recent practice but should be in the lineup Thursday night against Iowa.
• As forwards and centers have continually been in and out of the rotation, Justin Smith has provided consistent minutes all season, and Miller called the forward's work against Michigan State "the most complete and his best game of his college career by far," noting Smith's perimeter defense, rebounding, and rim protection.
• "His competitiveness, how hard he's been playing… you could look at [him] and say, 'He's an All-Defensive type of player,'" Miller said. "He's handling different positions, he's making more hard plays at the rim than he's ever before, he's guarding on the perimeter a ton more than he ever has and he's being able to guard the three-point line better. And he did an unbelievable job in his help on Saturday."
• Miller also said he likes the way Smith has limited turnovers and figured out how to create action on offense through ball movement, screening, and getting to the basket.
• Jake Forrester was a bright spot against MSU despite fouling out in just eight minutes of playing time. Though Miller quipped that the freshman fouls too much, he praised Forrester for staying ready until his number was called and for his ability to scale the college learning curve. "It's all experience," Miller said. "He's learning how to play college defense against big, strong guys. He's got to use his quickness. He's got to continue to show hands in the post where he's not wrestling. He's learning the ropes."
• Miller looked forward to Indiana's matchup with Iowa on Thursday night. He noted the Hawkeyes' speed, size, and shooting, all of which make for a dynamic motion offense that has been difficult to stop. "They really run," Miller said. "They've got an unbelievable break and pace."
• Miller also pointed to the frontcourt tandem of Tyler Cook and Luka Garza as a challenge for the Hoosiers, as well as Iowa's shifting defensive schemes.
• Finally, the head coach provided an update on Trayce Jackson-Davis and Armaan Franklin, both of whom are having tremendous senior seasons in high school. Miller suggested that Franklin's shooting could be an asset for the team right off the bat, while Jackson-Davis could help immediately fill a void in the frontcourt. "I think he feels really good about the way that he's playing right now," Miller said of Jackson-Davis. "He's motivated right now… He's really embraced the hard work that's needed to go into being a guy that everyone is looking at."
• Jackson-Davis was recently named a McDonald's All-American and Franklin helped lead Cathedral to a city championship.
Filed to: Archie Miller