Five takeaways from Indiana's win at Michigan State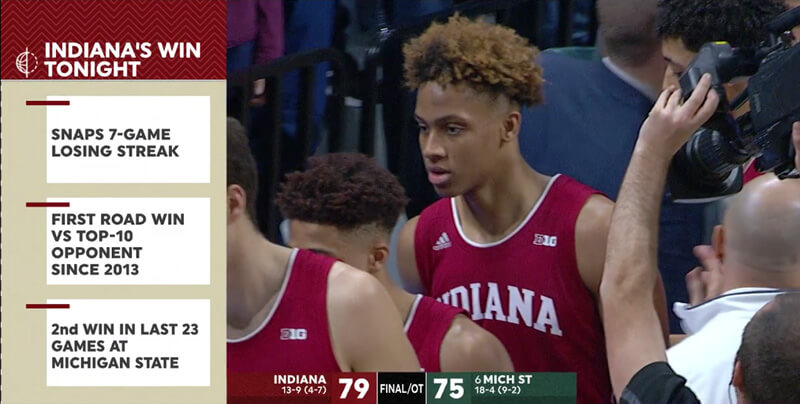 Indiana snapped its seven-game losing streak on Sunday with a 79-75 overtime win over Michigan State at the Breslin Center. The win improved the Hoosiers to 13-9 overall and 4-7 in Big Ten play.
Here's a look at five takeaways from the win over the Spartans:
• A total team effort: In our preview for Saturday's game, we wrote the following "Unless Indiana can match Michigan State's intensity and can avoid getting dominated on the glass, the Hoosiers will be hard pressed keep up with the Spartans."
Not only did the Hoosiers match Michigan State's intensity, they brought more intensity than the Spartans.
Credit the coaching staff for getting a team entering the contest on a seven-game losing streak to play with confidence. And credit the players for a tremendous effort on the glass, which was a major factor in the victory.
Indiana grabbed 43.5 percent of its missed shots in the upset win and more than held its own on the defensive glass as Michigan State only corralled 33.5 percent of its misses. The Hoosiers got most of the 50-50 balls. This doesn't happen if only a few guys are engaged on the floor. It has to be a total team effort and this was the most connected Indiana looked as a team in weeks.
"That's one thing coach was harping on, tight huddles and togetherness," Romeo Langford said. "Every time there was a dead ball or a foul, we'd come in and talk, basically give each other confidence and make sure everybody's on the same page for the next play, next possession."
• 3-point shooting breaks its miserable slump: Indiana entered Saturday's game shooting 25.3 percent on 3s in league play.
The Hoosiers flipped the script in East Lansing with a 10-for-20 performance from behind the 3-point arc. Five different Hoosiers connected from distance, including Evan Fitzner, who hadn't made a 3-pointer since Dec. 19.
Indiana was 7-for-10 from deep in the game's final 25 minutes and as the shots started to fall, you could see the confidence growing. The ball movement was noticeably improved.
"It's just amazing when a guy makes an unselfish pass or the correct read on a drive, or the one more pass when a guy's open, or he reads the ball screen and delivers it, it's amazing how those balls go in," Archie Miller said. "It's amazing how the other balls don't go in when there's absolutely zero chemistry out there and the ball just does not move the way it's supposed to move."
• Davis and Green make a difference: It's no secret that Indiana has struggled to get consistent production from its junior class. De'Ron Davis has been injured on and off all season and Devonte Green was suspended for the Northwestern, Michigan and Rutgers games.
Both were back in uniform on Saturday and both made a difference in the victory.
Davis played a season-high 25 minutes after playing a combined 27 minutes in IU's first 10 Big Ten games. And he was a difference maker in the post as he scored a season-high 12 points on 4-for-8 shooting from the field and a 4-for-6 mark from the free throw line.
Green, meanwhile played 34 minutes and scored 11 points and added five assists. He did have four turnovers, but the 3-point shooting he provided was a definite plus.
"They're two juniors," Miller said. "That makes a big difference for our team. Them coming back tonight obviously helped our depth."
• Smith comes up with several timely plays: Justin Smith's improvement defensively was on full display in the Breslin Center as the sophomore forward had three blocked shots and also grabbed 10 rebounds.
Two of Smith's blocks came at critical times. With 1:39 left in regulation, Smith made up ground quickly and blocked a Xavier Tillman layup that would have tied the game at 64.
And in overtime, Smith came barreling down the lane to get a hand on a Cassius Winston layup that would have tied the game at 77.
"He was key all game long. He's a big key to our team," Miller said. "When he's playing very active, especially defensively, so that I trust him, when he's playing really hard, he made a lot happen."
• Langford hits another gear offensively in the second half and overtime: It was a tough shooting night overall for Romeo Langford, but he made plays when Indiana needed him most.
Langford made four of his final six field goal attempts in the win to finish with a team-high 19 points. His 3-pointer at the 3:13 mark in overtime gave Indiana the lead for good.
But more important than his scoring, Miller said Langford's approach to the game was the most impressive part of his effort.
"People want to say, score, score, score, score, and at the end of the day are you playing winning basketball complete? He's a complete guy, and tonight he really didn't let anything bother him," Miller explained. "He just hung tough the whole time, made some really timely, big buckets at the end of the clock. To me, on this kind of stage, as a young player, that's what you like to see with him. No complaints with Romeo's attitude and effort. He's an unbelievable kid and teammate."
Filed to: Michigan State Spartans