At Board of Trustees meeting, Fred Glass calls IU basketball a "serious rebuild"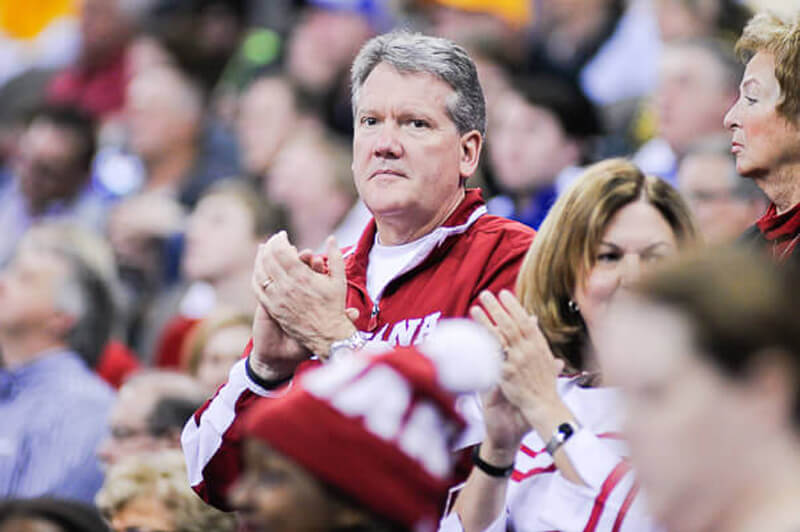 Indiana's current seven-game losing streak came up as a topic of conversation at today's Board of Trustees meeting in Columbus.
According to Michael Reschke, a reporter for The Bloomington Herald-Times, board member Patrick Shoulders asked Athletic Director Fred Glass about the current success of the IU football and basketball programs.
Here's a summation of the comments from Glass, per Reschke:
– Glass said he's "bullish" on Archie Miller, but that Miller is in his second year of a "serious rebuild."
– In regard to firing Crean, Glass said he was not looking back at (Tom) Crean's success but forward and he didn't believe Crean could sustain that success. Mentions a team with three pros that didn't make the NCAA tournament.
– Glass said he doesn't like losing seven games in a row. Jokes that he thought about asking to give this presentation at a different meeting because it's "no fun to walk in here losing seven in a row."
– Glass says he thinks Archie will eventually be one of IU's iconic coaches.
The exchange, according to Reschke's Twitter account, ended with Shoulders telling Glass that he has his full support before adding "we all understand that patience is going to have its limits at some point."
Whether you agree with these comments or not, Miller did inherit a situation that is going to require patience from the fanbase. First, IU lost its three best players off of the roster from Crean's final season, leaving Miller with little to no star power on the roster in his first season.
A tricky APR score situation also didn't allow for many roster changes in the 2017 offseason, a factor that was out of Miller and the new coaching staff's control. This is not an excuse, but reality.
This season hasn't gone as expected – and injuries are partly to blame for it – but it also underscores why Crean was removed from his job in the first place. The roster Crean left behind was devoid of five-star talent and offered little hope that he would be able to get things back to the expectations of competing for a Big Ten title.
Indiana's junior class, which Crean recruited, has contributed little this season because of an injury to De'Ron Davis and the suspension of Devonte Green. And the sophomore class, also recruited by Crean, has been forced to take on significant roles from day one.
The signing of Romeo Langford in the spring upped expectations for this season and Indiana's 12-2 start only provided more optimism that the Hoosiers could return to the NCAA tournament this season. Indiana's current seven-game skid, however, has quickly dashed those hopes.
Filed to: Fred Glass