IU basketball sees multi-year APR score fall for third straight year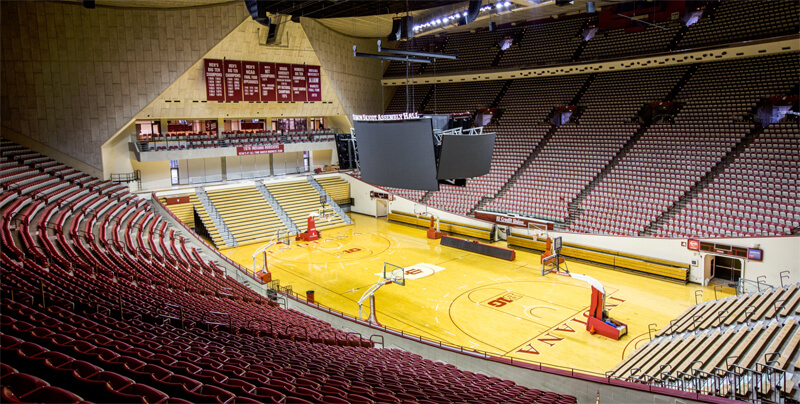 Indiana basketball's multi-year Academic Progress Rate (APR) fell for the third straight year, according to data released Wednesday afternoon by the NCAA.
After scoring perfect single-year APR scores of 1,000 for four straight years under Tom Crean from 2009-2013, Indiana didn't have a perfect single-year APR score in any of Crean's final four seasons in Bloomington.
The data released Wednesday reflects Crean's final season in Bloomington (2016-17) and the Hoosiers had a single-year APR score of 920.
The multi-year score released Wednesday (943) reflects an average of Crean's final four seasons in Bloomington and puts the program in just the 10th to 20th percentile nationally among all men's basketball programs.
APR data encompassing Archie Miller's first season in Bloomington will not be released until May of 2019. The multi-year APR score released in May of 2019 will include Miller's first season and Crean's final three seasons.
Among Big Ten men's basketball programs, Ohio State has the lowest multi-year APR score at 936. Academic Progress Rate is a real-time measure of eligibility and retention of student-athletes competing on every Division I sports team.
According to the NCAA:
To compete in the 2018-19 postseason, teams must achieve a 930 four-year APR. NCAA members chose the 930 standard because that score predicts, on average, a 50 percent graduation rate for teams at that APR level. Additionally, teams must earn at least a 930 four-year APR to avoid penalties.
Historical APR data is available in the NCAA's database. Full APR numbers for each of IU's athletic programs are available below:
IU Athletics Program – 2016-17 APR/Multi-Year APR (2013-14 through 2016-17)
Baseball: 959/981
Men's Basketball: 920/943
Women's Basketball: 963/981
Men's Cross Country: 1000/991
Women's Cross Country: 1000/995
Field Hockey: 1000/1000
Football: 967/976
Men's Golf: 1000/1000
Women's Golf: 1000/986
Rowing: 981/984
Men's Soccer: 958/982
Women's Soccer: 991/995
Softball: 1000/997
Men's Swimming and Diving: 970/985
Women's Swimming and Diving: 1000/994
Men's Tennis: 947/968
Women's Tennis: 1000/1000
Men's Track and Field: 992/979
Women's Track and Field: 993/987
Volleyball: 1000/994
Water Polo: 960/979
Wrestling: 977/961
Filed to: Academic Progress Rate