6-Banner Sunday: Close wins becoming a theme for this improving group of Hoosiers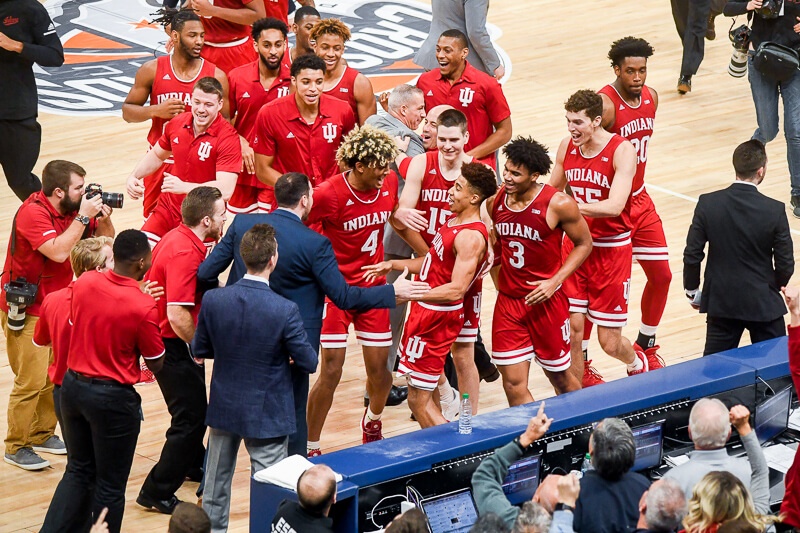 6-Banner Sunday is Inside the Hall's weekly newsletter in partnership with The Assembly Call. More than 6,000 Indiana fans receive the newsletter each week. In addition to appearing each week on the site, you can also opt to receive 6-Banner Sunday by email. A form to subscribe via email is available at the bottom of this week's 6-Banner Sunday.
Indiana fans are surely overtaken with stressful excitement heading into the sixth week of the season. The Hoosiers are 9-2 with a penchant for making games close. The schedule promises to get more difficult, but Indiana's record is impressive, regardless of how it has been achieved.
This week, several Hoosiers received long-form media love, Rob Phinisee came up clutch (again), and the program lost a distinguished alumnus.
In this week's edition:
• Close wins become a theme as IU edges out Butler
• Freshmen helping revive IU's program
• Durham remains a key piece of the starting lineup
• Morgan unlocking IU's offense with his passing
• Anderson passes away at 48
• Hoosiers in the NBA
Banner #1
Close wins become a theme as IU edges out Butler
Indiana has won its last four games by a combined margin of just eight points after earning another close victory over Butler on Saturday.
The Hoosiers played from behind all game long, and didn't take the lead until the two-minute mark of the second half. Eventually, Rob Phinisee gave IU the final push it needed with a miraculous 3-pointer at the buzzer to seal the win.
Juwan Morgan turned in a signature performance with 35 points and five rebounds on 12-of-14 shooting. He also drained four of his six 3-point attempts. Phinisee finished with nine points, all from behind the arc, while Romeo Langford tallied 13 points, seven rebounds, and four assists.
Indiana improves to 9-2, and now has five KenPom top-50 wins on its résumé. A 10th win was a mere tipped rebound away. Langford has been sensational despite cold 3-point shooting, while Morgan has been a rock on both ends of the floor.
The Hoosiers still have plenty of work to do, but the progress it has made since last season is significant, and the team continues to get better even as it regularly faces quality competition.
Wyandotte Safety Solutions is your one-stop shop for safety training and safety products. WSS offers CPR & First Aid training, fall protection, and lift training. We also sell PPE, AEDs, and First Aid supplies.
We are an Indiana company serving Indiana and all of North America. Check out our website for more information: ptsarcflash.com.
Banner #2
Freshmen helping to turn IU program around
Phinisee defied expectations almost from his first game as a Hoosier, taking the starting point guard spot from Devonte Green and proving capable on both ends of the floor. He was the hero on Saturday and has weathered freshman growing pains better than most could.
Langford, meanwhile, has helped give new identity to Indiana. He has been a reliable scorer, a versatile defender, and, as Matt Norlander of CBS Sports writes, the head of IU's revival. Langford has redefined Indiana basketball and brought a new wave of popularity to the program. "Langford's fan base transcends his school," Norlander writes.
He alone will not be the "savior" of Indiana hoops, but as he, Morgan, and the rest of the team grow more comfortable with one another, he can be part of the renaissance.
Banner #3
Durham remains a key piece of starting lineup
Al Durham's place on Indiana's roster is a strange one.
The starting lineup has been effective since he began filling in for Zach McRoberts, and yet the sophomore's playing time has varied wildly from game to game. Still, he has been invaluable as a versatile combo guard and spot-up shooter.
The Athletic's Dustin Dopirak calls him a "swiss army knife" in a feature published this week that highlights the value of Durham's contributions.
"Durham's versatility, steadiness with the ball and ability to shoot from outside have made him a good fit with the freshmen and a better candidate for playing time than veterans Devonte Green and Zach McRoberts," Dopirak writes. "He can play point guard in a big lineup, small forward in a small lineup, and shooting guard with any combination of players."
Durham has averaged 8.3 points and 1.8 assists on 40 percent 3-point shooting for the Hoosiers, and the starting lineup with him in McRoberts' place has been effective. Even as his minutes vacillate, he remains an important part of Indiana's depth.
Banner #4
Morgan unlocking IU's offense with his passing
Even as Langford has stepped into a star's role as a freshman, Juwan Morgan remains Indiana's best and most important player. His 35-point showing against Butler was yet another display of versatile dominance, and while he is capable of carrying a primary scoring load, he has been fully unleashed as a passer this season.
Morgan has averaged a career-high in assists, and the manner in which he sets up his teammates out of the post has given flow and life to IU's offense. He is a nearly unsolvable puzzle for opponents. He dominates single-coverages, but picks apart defenses that employ double teams.
Cherish Morgan while he's still here. It could be years before Indiana has another player like him.
Banner #5
Anderson passes away at 48
Eric Anderson, who played for Indiana from 1988-92, died this week at the age of 48 due to "cardiac-related" natural causes. The 6-foot-9 forward averaged 13 points and six rebounds in his four years at IU and was known as a compassionate and competitive teammate.
"Eric was an unbelievably talented basketball player but that paled in comparison to the type of friend and person he was," said Deputy Athletic Director Scott Dolson and former roommate. "This is a very difficult day for all who were close to him and our heart goes out to his son, Sam, his family and all those who Eric touched throughout his tragically short life."
"Sad to hear the passing of former IU great Eric Anderson," Archie Miller said on Twitter. "I really appreciated how he embraced me coming to IU, communicated after games, him coming back last year to our reunion game and then this June to French Lick was awesome! RIP Big E. Thoughts and prayers to all!"
Banner #6
Hoosiers in the NBA
Victor Oladipo returned to action for the Pacers on Wednesday and has averaged 13 points and 7.5 assists in two games this week. The Pacers have won five games in a row and went 7-4 with Oladipo out of the lineup. Oladipo figures to return to the All-Star game despite missing 11 games, and while his efficiency has come down from last season, he remains instrumental to Indiana's offense.
OG Anunoby continues to struggle in his second year in Toronto, though he has been more effective in the last three games. Displaced from the starting lineup by Kawhi Leonard and Danny Green, Anunoby has yet to find his rhythm off the bench. His 3-point percentage sits just over 30 percent, and his usage is so low that offensive impact can be hard to come by. Still, he remains an important defensive piece for a team that can configure some truly nasty five-man groups.
Eric Gordon started slow from distance last year before eventually turning that mark up to 36 percent. The same has been true this season. Gordon has shot just 30 percent from deep on 8.3 attempts per game for a struggling Rockets team, and his effective field goal percentage is worse than it has been since 2013. Houston needs Gordon to come around soon. The Rockets have taken a significant step back and could be in danger of missing the playoffs entirely.
Cody Zeller exploded for a season-high 21 points on Friday night against the Knicks, though Charlotte still dropped the contest to snap a three-game win streak. Still, the Hornets have outscored opponents by 4.5 points per 100 possessions with Zeller on the floor and the big man has long been an effective pick-and-roll partner with Kemba Walker.
Yogi Ferrell finally earned extended playing time this week, dropping 17 points and six assists in just 16 minutes against the Timberwolves. While Dallas' bench has chugged on just fine since Ferrell's departure, the point guard has struggled to get playing time in Sacramento, averaging just 12.5 minutes per game for the surprisingly upstart Kings.
Noah Vonleh continues to have his best season to date, averaging 8.4 points and 8.1 rebounds in over 26 minutes per game. Vonleh is scoring more efficiently than ever and even dabbling with a 3-point shot. The Knicks are terrible, but Vonleh is an interesting modern big. A few more consistent weeks could make him appealing to teams with higher aspirations.
And with that, the joy of hanging Banner #6 is now one week closer.
Thanks for your continued support for The Assembly Call and Inside the Hall. We'll be back next weekend with a new roundup.
Now go enjoy yourself a 6-banner Sunday. If you'd like to receive this newsletter in your inbox each Sunday, please enter your email address below:
Filed to: