6-Banner Sunday: IU survives gear-up week with five tough games ahead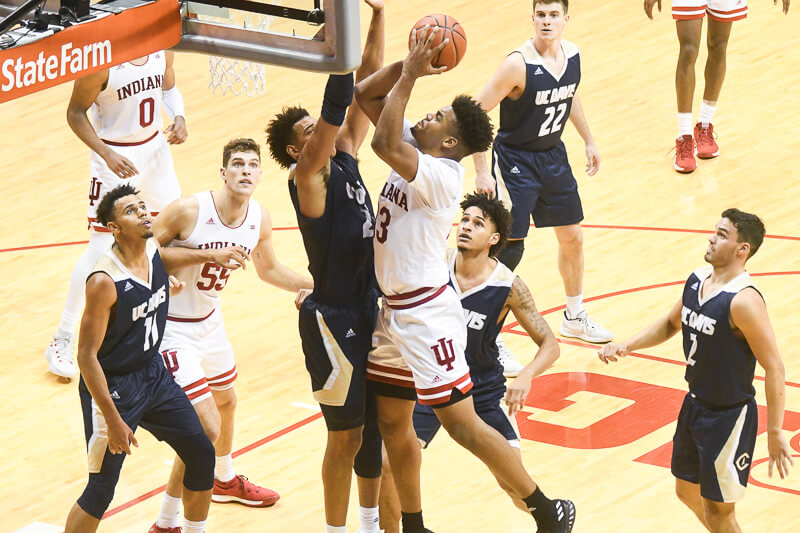 6-Banner Sunday is Inside the Hall's weekly newsletter in partnership with The Assembly Call. More than 6,000 Indiana fans receive the newsletter each week. In addition to appearing each week on the site, you can also opt to receive 6-Banner Sunday by email. A form to subscribe via email is available at the bottom of this week's 6-Banner Sunday.
Welcome to another edition of 6-Banner Sunday, a joint production between The Assembly Call and Inside the Hall where we highlight the six most essential IU basketball stories of the past week.
Last week got off to a rough start for Indiana, when the Hoosiers fell to Arkansas 73-72 on the road. It was a good early-season test for IU, but the Hoosiers came up just short. Juwan Morgan got stuck in early foul trouble, which limited him to three first-half minutes — a big reason why the Hoosiers lost.
But IU rebounded with competitive (and perhaps too-close-for-comfort) wins over UT Arlington and UC Davis, with Morgan doing much of the heavy lifting while the results were still in doubt.
Now, the Hoosiers are hoping to get some injured players back for Tuesday's showdown with No. 1 Duke in Durham.
After that, IU will open conference play on Saturday as Northwestern comes to Simon Skjodt Assembly Hall. Games against Penn State, Louisville, and Butler follow, as the toughest stretch of the non-conference portion of the schedule beckons.
The schedule gets much tougher from here on out. How will the Hoosiers handle it? We'll find out soon. But for now, here's whats going on.
In this week's edition:
• IU survives against UT Arlington
• Comeback victory over UC Davis
• Feature story on former IU coach Mike Davis
• By the number: best all-time IU players
• Big Ten racks up several good wins
• IU football misses chance at bowl eligibility
Banner #1
IU survives against UT Arlington
On Tuesday, Indiana stumbled its way to a 78-64 win that was closer than the score indicates. IU was without Zach McRoberts, Devonte Green, Race Thompson, and De'Ron Davis (plus Jerome Hunter, who is out indefinitely) due to injuries.
IU was outscored in the second half as injuries piled up. Al Durham got banged up in the first half and didn't play in the second. And late in the game, Romeo Langford took an elbow to the face and sat the rest of the game while tending to a bloodied nose.
By the end of the game, Archie Miller evidently felt like he only had five rotation players available, as Clifton Moore and Jake Forrester remained on the bench.
But the Hoosiers prevailed in large part because of their stars. Juwan Morgan put up a double-double with 23 points and 10 rebounds, and Langford chipped in 16 points and eight rebounds.
The Assembly Call postgame show took a different look as Jerod was unavailable (between him and the injured players, the list would not stop growing!), so Andy was joined by Galen Clavio of the IU Media School and of CrimsonCast. They broke down the game and what the injuries would mean for the roles of the healthy players going forward.
At Inside the Hall, Alex Bozich offered his five takeaways from the win, and Ryan Corazza broke down some defensive sequences for Indiana in his Film Session.
One of Bozich's observations concerned Forrester and Moore.
If you were looking for an answer on where Jake Forrester and Clifton Moore stand in the IU rotation, Tuesday provided a pretty good answer.

Despite being down several key pieces, Forrester and Moore didn't enter the game.
Whether it's a lack of trust to put either guy in based on their inexperience or lack of production in practice, both Forrester and Moore are currently on the outside of this team's rotation. And as IU begins to get some of its injured players back, it's hard to see that changing.
Cameron Drummond of the Indiana Daily Student made note of Juwan Morgan's strong game in his observations.
After getting in foul trouble during Sunday's loss, Morgan showed more discipline Tuesday to avoid either being benched by Miller or having to play more conservatively on the court. He only committed three fouls in the game and after committing his second foul in the first half, Morgan made sure he didn't put his team in a bad position by not fouling again until there was 7:39 left in the game.

Morgan also put together one of his most efficient performances in an IU uniform, making nine of his 11 shots.
In this week's episode of Podcast on the Brink, Alex and Jerod answered listener questions in a Thanksgiving week audio mailbag. Many of the topics discussed pertain to the Indiana-UT Arlington game, as the podcast was released the morning after the game.
Wyandotte Safety Solutions is your one-stop shop for safety training and safety products. WSS offers CPR & First Aid training, fall protection, and lift training. We also sell PPE, AEDs, and First Aid supplies.
We are an Indiana company serving Indiana and all of North America. Check out our website for more information: ptsarcflash.com.
Banner #2
Comeback victory over UC Davis
After Thanksgiving, IU returned to Simon Skjodt Assembly Hall to take on UC Davis, and once again the Hoosiers got more than they expected.
Indiana trailed by double digits in the first half but was able to reduce the deficit to two by halftime. The Hoosiers continued to trail well into the second half. IU didn't tie the game until 7:20 in the second half and didn't take the lead until 5:43. But the Hoosiers pulled away for a 76-62 win.
Juwan Morgan was even better in this game than he was against UT-Arlington. He was the only reason IU was within striking distance at halftime. He put up 19 points and six rebounds in the first half on his way to a 31-point, 10-rebound game in which he played all 40 minutes.
The Assembly Call Postgame Show paid tribute to Morgan's efforts and looked at several areas where the Hoosiers need to improve.
Ryan Corazza broke down Indiana's defensive adjustments in this edition of Film Session.
Cameron Drummond pointed out that IU turnovers and poor defense were the reasons why UC Davis got off to such a good start.
Turnovers were a concern for Miller at halftime as the Hoosiers had eight in the opening period and finished the game with 15. Certain offensive possessions seemed to be without an end goal in mind for the Hoosiers, as they struggled to get near the basket and didn't deal well with double teams from Aggie defenders.

UC Davis shot 50 percent from three-point land, making 10 of its 20 attempts. This figure reached a game-best percentage when the Aggies had made eight of their 14 attempts early in the second half.

The drives to the basket by senior guard TJ Shorts II, who finished the game as the Aggies' leading scorer with 16 points, resulted ball rotations by the Aggies on offense.
Mike Miller of the Bloomington Herald-Times wrote of Morgan's drive to succeed and his importance to Indiana.
Through five games, and especially lately, Morgan is making good on his mission to become IU's go-to source. With a seemingly rotating mix of available players each week this month, Morgan has been Indiana's constant.

And he has to be.

Indiana doesn't have another scholarship player on its roster who knows what it takes to win a Big Ten title. To get back to that point later this season, Morgan will have to lead the pack. This is his team, and already, he's showing that he's both capable and willing to lead the Hoosiers, particularly when they need it most.
Banner #3
Feature story on former IU coach Mike Davis
When Mike Davis' Detroit Mercy team faced Butler in Indianapolis on Nov. 12, several stories were written about his return to the Indiana area and how his career has gone since leaving IU.
The most comprehensive of those pieces was written by Brendan Quinn on The Athletic. Quinn went in-depth on Davis' basketball background — all the way back to his childhood — before going deep into his coaching career and how he landed in Detroit.
In 2000, Davis inherited a full roster at Indiana University, one assembled in the likeness of an overlord named Robert Montgomery Knight. Davis was two days away from his 40th birthday when he was named as Knight's interim replacement. Since that day, Sept. 13, 2000, a moment in time that breached all expectations for a succession of power, Davis has traversed the shifting sands of a backward career path. Sitting in an office decorated for his predecessor, Bacari Alexander, Davis divulges, "In reality, I should've started at a place like this, here at Detroit Mercy, not at Indiana." But Davis' head-coaching career did begin at Indiana and he has, ever since, faced the unenviable truth that everything following has been framed by that start. He reached the NCAA Tournament four times in six years as IU coach, including the 2002 NCAA title game, but was forced to resign because he won, but just not enough.
The story also looks at Davis' son, Antoine, who plays for his father at Detroit Mercy, and how he got to where he is.
Antoine was born in Bloomington, bopping around the Indiana program during those pressure-filled years when his father walked across hot coals on the sideline. No one particularly wanted Davis as either interim head coach or permanent head coach when IU president Myles Brand fired Knight. No one aside from every player in the Hoosier locker room. "It was an extremely volatile situation, but we all had his back," said Dane Fife, an IU guard from 1998-2002 and now a Michigan State assistant. "You don't see that kind of loyalty anymore, right down to the 15th man on the roster."
Banner #4
By the number: best all-time IU players
The IndyStar team put together a complete list of the top IU players to wear each number, from 0 to 55. Many current Hoosiers or players from recent history were selected or considered. We'll share a few of the selections.
Jared Jeffries beat out James Blackmon Jr. and Jordan Hulls at No. 1.
Big Ten Freshman of the Year in 2001 and Big Ten Player of the Year in 2002, the Bloomington North product led IU to a share of the Big Ten title in 2002, and was the linchpin to its improbable run to the national title game. Remember the barrage of 3-pointers in that run? That was possible because teams were doubling Jeffries in the post. He averaged 15.0 points, 7.6 rebounds and 1.3 blocks as a sophomore then left for an 11-year NBA career. Also under consideration: Jordan Hulls, James Blackmon Jr.
At No. 23, Eric Gordon was the selection, although it was tough to choose between him and Keith Smart.
Keith Smart's shot against Syracuse is one of most iconic moments in IU history, but you'd be hard-pressed to find someone to tell you he was a better player than Gordon. Sure the North Central star played only one season at IU, but he was Big Ten Freshman of the Year and an All-American in 2008, scoring an IU and Big Ten record 669 points. He was the first IU freshman to to average more than 20 points a game, and he led the Big Ten in scoring. A promising season came crashing down after a 22-4 start when coach Kelvin Sampson was fired for recruiting violations. Also under consideration: Keith Smart, Vern Payne, Jamal Meeks
Banner #5
Big Ten racks up several good wins
The early-season success for the Big Ten continued for the most part in the last week. Six teams are ranked in the AP Top 25: No. 9 Michigan, No. 11 Michigan State, No. 20 Iowa, No. 23 Ohio State, No. 24 Purdue, and No. 25 Wisconsin. Additionally, the top three teams in the Others receiving votes section hail from the Big Ten: Nebraska, Indiana, and Maryland.
The conference picked up several big wins in the last week. Last Sunday, No. 9 Michigan (No. 7 in the Kenpom rankings) dismantled Providence (Kenpom No. 62) 66-47 to win the Air Force Reserve Basketball Hall of Fame Tip-Off Tournament. On the same day, Minnesota (Kenpom No. 46) took down Texas A&M (Kenpom No. 68) 69-64 in Vancouver.
Minnesota kept the momentum going on Wednesday with a 68-66 win over Washington (Kenpom No. 47), also in Vancouver. The Golden Gophers won that game on a miraculous 3-pointer with 2.1 seconds to play.
On Thursday, No. 11 Michigan State (Kenpom No. 8) handled No. 17 UCLA (Kenpom No. 50, although likely much higher before losing to MSU and then No. 7 North Carolina) 87-67 in the Las Vegas Invitational. On the same day, No. 25 Wisconsin (Kenpom No. 12) picked up a nice win over Oklahoma (Kenpom No. 43), 78-58, in the Battle 4 Atlantis.
Maryland made its case to be ranked in the AP Poll on Friday, knocking reigning Conference USA champ Marshall out of the Kenpom Top 100 with a dominant 104-67 win at home. Maryland's guards were particularly impressive in that game.
These wins raise the overall profile of the conference, which helps all Big Ten teams in March. The neutral-site wins are especially useful, as those wins are valued higher than home games.
Banner #6
IU football misses chance at bowl eligibility
For the fourth consecutive year, Indiana needed a win in the Old Oaken Bucket game against archrival Purdue to secure a trip to a bowl game.
The first two occasions went well for the Hoosiers. But like last year, IU will want to forget this one. The Boilermakers, who also sat one win away from bowl eligibility, emerged with the 28-21 victory in in Bloomington and locked up a second straight bowl game.
Indiana football's season is over, as the Hoosiers closed 2018 with a 5-7 record.
Sean Mintert of the Indiana Daily Student wrote that Indiana had no answers for Purdue wide receiver Rondale Moore.
Coming into the game, everyone on both teams knew Moore would be the featured player in the Purdue offense. Despite this, he dominated the IU defense to the tune of 12 catches for 141 yards and two touchdowns. After a somewhat quiet first quarter, Moore exploded in the second period with three catches for 72 yards, highlighted by a 56-yard touchdown grab near the end of the half.
Zach Osterman of IndyStar concluded that Indiana needs to grow up in the offseason.
If you've read this far, then please read farther, to understand what this means, and what it doesn't.

It doesn't mean wholesale renovation on offense, but probably a reimagined direction. It doesn't mean aggressive roster reconstruction. It certainly doesn't mean a rethink of the program's leadership.

But after Saturday's disappointing 28-21 loss to Purdue, removing bowl eligibility from the table for a second-straight season, some things need to change. Mostly, Indiana (5-7, 2-7 in Big Ten) needs to mature as a program, at virtually every level.
And with that, the joy of hanging Banner #6 is now one week closer.
Thanks for your continued support for The Assembly Call and Inside the Hall. We'll be back next weekend with a new roundup.
Now go enjoy yourself a 6-banner Sunday. If you'd like to receive this newsletter in your inbox each Sunday, please enter your email address below:
Filed to: