6-Banner Sunday: IU's strong early play part of early-season Big Ten resurgence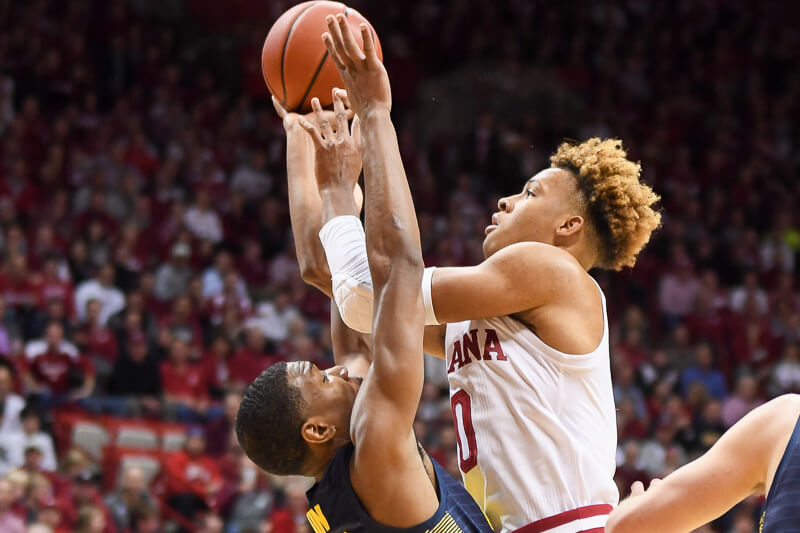 6-Banner Sunday is Inside the Hall's weekly newsletter in partnership with The Assembly Call. More than 6,000 Indiana fans receive the newsletter each week. In addition to appearing each week on the site, you can also opt to receive 6-Banner Sunday by email. A form to subscribe via email is available at the bottom of this week's 6-Banner Sunday.
Welcome to another edition of 6-Banner Sunday, a joint production between The Assembly Call and Inside the Hall where we highlight the six most essential IU basketball stories of the past week.
Indiana has gotten off to a rousing start this season, and there's plenty to be excited about heading into a stretch of games that will feature both Arkansas and Duke -– each of whom pose threats to IU's unbeaten record.
A resounding victory over Marquette has provided reason for optimism among IU fans, and the Hoosiers will most likely appear in the top 25 when the rankings are next released. Let's take stock of the biggest stories surrounding the team (and the conference) right now.
In this week's edition:
• IU gears up for Arkansas
• Hunter out indefinitely with lower body ailment
• Praise & analysis of IU's hot start
• Franklin inks commitment to IU
• Ferrell, Oladipo featured in national coverage
• Big Ten faring well in early days
Banner #1
IU gears up for Arkansas
The Hoosiers will look to remain undefeated as they travel to Fayetteville this afternoon.
Arkansas is 1-1 on the season, with an overtime loss to Texas the only blemish on the Razorbacks' record. Led by Daniel Gafford, Arkansas runs a fast, up-tempo style that pressures opponents on defense.
On this week's Podcast on the Brink, the Matchup crew previewed Arkansas and discussed how IU might attack a team with such a unique style. Over at Inside the Hall, Alex Bozich runs through what to expect from the Razorbacks.
These two teams have not squared off since 2008, when Arkansas beat IU in the first round of the NCAA tournament. The Razorbacks will travel to Bloomington next season.
Wyandotte Safety Solutions is your one-stop shop for safety training and safety products. WSS offers CPR & First Aid training, fall protection, and lift training. We also sell PPE, AEDs, and First Aid supplies.
We are an Indiana company serving Indiana and all of North America. Check out our website for more information: ptsarcflash.com.
Banner #2
Hunter out indefinitely
IU athletics announced that forward Jerome Hunter underwent surgery at the Cleveland Clinic last Wednesday to treat "a lower body condition that first developed early in the semester." Hunter has yet to play this season, and could be in jeopardy of missing an extended amount of time.
Indiana did not disclose the nature of the condition or a timetable for Hunter to return. Archie Miller said last week that the freshman will be out indefinitely.
Banner #3
Praise and analysis of IU's hot start
Indiana has grabbed local and national attention after dismantling Marquette and moving to 3-0 this week. At The Big Lead, Ryan Phillips detailed Romeo Langford's importance to the team, while Ryan Corazza of Inside the Hall broke down key possessions against Marquette.
In last week's "Basketball 201" segment of the Assembly Call, we broke down how Indiana produced shots against Montana State's zone with ball movement, while the Indy Star's Zach Osterman looked into Rob Phinisee's early success as a freshman.
Banner #4
Franklin inks commitment to IU
Indianapolis guard Armaan Franklin officially signed with Indiana Wednesday, becoming the first member of the 2019 high school class to do so. The 6-3 combo guard figures to join Devonte Green, Rob Phinisee and Al Durham in a talented IU backcourt next season.
Elsewhere on the recruiting front, Keion Brooks told Rivals.com that he's "close to making a decision" and could pick his school "in a couple of weeks or a month." The Fort Wayne product is considering Purdue, UCLA, North Carolina, Michigan State, Kentucky, and Indiana. Most observers think Indiana and Kentucky are the leaders.
Banner #5
Ferrell, Oladipo featured in national coverage
Both Yogi Ferrell and Victor Oladipo were featured in various NBA media outlets this week.
The Sacramento Kings' official website detailed Ferrell's unconventional path to the NBA, while the incomparable Rob Mahoney of Sports Illustrated analyzed how Oladipo has become a bona fide star in the league.
Both the Kings and Pacers have gotten off to hot starts this season, with Indiana sitting near the top of the Eastern Conference and Sacramento surprisingly above .500 through 15 games. Ferrell has played in 10 of those contests, averaging six points in just over 15 minutes per game. Oladipo, meanwhile, has been integral to the Pacers' success, posting a cool 22.7 points, 6.9 rebounds, and 4.9 assists per game.
Banner #6
Big Ten faring well in early days
The 2018-19 season is still young, but the Big Ten is off to a roaring start.
Ten teams are undefeated thus far, and Big Ten teams have authored high profile upsets like Michigan's demolition of defending champ Villanova and Iowa's defeat of Oregon. The Big Ten went 5-3 against the Big East in the most recent Gavitt Games, edging out the Big East for the first time in the event's history.
The conference figures to have at least four teams in the next edition of the top 25 rankings. Gary Parrish has eight Big Ten teams in his latest Top 25 And 1.
Though the top end of the conference may not be as strong as it was last season, the Big Ten already appears to have solid depth and plenty of capable teams.
As Jerod pointed out on Saturday, with 12 teams are currently in the Ken Pom top 50, Indiana's conference schedule currently projects to featured 15 Tier A games and 3 Tier B games. That would be the most competitive conference slate we've seen in a long time.
Theoretically, all of this bodes well for the conference's NCAA tournament hopes. The Big Ten had just four bids last season, and hopes to build on that number in 2019.
A rising tide floats all boats, but let's hope for Indiana's sake that those other vessels don't rise too high.
And with that, the joy of hanging Banner #6 is now one week closer.
Thanks for your continued support for The Assembly Call and Inside the Hall. We'll be back next weekend with a new roundup.
Now go enjoy yourself a 6-banner Sunday. If you'd like to receive this newsletter in your inbox each Sunday, please enter your email address below:
Filed to: