What to expect: Arkansas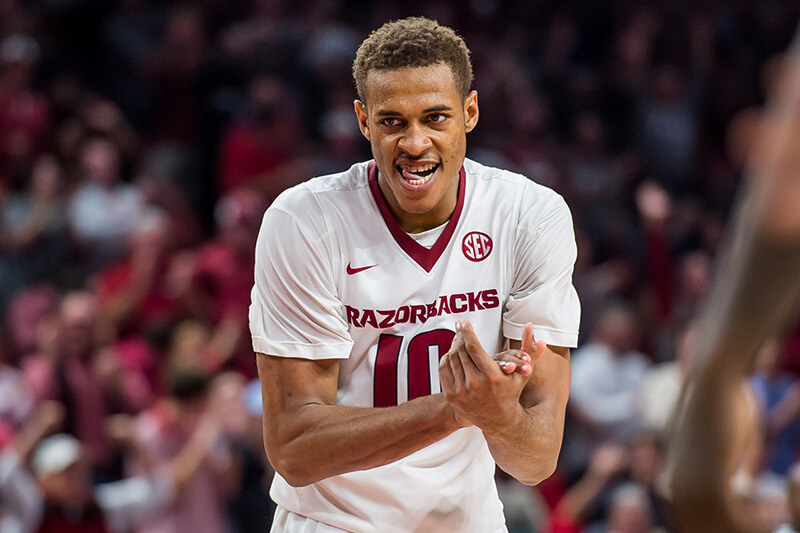 Indiana and Arkansas will meet for the first time since 2008 as the Hoosiers travel to Fayetteville on Sunday afternoon. It will be the first time Indiana has ever played at Bud Walton Arena and just the third meeting all-time between the two programs. The Razorbacks are 1-1 this season with an overtime loss to Texas on a neutral floor and a home win over UC Davis.
The game will be broadcast at 3:30 p.m. ET on ESPN with Karl Ravech and Dalen Cuff on the call:
Indiana's beatdown of Marquette on Wednesday night at Simon Skjodt Assembly Hall was worthy of all of the praise it received. Wire to wire, a short handed Indiana team thoroughly dominated one of the nation's best offensive teams.
But the Hoosiers have to find a way to put that contest in the rearview mirror on Sunday afternoon.
Arkansas has one of the SEC's best home court advantages and very few tickets remain for Indiana's first trip to Fayetteville. The Razorbacks also have one of the nation's premier frontcourt players in Daniel Gafford and two young wings in Isaiah Joe and Mason Jones who are capable of putting up big numbers.
The uptempo, pressure defense Arkansas deploys will also be a different look for the Hoosiers and a test for a backcourt that starts a pair of freshmen in Robert Phinisee and Romeo Langford.
MEET THE RAZORBACKS
Gafford could have cashed in last June in the NBA draft, but opted to return for his sophomore season in Fayetteville. Those decisions don't always work out, but Gafford is still projected as a lottery pick in most of the early 2019 mock drafts.
Through two games, Gafford is leading Arkansas in scoring (16 ppg), rebounding (8 rpg) and blocked shots (3 bpg), but he also has 12 turnovers and is shooting just 55.6 percent from the free throw line.
As a freshman, Gafford posted average efficiency numbers as a post-up player, according to Synergy Sports. In 123 post up possessions as a freshman, he scored just 98 points for .79 points per possession. He was elite, however, in several other key areas. Most notably, he scored 1.32 points per possession as the roll man in P&R and he also ranked highly in offensive rebounding situations, cuts and in transition.
Gafford's size – he's 6-foot-11 and 233 pounds – could be an issue for an Indiana team that is currently starting a small starting lineup. The Hoosiers can't afford to have Juwan Morgan in early foul trouble, so it will be interesting to see if Archie Miller opts to double the post at times to force others to make plays.
Adrio Bailey, a 6-foot-6 junior, joins Gafford in the starting frontcourt. Bailey didn't have a huge role his first two seasons in Fayetteville, but has been thrust into major minutes in his third season. Bailey is 8-of-10 on 2s this season and is averaging 14 points.
The two frontcourt backups are freshman Reggie Chaney and sophomore Gabe Osabuohien. Neither has produced much statistically through the team's first two games.
The three guard Arkansas backcourt set is junior Jalen Harris, Joe and Jones. Harris, who transferred from New Mexico, is a career 21.2 percent 3-point shooter and is shooting just 22 percent from the field through two games.
Joe, a 3-star recruit from Fort Smith, Arkansas, has been terrific early this season. He's hit seven of his 13 attempts from 3-point range. So far, Joe looks most comfortable getting into his shot off the dribble than he does in the catch and shoot. According to Synergy, he's just 1-of-4 this season on no dribble jump shots.
Jones, a 6-foot-6 sophomore, is the team's second leading scorer through two games. He's shooting it well from deep (46.2 percent) and is also getting to the line (11 attempts in two games). He has, however, been mistake prone through two games with six turnovers.
Two freshmen, Desi Sils and Keyshawn Embery-Simpson, have been playing the majority of the backup minutes in the backcourt. Sils has two turnovers and no assists in two games while Embery-Simpson is just 2-of-8 from the field.
TEMPO-FREE PREVIEW
The Razorbacks are a pressing team that thrives on forcing turnovers. Currently, Arkansas is playing the 57th fastest pace in the country and opponents are turning it over on 24.1 percent of their possessions. For a young backcourt going into their first hostile environment, it's going to be important for Phinisee and Langford to be able to handle the pressure.
The Arkansas KenPom offensive profile is a mixed bag through two games.
The Razorbacks have been excellent at getting to the foul line with a free throw rate (FTA/FGA) of 59.1 percent. Converting at the line, however, has been another story as Arkansas is shooting just 61.5 percent from the stripe. Arkansas is also shooting it well from 3-point range at 38.1 percent.
Offensive rebounding (20.8 OR%), turnover percentage (20.9) and 2-point shooting percentage (47.1) are three key areas where Arkansas has struggled through two games.
WHAT IT COMES DOWN TO
Pomeroy has Indiana as a 2-point favorite while the Sagarin ratings, which can be wonky early in the season, like Indiana by 15 (!). The Vegas line, which will be out later on Saturday, should fall more in line with the KenPom number.
In many ways, this feels like a game that could go either way. Arkansas is young, but has the advantage of playing in front of what should be a very good home crowd. Indiana is short handed due to injuries, which could play a significant role if fouls become an issue.
The Gafford-Morgan matchup is intriguing, but Indiana is probably going to need to figure out ways to get the Arkansas big man out of the paint to open up driving lanes. If Morgan can step out and knock down a few shots in the halfcourt early or draw a few early fouls on Gafford, it could completely change the game.
While this week's Marquette was viewed as an early litmus test for this Indiana team, going into a hostile road environment and winning would be even more impressive than the performance against the Golden Eagles.
(Photo credit: Arkansas Razorbacks Athletics)
Filed to: Arkansas Razorbacks