What to expect: Chicago State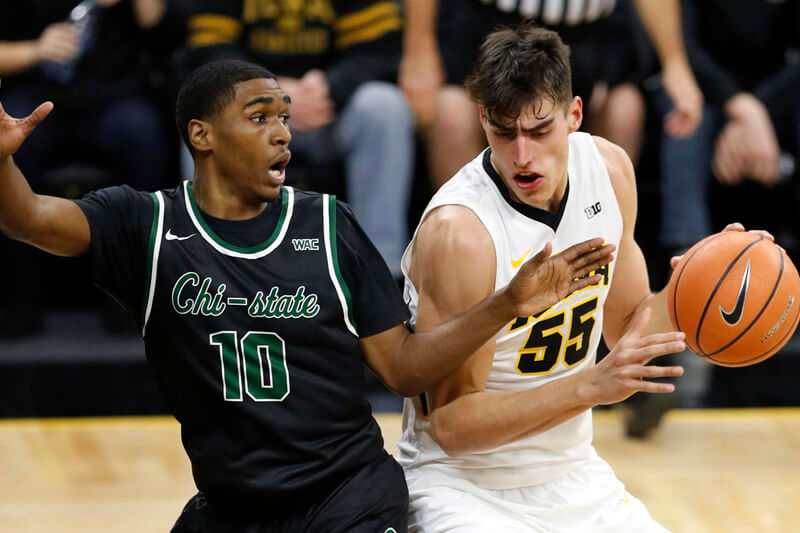 Indiana will tip off the 2018-19 regular season on Tuesday night against Chicago State at Simon Skjodt Assembly Hall. The Cougars finished last season just 3-29 and are projected to finish at the bottom of the Western Athletic Conference.
The game will be broadcast at 6:30 p.m. ET on BTN with Kevin Kugler and Jon Crispin on the call:
More than eight months have passed since Indiana took the floor in Madison Square Garden in the Big Ten tournament and lost to Rutgers.
Since that lackluster performance, the Hoosiers signed a McDonald's All-American and Mr. Basketball in Romeo Langford and also got All-Big Ten standout Juwan Morgan back for his senior season. The one-two punch of Morgan and Langford with a strong supporting cast has expectations high in Bloomington.
On Tuesday, the longest offseason in recent history will come to an end as Indiana hosts Chicago State on Branch McCracken Court. It's a matchup that offers little intrigue, but it's the first chapter in what should be an interesting November featuring games against Marquette, Arkansas and Duke.
MEET THE COUGARS
Chicago State quietly fired Tracy Dildy after eight seasons last spring, which didn't come as much of a surprise.
What happened next, however, was unprecedented. The Cougars didn't hire a replacement for Dildy until August 7. So with less than 90 days on the job, Lance Irvin will bring Chicago State to Indiana to tip off the 2018-19 season.
Building Chicago State into a relevant program is a tall order for any coach, but Irvin appears ready to embrace the challenge. The 49-year old is a two-time cancer survivor and also spent time as an assistant coach at SMU, Missouri, Texas A&M, Iowa State and Loyola-Chicago.
Irvin is well known and respected in Chicago as he most recently worked as an assistant coach at Morgan Park, which won four Class 3A state championships during his time at the school. In addition, Irvin's late father Mac Irvin is considered the "godfather" of Chicago hoops after founding the Mac Irvin travel basketball program.
The reality for Irvin and Chicago State, however, is that another tough season is on the horizon. The Cougars won just a total of 13 games over the last three seasons and have a long way to go just to become competitive in the WAC.
The program lost its top four scorers from last season and its top returning player is senior guard Anthony Harris (pictured). As a junior, Harris averaged 5.8 points per game and shot 35.3 percent on 3s.
Rob Shaw, a 6-foot senior from Louisville, started 11 games last season and averaged 4.4 points and 2.5 assists per game. Sophomore guard Travon Bell, who made 27 3s last season, also returns.
Cameron Bowles, a 6-foot-7 sophomore, averaged 4.7 points and 2.7 rebounds last season and started 12 games. The other returnee with starting experience is 6-foot-9 junior forward Patrick Szpir, who started 10 games and averaged just 2.6 points a season ago.
Beyond those returnees, Irvin also signed four players from the junior college ranks to complete the roster.
TEMPO-FREE PREVIEW
Unlike last season's season opener when the Hoosiers were throughly beaten by Indiana State on their home floor, Chicago State is not expected to offer much, if any, resistance.
The Cougars were a bottom five defensive team in the country last season and ranked just 330th in 3-point shooting percentage. The team's top four scorers are gone and the program has only been working with Irvin since early August, which has left little time to get prepared for the season.
From an Indiana perspective, the numbers to watch are turnover percentage, 3-point shooting percentage, free throw shooting percentage and points per possession allowed.
The Hoosiers did a much better job last season of taking care of the ball under Archie Miller, but with several newcomers and against an inferior opponent, things could get sloppy. Indiana's turnover percentage against Southern Indiana was just 14.
The 3-point shooting and free throw shooting in the exhibition were a mixed bag as Indiana hit 50 percent from distance, but just 62.5 percent from the line. Last season's free throw shooting was a major deficiency, so that number bears watching early in the season.
And finally, after last Thursday's defensive lapses in the second half, Miller will certainly be looking for a more complete effort on that end of the floor. The Hoosiers allowed Southern Indiana to score a point per possession in second half of the exhibition and Miller cited fatigue as a major factor.
WHAT IT COMES DOWN TO
The Pomeroy projection is Indiana by 29 and the preseason Sagarin ratings like the Hoosiers by 37. As Andy pointed out this morning, this is the worst game on Indiana's schedule and is essentially a glorified exhibition game.
Regardless of the final score, this is one of two games this week that actually count for the Hoosiers before Marquette comes to town next week. And while fans might not learn where IU stands from either contest this week, the competition level will take a step up in a hurry later in the month.
(Photo credit: Charlie Neibergall/Associated Press)
Filed to: Chicago State Cougars