6-Banner Sunday: Top-Ranked 2021 prospect visits Bloomington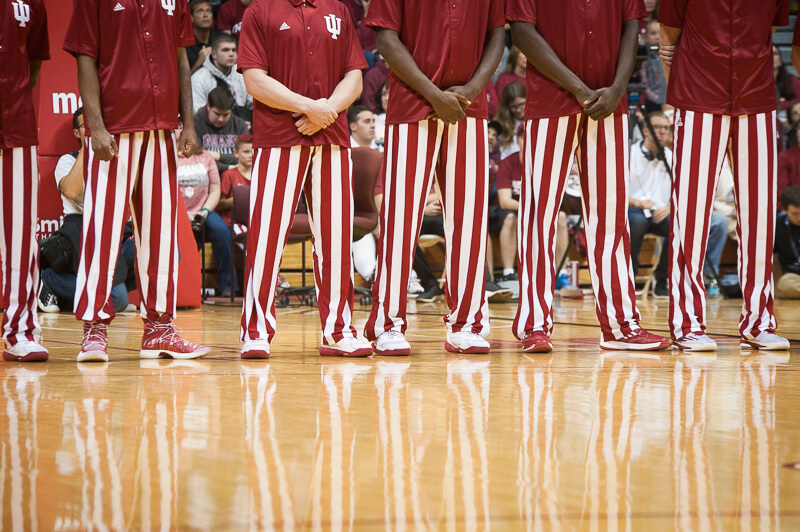 6-Banner Sunday is Inside the Hall's weekly newsletter in partnership with The Assembly Call. More than 5,800 Indiana fans receive the newsletter each week. In addition to appearing each week on the site, you can also opt to receive 6-Banner Sunday by email. A form to subscribe via email is available at the bottom of this week's 6-Banner Sunday.
Welcome to another edition of 6-Banner Sunday, a joint production between The Assembly Call and Inside the Hall where we highlight the six most essential IU basketball stories of the past week.
If it wasn't already, the countdown to Hoosier Hysteria is officially on: we're less than two weeks away from the big season kickoff event. With media day before then, things will be picking up very soon.
For now, here's what's going on with IU basketball.
In this week's edition:
• 2021 5-star takes unofficial visit to IU
• Schedule complete
• Oladipo in SI Top 100
• Purdue's outlook for 2018-19 and beyond
• Brian Evans to enter IU Hall of Fame
• IU sports roundup
Banner #1
2021 five-star takes unofficial visit to IU
Terrence Clarke, a 5-star guard from Boston, took an unofficial visit to IU on Saturday. As part of the visit, he and Archie Miller checked out the IU football game against Ball State.
I want to thank Indiana University and all staff for hosting me on campus for an unofficial visit today. I had a great time ??? #GoHoosiers ! pic.twitter.com/4nOtaUN34M

— Terrence Clarke (@terrenceclarke_) September 15, 2018
The class of 2021 prospect checks in at 6-foot-6 and 180 pounds and is ranked as the No. 1 recruit in the country in his class by 247Sports.
In addition to IU, Clarke has Big Ten offers from Iowa and Rutgers, as well as many others from schools across the country.
Watch his highlights from NBAPA Top 100 Camp here.
Wyandotte Safety Solutions is your one-stop shop for safety training and safety products. WSS offers CPR & First Aid training, fall protection, and lift training. We also sell PPE, AEDs, and First Aid supplies.
We are an Indiana company serving Indiana and all of North America. Check out our website for more information: ptsarcflash.com.
Banner #2
Schedule set
More tip times and TV networks were announced this week, rounding out IU's schedule for the 2018-19 season.
On Wednesday, Nov. 14, Indiana will host Marquette in the Gavitt Tipoff Games, which pits the Big Ten against the Big East. That game will tip off at 8:30 p.m. ET on FS1.
Additionally, Indiana's game at Arkansas on Sunday, Nov. 18 will tip at 3:30 p.m. ET and be televised on ESPN.
Banner #3
Oladipo in SI Top 100
Former Hoosier and current Indiana Pacer Victor Oladipo was ranked No. 20 in Sports Illustrated's list of the Top 100 players in the NBA.
The 26-year-old scoring guard displayed numerous improvements following a trade from Oklahoma City to Indiana: he shot the three at a career-high rate, he worked in a more reliable off-the-dribble jumper, he attacked the rim with greater purpose, and he committed to becoming a disruptive defender on a nightly basis. Importantly, Oladipo also settled in as a late-game option, ranking fourth in clutch scoring and leading the pesky, overachieving Pacers to a 24-17 record in games that were within five points in the last five minutes. Perhaps the best way to gauge Oladipo's value came when he was sidelined for seven games: Indiana went 0-7 and lost by an average of 14 points.
Eric Gordon was also included in the list at No. 49.
Opponents respect Gordon's perimeter shooting, so Houston stations him far beyond the three-point arc to clear room for its pick-and-rolls — perhaps at the expense of Gordon's three-point percentage. What used to be a more balanced shot profile has since polarized; in a fashion suiting Houston's guiding principles, Gordon now takes well over 60% of his shots from beyond the arc. What mid-range shots he takes are largely provisional — products of when Gordon is asked to create some offense for himself.
Also, an Indy Monthly cover story on Victor Oladipo is set to run in the magazine's October issue.
OG Anunoby made the "watch list" for the 2020 top 100 rankings.
Banner #4
Purdue's outlook for 2018-19 and beyond
Four-star class of 2019 guard Armaan Franklin surprised some by committing to IU over Purdue.
In this week's Podcast on the Brink, Alex and Jerod were joined by Brian Neubert of GoldandBlack.com to discuss Franklin's commitment, Purdue's outlook for the upcoming season, and what Purdue's recruiting for the classes of 2019 and 2020 looks like at the moment.
Also, if you've ever wondered why Purdue fans chat "IU sucks" during football and basketball games … even during games that aren't against IU … the Indy Star ran a story this week allowing the Purdue folks to explain the reasoning.
The highlight of the piece is a wonderful quote from Gene Keady that serves as a great reminder of why even the most Purdue-hating of IU fans surely still respect and appreciate the legendary Boilers basketball coach.
Banner #5
Brian Evans to enter IU Hall of Fame
IU Athletics announced its 2018 Hall of Fame class last week, and the class was headlined by former Hoosier Brian Evans. Evans played at IU from 1993-96 and is 12th on the program's all-time career scoring list.
Back in 2007, the Herald-Times wrote about the legend of Brian Evans' dislocated shoulder.
For all he accomplished in his four-year career from 1992-1996, Evans will always be remembered as the guy who played an entire Big Ten season with a dislocated shoulder. Visions of him taking a spill, grimacing in pain, then popping the shoulder back into place and soldiering on are still enough to make Hoosiers wince.

"It's always about my shoulder," Evans said by phone last week. "I've signed pictures of me with my shoulder brace."
On this week's edition of The Assembly Call, Andy and Jerod reminisced about their favorite Brian Evans moments. They also provided their offseason analysis of De'Ron Davis and reacted to Archie Miller's podcast appearance on College Hoops Today.
Banner #6
Big wins for IU football, men's soccer; women's soccer comeback
Indiana football improved to 3-0 with a 38-10 win over Ball State on Saturday. True freshman running back Stevie Scott continued to dazzle, putting up 114 yards on 18 carries with two touchdowns. Scott has posted 388 yards thus far.
Zach Osterman has three reasons the Hoosiers won, and Jordan Guskey wrote about the incredible comeback (yet again) of J-Shun Harris. The guys at Crimson Cast delivered postgame reaction as well.
The Hoosiers host No. 25 Michigan State next Saturday in their Big Ten opener at 7:30 p.m. on BTN.
Spotted in the crowd for the win: Romeo Langford and Rob Phinisee.
IU men's soccer earned a résumé-building 2-1 overtime win over No. 8 Notre Dame Tuesday in South Bend, Ind. Sophomore Justin Rennicks scored the game-winner in the third minute of overtime. The Hoosier Network has three key takeaways from the win.
The No. 2-ranked Hoosiers open up Big Ten play on Sunday against Wisconsin in Madison.
IU women's soccer made a late comeback to defeat Michigan on Thursday.
The Hoosiers scored two goals in the final 4:36 of regulation to tie the game before netting the winner in double overtime. Senior forward Abby Allen has been a star for the Hoosiers this year with six goals and four assists through eight games.
IU has started the season well at 5-1-2 and hosts Michigan State on Sunday.
And with that, the joy of hanging Banner #6 is now one week closer.
Thanks for your continued support for The Assembly Call and Inside the Hall. We'll be back next weekend with a new roundup.
Now go enjoy yourself a 6-banner Sunday. If you'd like to receive this newsletter in your inbox each Sunday, please enter your email address below:
Filed to: