6-Banner Sunday: How Victor Oladipo is preparing to get even better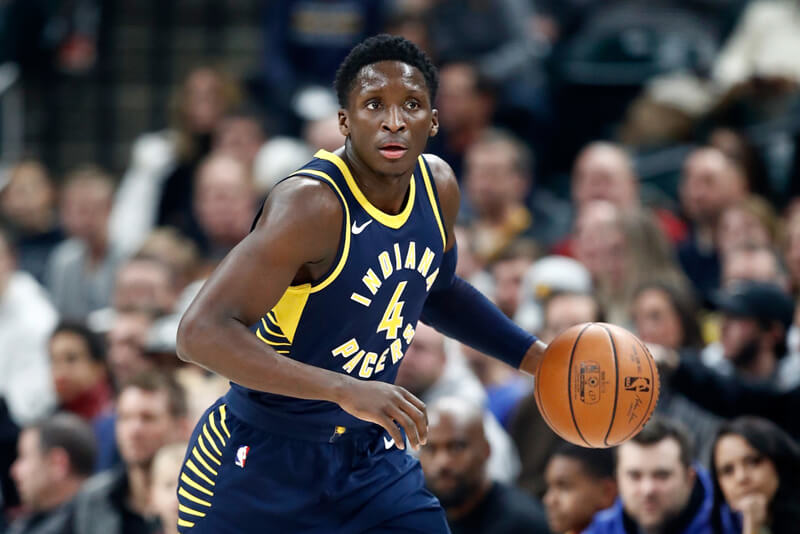 6-Banner Sunday is Inside the Hall's weekly newsletter in partnership with The Assembly Call. More than 5,800 Indiana fans receive the newsletter each week. In addition to appearing each week on the site, you can also opt to receive 6-Banner Sunday by email. A form to subscribe via email is available at the bottom of this week's 6-Banner Sunday.
Welcome to another edition of 6-Banner Sunday, a joint production between The Assembly Call and Inside the Hall where we highlight the six most essential IU basketball stories of the past week.
This week, the final few pieces of the non-conference schedule fell into place, we got a few updates on targets in the class of 2019, and we learned about how Victor Oladipo is leveraging his newfound superstardom.
In this week's edition:
· Non-conference dates and opponents set
· Latest from the recruiting trail
· Oladipo's ascension to superstar
· Emmitt Holt back on the court
· Hoosiers in the NFL, Schwarber hits game-winning dinger
· IU soccer favorites to win B1G + bonus links
Banner #1
Non-conference schedule
The Hoosiers' non-conference schedule has yet to be made official by the university, but each of the 11 games already has a set date and location.
Below is a chronological list of the non-conference schedule, with each team's projected Division I ranking according to Bart Torvik's T-Rank and conference also included:
· November 6th: v Chicago State – #347 / WAC
· November 9th: v Montana State – #274 / Big Sky
· November 14th: v Marquette – #31 / Big East
· November 18th: at Arkansas – #87 / SEC
· November 20th: v UT Arlington – #45 / Sun Belt
· November 23rd: v UC Davis – #77 / Big West
· November 27th: at Duke – #3 / ACC
· December 8th: v Louisville – #45/ ACC
· December 15th: v Butler at Bankers Life Fieldhouse – #44 / Big East
· December 19th: v Central Arkansas – #313 / Southland
· December 22nd: v Jacksonville – #280 / Atlantic Sun
With the schedule now known, let's break it all down:
· Indiana will face foes from nine different conferences, with two games each against teams from the ACC (Louisville, at Duke) and the Big East (Marquette, vs. Butler).
· Five home games are against teams that are currently projected to be among the 100 worst in Division I. Four of the five sandwich the non-con schedule, with matchups against Chicago State and Montana at the beginning of November and contests against Central Arkansas and Jacksonville just before Christmas. The only other game that can be classified as a cupcake is a Nov. 20 showdown with UT Arlington, which fired their head coach last March after three straight 20+ win seasons. Yes, I know, that makes absolutely zero sense.
· Eight of the 11 games will be played in the friendly confines of Simon Skjodt Assembly Hall, with the premier matchups being against Marquette and Louisville. Of the other three, one is a neutral site game against Butler in Indianapolis and the other two are true road games against Arkansas and Duke.
· The Nov. 23 contest vs. UC Davis has all the makings of being a trap game. With the students on Thanksgiving break that Friday and the road game against Duke four days later, Indiana can't afford to let down its guard against the formidable Aggies.
· The 11-day gap between the Duke and Louisville games will likely be filled with a couple of Big Ten contests. With the conference schedule expanding to 20 games starting this season, early December Big Ten games could be the new normal.
· Speaking of which, the 2018-19 Big Ten schedule will be released this Tuesday at 3 p.m. Eastern time on Big Ten Network. Expect Indiana to officially release their entire 2018-19 schedule shortly after the telecast.
More schedule breakdown:
· Podcast on the Brink this week had an extensive discussion on the 2018-19 non-con slate
· The latest edition of Assembly Call Radio also chatted about the non-conference schedule with two of the best bracketologists in the business
Wyandotte Safety Solutions is your one-stop shop for safety training and safety products. WSS offers CPR & First Aid training, fall protection, and lift training. We also sell PPE, AEDs, and First Aid supplies.
We are an Indiana company serving Indiana and all of North America. Check out our website for more information: ptsarcflash.com.
Banner #2
Latest from the recruiting trail
It was a relatively quiet week on the recruiting front for Indiana, but there were still several developments concerning the future of IU basketball:
· Class of 2019 four-star guard Jahmius Ramsey trimmed his list to 10 schools, with Indiana making the cut.
· Indiana was named as one of the final eight schools in contention for the services of 2019 four-star forward Kadin Shedrick.
· Inside the Hall now has highlights available from Peach Jam of 2019 five-star forward Keion Brooks, Jr.
Make sure to check out the Inside the Hall Class of 2019 Recruiting Board for the latest updates as they come in. Also, if you haven't yet, consider signing up for the ITH Premium Forum for bonus content and engaging message boards regarding the past, present, and future of IU basketball.
Banner #3
Victor Oladipo's ascension to superstardom extends off the court
After a breakout year on the court for former IU All-American Victor Oladipo, the Pacers' franchise player is hoping to become an icon off the floor.
Earlier this offseason, Oladipo signed with talent agency WME to represent him off the court. With the ink barely dried on that deal, Oladipo is hard at work with his manager Jay Henderson on a new R&B album, as J. Michael of The Indianapolis Star wrote this week:
(Henderson will) bring in producers, writers, and other artists from as far away as Los Angeles to help Oladipo with his album in his down time. Oladipo is rounding into a veteran in the studio, banging out a song in one session. Last year, he couldn't do that.

There's not a lot of room for hobbies as Oladipo has settled on a routine and rarely deviates. It begins in the morning with weightlifting and agility drills, with an hour of recovery. Then it's his session with Stanhope, Lawrence, and Watson, icing down and an hourlong physical therapy appointment set up through the Pacers. Dinner comes next, followed by yoga. If he has any spark left, it's off to the studio.

Gone are the days when Oladipo was scattershot. He'd train back home in the D.C. area, go to Miami, and then California. He worked hard but not hard enough. He was smart but didn't exactly think everything through.
So as you can tell from Michael's characterization of Oladipo's day, although he is working on his second album, the number one priority remains improving on the court. In fact, Oladipo has three trainers (Al Watson, Bryce Stanhope, and Micah Lancaster) right by his side making sure he maximizes his potential:
It's the job of Watson (A Game Training) and Lawrence and Stanhope (I'm Possible Training) to tire him out in other ways. They're attacking Oladipo's weaknesses and adding to his repertoire.

Watson focuses on situational basketball such as splitting traps, mid-postups, and ball-handling. Stanhope is all about the footwork in confined spaces to maximize efficiency, ball-handling, and finishing techniques. It's a mind-boggling array of counter moves and counters of the counter moves. Stanhope estimates there are more than 600 combinations of footwork. Oladipo goes from mid-range pull-ups to head fakes with reverse pivots that produce fading jumpers. He can mix in a high head fake instead or add a forward pivot after the reverse pivot. That keeps the defender guessing.

While it has been common for bigs to visit with master footwork specialist Hakeem Olajuwon to learn in the offseason, Kobe Bryant ushered in this practice for perimeter players. Creating space and separation, deception with few or no dribbles, is where Bryant excelled even in advanced age and declining athleticism. That's where the system taught by Stanhope and Lawrence is so valuable.
More on Hoosiers in the NBA:
· Both OG Anunoby and Thomas Bryant have spent time on the IU campus over the past week working on their game
· Even after Yogi Ferrell's unexpected departure from the Dallas Mavericks to head west to the Sacramento Kings, there are no hard feelings between Ferrell and the Mavs
Banner #4
Emmitt Holt back on the court
To say Emmitt Holt has had a tumultuous collegiate career would be an understatement.
Of course, there was the Halloween incident in the fall of what was supposed to be Holt's sophomore year at Indiana, when he was the driver of a vehicle that left Devin Davis with serious injuries. Shortly after that, Holt was dismissed from the program after a citation for illegal possession of alcohol.
Holt was given a second chance with the Providence Friars, and he flourished. In 2016-17, his first season with the Friars, Holt started 28 games, shot 57 percent from inside the three-point line, and posted a double-double in the opening round of the NCAA tournament.
But shortly before the 2017-18 season, an off-court problem of a different kind struck Holt, one that he couldn't possibly be faulted for.
First, in Sept. 2017, it was stomach pains. Soon after, it was a full-blown fever. So Holt was taken to the hospital, where they took a series of tests before finding an issue with his abdomen that required surgery, forcing Holt to miss the entire season and nearly taking his life.
As Brendan McGair writes for the Woonsocket Call, the past 11 months have been a trying time for Emmitt Holt and his family.
One year ago, Emmitt was the picture of perfect health and on the fast track to finishing his college basketball career on a high note. Then came a life-altering setback where a parent saw her child fight for his life and undergo abdominal surgery, a last resort but a necessary course of action to keep Emmitt alive.

Looking back, the whole scenario was downright frightening, not to mention totally unexpected.

"Emmitt never had any ailments, not so much as a broken bone or a virus," Caroline said. "He's never been a sickly child. That's the crazy thing."

These days, Caroline Holt counts her blessings. Emmitt may still have a few miles to go before the hoops leg of his comeback journey is complete – "We'll call Italy the test run," says Caroline, referencing the 10-day, four-game experience that awaits the Friars beginning Tuesday – but he's still here. To his mom, that's what truly matters.
We wish Holt the best in his fifth-year senior season with the Friars.
Banner #5
Hoosiers in the NFL, Schwarber hits game-winning dinger
With week two of the NFL preseason in the books, it's time to look at the many Hoosiers fighting for a spot on a 53-man roster:
· QB Nate Sudfeld has impressed a lot of people in his first two games of the preseason with the Eagles (NBCSports).
· Tight end and Panthers' rookie Ian Thomas has already found chemistry with QB Cam Newton, as the two combined for a touchdown on Friday night (Panthers).
· Speedster Shane Wynn has caught five passes for 49 yards through two contests.
· Second-string running back Tevin Coleman rushed for 35 yards on five carries in the Falcons' second preseason game.
· For more updates on Hoosiers in the NFL, make sure to fallow Pro Ball Hoosiers on Twitter.
Before we head to Banner No. 6, we'd be remiss if we didn't link to IU legend Kyle Schwarber's game-winning homer from Friday night. The solo shot was the difference in a 1-0 win for the Cubs, and was Schwar-bear's 21st dinger of the season and 67th of his career.
Banner #6
IU soccer favorites to win B1G + bonus links
Last season, IU men's soccer was just minutes away from finishing their campaign with an undefeated record and a National Championship before a defensive miscue ended their year in double-overtime of the title game.
But that's in the past. And with the fall quickly approaching, the Hoosiers have another opportunity to collect the program's ninth National Championship.
The Hoosiers start the season with lofty expectations, with a preseason ranking of No. 2 in the nation, and are the predominant favorites to win the Big Ten. Returning nine starters and featuring three players on the All-Big Ten Preseason Team, Indiana will begin their season on Friday at No. 5 Wake Forest.
More on IU Athletics:
· IU volleyball coach Steve Aird teaching Hoosiers to grow
· Starting placekicker spot up for grabs for IU football
And with that, the joy of hanging Banner #6 is now one week closer.
Thanks for your continued support for The Assembly Call and Inside the Hall. We'll be back next weekend with a new roundup.
Now go enjoy yourself a 6-banner Sunday. If you'd like to receive this newsletter in your inbox each Sunday, please enter your email address below:
Filed to: