6-Banner Sunday: Justin Smith leaps into IU record books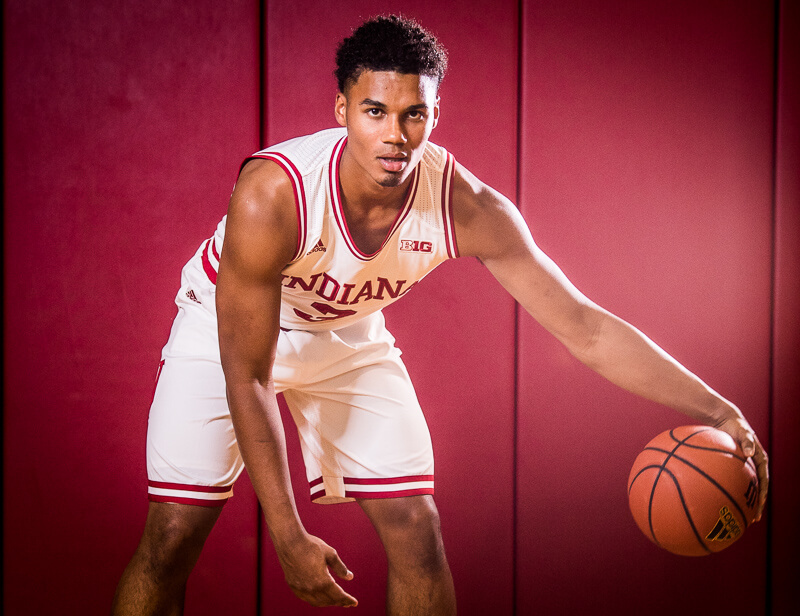 6-Banner Sunday is Inside the Hall's weekly newsletter in partnership with The Assembly Call. More than 5,800 Indiana fans receive the newsletter each week. In addition to appearing each week on the site, you can also opt to receive 6-Banner Sunday by email. A form to subscribe via email is available at the bottom of this week's 6-Banner Sunday.
Welcome to another edition of 6-Banner Sunday, a joint production between The Assembly Call and Inside the Hall where we highlight the six most essential IU basketball stories of the past week.
With DJ Carton committed to Ohio State, what players are now bumped up the priority list for the IU coaching staff? We'll dive into that, plus information on Hoosier Hysteria, Hoosiers in the NBA, and much more in this week's 6-Banner Sunday.
In this week's edition:
· Latest from the July evaluation period
· Hoosier Hysteria date set
· Justin Smith's crazy hops
· Yogi Ferrell signs with … Sacramento?
· OG Anunoby preps for sophomore year
· IU baseball adds Scott Rolen to staff
Banner #1
Latest from the July evaluation period
We're about halfway through the July evaluation period, and the IU coaching staff is continuing to grind on the recruiting trail.
DJ Carton may be off the board after committing to Ohio State, but plenty of talented class of 2019 prospects still remain uncommitted. So who is the coaching staff eyeing closely?
On Thursday, Archie Miller was in Orange County to catch D1 Minnesota 17s at the Adidas Summer Championships. IU targets playing for D1 MN include forwards Matthew Hurt (five-stars) and Zeke Nnaji (four-stars).
Speaking of Zeke Nnaji, the big man is looking to cut down his list in the near future. Besides Indiana, other schools showing lots of interest include Wisconsin, Arizona, UCLA, and Minnesota. When it comes to the Hoosiers, Nnaji told Rivals that they value his versatility:
"They like my versatility. I know I am not strong enough for the next level but that is something that I am working on every day and getting into the weight room."
While in Orange County, Miller also watched the Indiana Elite 16s, which include rising class of 2020 stars Anthony Leal, Trey Galloway, Tre Coleman, and Mabor Majak.
Other members of the IU coaching staff were spotted in Wisconsin at an NY2LA event. Players of note competing there include Ethan Morton, the 2020 prospect pick up an IU offer.
On Saturday, Andre Jackson, who plays AAU ball with the New York City Rocks, became the second 2020 prospect to pick up an IU offer.
More from July evaluations:
· Podcast on the Brink: Recapping week one of the July evaluation periods with Jordan Wells of TheHoosier.com
· Recruiting was also a main topic of this week's Assembly Call Radio
· Inside the Hall has a full recap of IU targets' performances from last weekend
· Peach Jam highlights: Trayce Jackson-Davis, Brandon Newman, Armaan Franklin
Wyandotte Safety Solutions is your one-stop shop for safety training and safety products. WSS offers CPR & First Aid training, fall protection, and lift training. We also sell PPE, AEDs, and First Aid supplies.
We are an Indiana company serving Indiana and all of North America. Check out our website for more information: ptsarcflash.com.
Banner #2
Hoosier Hysteria date set
Not only will the 2018 version of Hoosier Hysteria be the most anticipated in years, but it will also be the earliest.
IU announced this week that the annual event celebrating the beginning of the college basketball season will take place on Saturday, Sept. 29. There is not a home football game that weekend, as the Hoosiers will be playing at Rutgers.
The event usually attracts big-time recruiting targets, allowing them to get a glimpse of what it's like playing inside Simon Skjodt Assembly Hall.
You might remember last year when a parade of potential recruits were serenaded with applause when they walked across the court. The applause reach its peak when Romeo Langford made his way to his seat. Langford called the atmosphere "electrifying," and sure enough, he eventually committed to IU.
The time for Hoosier Hysteria has not been set, but expect it to begin sometime around 7 p.m. Admission is free, but a canned food donation to the Hoosier Hills Food Bank is encouraged.
Banner #3
Justin Smith's crazy hops
It's not a secret that Justin Smith has bounce. The soon-to-be sophomore has been captivating gyms with his athletic slams since high school, and we saw glimpses of that in his freshman season at IU.
With one collegiate season in the books, Smith is looking to take his game to the next level. He has been working on his game throughout the summer with the IU staff, specifically with strength coach Clif Marshall.
Smith's training is already proving fruitful. This week, he broke the IU record for the maximum vertical leap, jumping an unbelievable 48 inches. You have to watch the video –- Smith nearly touches the top of the backboard!
The 48-inch max vertical mark not only broke the IU record by half a foot (Victor Oladipo, 42 inches), but it would have also tied the NBA Combine record.
More on Smith:
· Smith has the ability to be a "game-changer" (News-Sentinel)
Banner #4
Yogi Ferrell signs with … Sacramento?
Last week, we told you that Yogi Ferrell was closing in on a two-year deal to return to the Dallas Mavericks. As it turns out, Ferrell changed his mind.
Since then, Ferrell and his agent have spurned the Mavs, electing to sign with the Sacramento Kings. The deal will be for two years and $6.2 million total.
The main reason for the change in plans appears to be money, as well as having the second year of his contract guaranteed. By heading to Sacramento, Ferrell stands to make $1 million more and won't have to worry about whether he will have the second year of his deal pulled.
Ferrell will have to earn the backup point guard spot, as the Kings already have Frank Mason III in the fold. However, Ferrell should have the advantage, as his contract is guaranteed through 2019-20 and comes at a significantly higher price.
Ferrell told Yahoo! Sports that he wants to provide veteran leadership for a team full of young and unproven players:
"I heard the vision and optimism from (General Manager) Vlade (Divac) and (Assistant GM) Brandon (Williams), and got a view of the culture and direction from veterans I look up to, and that was impactful," Ferrell told Charania. "I see the explosive potential from a starving young group that wants to open the floor up with more shooting and play with speed and smarts.
Banner #5
OG Anunoby preps for sophomore year
How did OG Anunoby's rookie year with the Toronto Raptors go? Let's let Anunoby describe it as only he can:
"We were a really talented team. We played really well. We won 59 games. We lost in the second round."
That quote comes from a lengthy feature on Anunoby from Alex Wong of Slam. Also quoted in the story is former IU assistant Chuck Martin, who raved about Anunoby's nonchalant demeanor on the court:
"He would have a tremendous play. But he would never pump his fist. At first, you're asking yourself, is he not excited at all? Then you realize that's just who he really is. He's always in the moment. Once a moment has happened, it just comes and goes, and he's on to the next moment, the next possession."
One thing the article does not touch on is the Raptors' trade for Kawhi Leonard, which sent shockwaves across the NBA. The move signals a push from Toronto management to go all-in to try and win the Eastern Conference, and Leonard should provide invaluable mentorship to Anunoby.
More on Hoosiers in the NBA:
· Troy Williams was waived by the Knicks following Summer League. He's still an intriguing prospect with tons of upside, and at the very least should receive a training camp invite to another team
· With Dwight Howard out of Charlotte, Cody Zeller has a shot to cement himself as the starting center for the Hornets (At The Hive)
· The Wizards have a legitimate big man prospect in Thomas Bryant (Bullets Forever)
· Eric Gordon to attend Team USA mini-camp in Las Vegas (USA Today)
Banner #6
IU baseball adds Scott Rolen to staff
Just weeks into his new job as head coach of IU baseball, Jeff Mercer has added an all-time great to his staff.
This week, the program announced the hiring of Scott Rolen as Director of Player Development. Rolen is a seven-time MLB All-Star, eight-time Gold Glove winner, 2002 Silver Slugger winner, and 2006 World Series Champion.
Before his outstanding professional career, the Jasper, Ind. native was 1993's Indiana Mr. Baseball and runner-up for Mr. Basketball. He's lived in the Bloomington area since his retirement and even donated an unspecified amount for the construction of Bart Kaufman Field.
"I've enjoyed watching the success and development of IU baseball over the last five years under Tracy Smith and Chris Lemonis, " said Rolen. "Hopefully I can be a positive contribution to future successes here in Bloomington. I'm excited to be a Hoosier."
Before you go:
· The Bloomington elder with the best NBA takes (Deadspin)
· Bre Wickware is transferring from the IU women's basketball program
· Wide receiver Nick Westbrook was named to the Biletnikoff watch list for best college wideout
And with that, the joy of hanging Banner #6 is now one week closer.
Thanks for your continued support for The Assembly Call and Inside the Hall. We'll be back next weekend with a new roundup.
Now go enjoy yourself a 6-banner Sunday. If you'd like to receive this newsletter in your inbox each Sunday, please enter your email address below:
Filed to: