6-Banner Sunday: Juwan Morgan returns, IU draws Duke in Big Ten-ACC challenge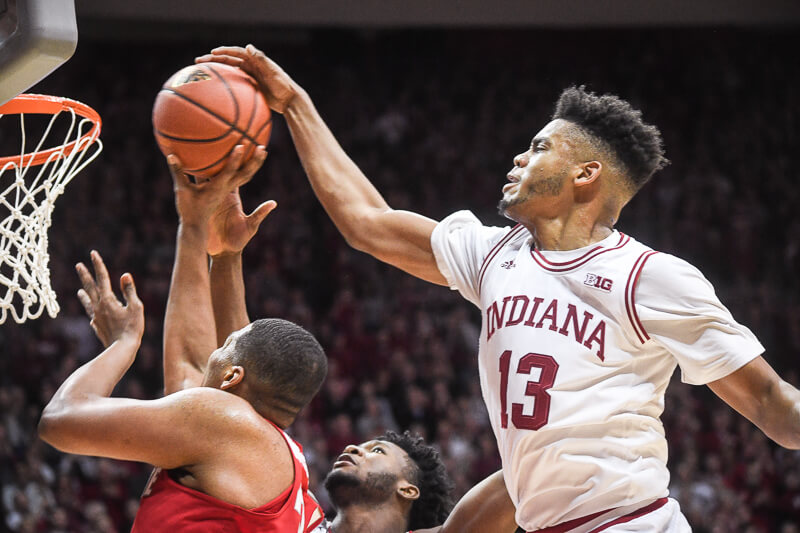 6-Banner Sunday is Inside the Hall's weekly newsletter in partnership with The Assembly Call. More than 5,000 Indiana fans receive the newsletter each week. In addition to appearing each week on the site, you can also opt to receive 6-Banner Sunday by email. A form to subscribe via email is available at the bottom of this week's 6-Banner Sunday.
Welcome to another edition of 6-Banner Sunday, a joint production between The Assembly Call and Inside the Hall, where we highlight the six most essential IU basketball stories of the past week.
Indiana's stellar offseason got even better this past week when Juwan Morgan announced his plans to return for one more season in cream and crimson.
In this week's edition:
· Juwan Morgan returns for senior year
· IU draws Duke in ACC/B1G Challenge
· Archie Miller and Fred Glass at Huber's
· Phinisee shines at Hoosiers' Reunion All-Star Classic
· A celebration of Bill Mallory's life
· IU baseball in NCAA's + bonus links
Banner #1
Juwan Morgan returns for senior year
Indiana's best player in Archie Miller's inaugural campaign is returning for one final season in Bloomington.
That's what Juwan Morgan, a 2nd team All-Big Ten player last season, announced on Tuesday on his Instagram account. Morgan made the decision after working out and getting advice from NBA personnel, where he was told a strong senior campaign could significantly boost his draft stock.
During the 2017-18 season, Morgan emerged as the clear-cut star on the IU roster, at times almost single-handedly lifting the squad to victory. He averaged 16.5 points and 7.4 boards per game as a junior, including the monster 34-point, 11-rebound effort in an overtime win over Notre Dame.
Morgan's return vaults IU into the Big Ten title conversation and gives them perhaps the most lethal duo in the entire conference, as opposing coaches may already be planning how to stop the Romeo Langford-Juwan Morgan pick and roll.
As Alex Bozich writes for Inside the Hall, Indiana will now enter the 2018-19 season with lofty expectations:
Glance at next season's roster and you'll see at least 12 names with a legitimate chance to compete for rotation minutes. It'll be up to Miller and the IU coaching staff to figure out how all of the pieces fit together, but in a Big Ten very much in transition, the Hoosiers have the talent to contend.

Last year's regular season Big Ten champion – Michigan State – lost a pair of lottery picks. Michigan, which advanced to the national championship game, lost several of its key pieces. Purdue graduated four starters. Ohio State lost the league's player of the year in Keita Bates-Diop. Penn State's Tony Carr left for the NBA draft. Maryland will be talented again, but underachieved last season. Nebraska has a strong cast of returnees, but have the Huskers already hit their ceiling under Tim Miles? And Wisconsin will be much better, but has questions of its own to answer.
More on Juwan Morgan:
· Morgan's return means raised expectations (Indy Star)
· Morgan radio interview with Kent Sterling (KentSterling.com)
· Podcast on the Brink: Morgan's return + Archie speaks at Huber's Winery
· Assembly Call Radio: IU-Duke (Again!) and expectations for Morgan's senior year
Wyandotte Safety Solutions is your one-stop shop for safety training and safety products. WSS offers CPR & First Aid training, fall protection, and lift training. We also sell PPE, AEDs, and First Aid supplies.
We are an Indiana company serving Indiana and all of North America. Check out our website for more information: ptsarcflash.com.
Banner #2
IU draws Duke in ACC/B1G Challenge
Stop me when you've heard this before: Indiana will play Duke in the ACC-Big Ten Challenge.
Yes, really. For the third time in four years, the Hoosiers will face Mike Krzyzewski and the Duke Blue Devils in the annual competition pitting teams from two of the best conferences in college basketball against each other.
The Hoosiers and Blue Devils will meet on Nov. 27 in Durham, North Carolina. Although the matchup will be familiar, the names on the court won't.
That's because both squads have completely retooled their rosters. The Blue Devils are welcoming in the No. 1 ranked recruiting class in the nation, with four of five incoming scholarship freshman rated as five-star prospects, while Indiana also brings in a number of heralded freshman along with graduate transfer Evan Fitzner.
The other 13 matchups for the 2018 version of the ACC-Big Ten Challenge are as follows:
· North Carolina at Michigan
· Michigan State at Louisville
· Nebraska at Clemson
· Minnesota at Boston College
· Syracuse at Ohio State
· NC State at Wisconsin
· Purdue at Florida State
· Virginia at Maryland
· Rutgers at Miami
· Virginia Tech at Penn State
· Pitt at Iowa
· Georgia Tech at Northwestern
· Notre Dame at Illinois
Banner #3
Archie Miller and Fred Glass speak at Huber's Winery
One year ago, when newly named head coach Archie Miller spoke at the annual "On The Road with The Hoosiers" at Huber's Winery, NCAA rules prohibited him from talking about Romeo Langford, who was wrapping up his junior year of high school.
Miller did declare, though, that he knew "where New Albany, Indiana is."
In the 12 months since that speech, Miller accomplished his mission of landing the most prized recruit out of the Hoosier state in years, as Langford committed to IU at the end of April.
But as Miller told the media at Huber's Winery a few days ago, he didn't know where Langford was heading until he announced it publicly at New Albany High School:
"We didn't know for 100 percent. I think that everyone was pretty much in the same boat. That was how that process was going to go all the way through, and when he was ready to make a decision I think we would all find out one way or another."
And as Rick Bozich of WDRB wrote, when Miller addressed the record-crowd at Huber's after the media scrum, he spoke glowingly of the freshman phenom:
"Romeo is as decorated a player as I've seen and as decorated a kid as I've been around. He's a cool, calm person who is a perfect fit to walk into the fire."
More from Huber's Winery:
· Media availability: Archie Miller, athletic director Fred Glass (ITH/247Sports)
· Miller's speech to the record-crowd at Huber's (ITH)
Banner #4
Phinisee shines at Hoosiers' Reunion All-Star Classic
This was the 13th iteration of the annual event that features some of Indiana's best high school seniors playing in the gym that was the home court of the iconic film Hoosiers.
In limited minutes, Rob Phinisee racked up 18 points and five assists as his Hickory squad pulled off a 142-136 win over Terhune. With honorary captain Romeo Langford watching from the bench, Phinisee displayed his improved perimeter jumper and ability to finish at the rim with either hand throughout the night.
After the game, the Lafayette, Indiana native told the media that Archie Miller's fiery personality and all-business attitude drew him to Bloomington:
"We're pretty similar. We're both laid back off the court and then pretty fiery on the court. Really, we like to get business done and just work hard."
Phinisee, along with the rest of Indiana's freshman class, will report to Bloomington on June 12 to begin preparations for the 2018-19 season.
Be on the lookout for highlights from the game and an interview with Phinisee on ITH come Monday morning.
More from Knightstown, Indiana:
· Langford and Phinisee were the big names in Knightstown, but don't sleep on Dean Tate (Gregg Doyel/Indy Star)
Banner #5
A celebration of Bill Mallory's life
Memorial Stadium was legendary IU football coach Bill Mallory's de facto home during his time in Bloomington.
So it was only fitting that IU's football stadium played host to the celebration of the life for the late Mallory, who tragically passed away last week at the age of 82.
Broadcaster Don Fischer was the emcee of the tribute, which featured Mallory's players, family, and friends honoring Mallory.
Ken Bikoff of Peegs was at the ceremony, and took particular note of the speeches that former IU linebacker Mark Hagen and former assistant coach Floyd Keith gave:
(Hagen presented) an inspiring speech that was filled with stories that left the crowd at times laughing and in tears.

"With Bill Mallory, it wasn't 'we're going to do this or we're going to do that,'" Hagen said. "It was, 'We're going to do THIS, and this is how we're going to do it!' That was Bill Mallory."

Keith, who listed all the accomplishments and Hall-of-Fame honors Mallory collected during his lifetime, summed up the hopes of all the people in attendance with a demand for one more honor.

"Hey, College Football Hall of Fame," Keith said. "It's that time."
More from the ceremony:
· Mallory's legacy found in those he touched (Indy Star)
And in case you missed it, earlier this week Jerod spoke with his dad, who played and coached for Mallory, as well as four other "Mallory Men" for a special edition tribute episode of The Assembly Call: Bill Mallory — In His Players' Words.
Banner #6
IU baseball in the NCAA Tournament
After getting walloped by Texas A&M, 10-3, in their opening game of the Austin Regional on Friday, IU baseball bounced back yesterday to stave off elimination.
In a loser-goes-home contest, IU defeated Texas Southern 6-0 behind a complete game shutout from starting pitcher Pauly Milto.
The Hoosiers must win three more games over the next two days to advance to the Super Regional round, college baseball's version of the Sweet 16.
Indiana faces the loser of Saturday's Texas/Texas A&M contest at 3 p.m. Eastern today in an elimination game. If they win that, they'll play in the regional final at 7 p.m. It's a tall task, but one this Indiana squad is capable of accomplishing if they play their best.
Before you go:
· IU offered four-star 2019 forward Zeke Nnaji this past week, and you can check out some of his highlights on ITH
· De'Ron Davis posted an awesome vlog of a day in his life (IUBB Twitter)
And with that, the joy of hanging Banner #6 is now one week closer.
Thanks for your continued support for The Assembly Call and Inside the Hall. We'll be back next weekend with a new roundup.
Now go enjoy yourself a 6-banner Sunday. If you'd like to receive this newsletter in your inbox each Sunday, please enter your email address below:
Filed to: