6-Banner Sunday: Remembering Bill Mallory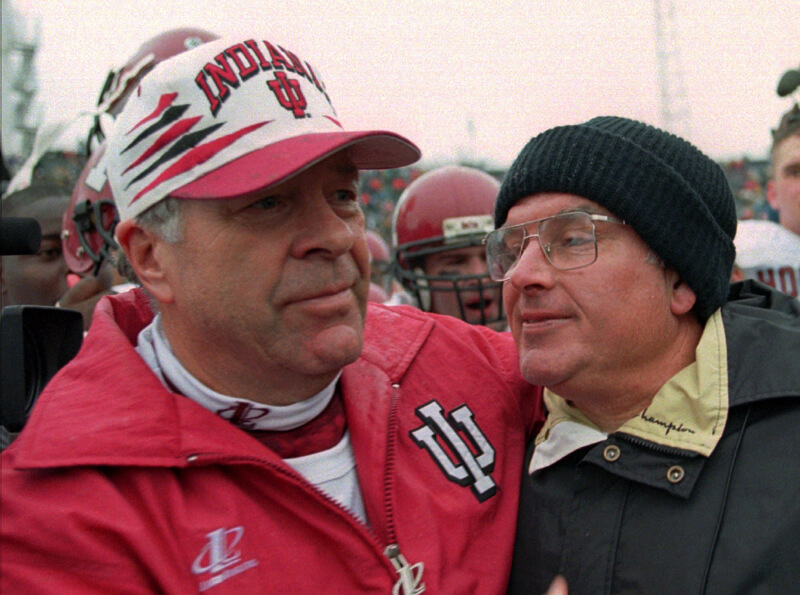 6-Banner Sunday is Inside the Hall's weekly newsletter in partnership with The Assembly Call. More than 5,000 Indiana fans receive the newsletter each week. In addition to appearing each week on the site, you can also opt to receive 6-Banner Sunday by email. A form to subscribe via email is available at the bottom of this week's 6-Banner Sunday.
Welcome to another edition of 6-Banner Sunday, a joint production between The Assembly Call and Inside the Hall, where we highlight the six most essential IU basketball stories of the past week.
The IU community lost a legend on Friday when former football coach Bill Mallory passed away at the age of 82. This week, we remember the life of coach Mallory and the legacy he leaves behind.
In this week's edition:
· Remembering Bill Mallory
· Victor Oladipo's eventful week
· Hoosiers' APR issues
· Juwan Morgan's decision day approaching
· DJ Carton talks with ITH
· IU spring sports near conclusion
Banner #1
Remembering Bill Mallory
A titan in the history of IU athletics passed away this week. Three days after being put in hospice care after falling at his home on Tuesday, Bill Mallory passed away at the age of 82.
Mallory was the face of Indiana football for 13 years, serving as head coach from 1984-96. No other coach in the lengthy history of the program has even come close to touching Mallory's accomplishments, as Mike Miller wrote for the Herald-Times:
(Mallory) took Indiana to six bowl games in an eight-season span ending in 1993, compiling a 58-38-3 mark overall and a 33-30-1 record in the conference during that stretch. It came during a time when bowl seasons were much more difficult to achieve.

In 1987, Mallory became the first coach to be awarded back-to-back Big Ten Coach of the Year awards, and he remains the only IU football coach to ever beat both Ohio State and Michigan in the same season (1987).
In fact, Mallory accounts for two of Indiana's three bowl victories, including the 24-0 blowout of Baylor in the 1991 Copper Bowl.
But more than that, Mallory was an incredible person. As news of Mallory's fading health surfaced, stories of his unimpeachable character and fiery personality poured in from all across the country.
Numerous members of the Indiana University staff, past and present provided statements on Mallory, from broadcaster Don Fischer to athletic director Fred Glass to president Michael McRobbie.
Perhaps the best compilation of Mallory stories came from Blake Sebring of the News-Sentinel. The whole piece is worth reading, but this nugget from Mallory's first season is especially representative of who Mallory was:
One day Mallory became disgusted with a particular defensive lineman, so he shoved the player away, got down into a four-point stance, fired up to grapple the offensive linemen out of the way and tackled the back. Mallory put his head into the running back's chest and drove him into the turf -– a textbook tackle.

"There, that's how you do it!" Mallory screamed at the defensive lineman before bending to pick up his hat and glasses, which were broken by the play. Mallory limped for several weeks but never complained. A film of the play is sometimes shown during team meetings.

"Even the folks who haven't seen it on tape talk about that like they've seen it," former IU and Bishop Luers running back Cal Miller said. "You never know if Coach is going to do that today or not."
Mallory was also known for his immense loyalty to his players. No matter what the circumstances were of a players exit from the program, whether for disciplinary reasons or graduation, he always kept up with them and never held a grudge.
And without Mallory, The Assembly Call may have never become reality. Assembly Call founder Jerod Morris' father was a member of Mallory's coaching staff, and Jerod had a front row seat to the most successful era in IU sports history. (Be on the lookout for some bonus content at The Assembly Call that celebrates the legacy of Bill Mallory in the days to come.)
The memorial service for Mallory will be held on June 2 at 10:00 at First United Methodist Church in Bloomington. Later in the day, a remembrance will be held at Memorial Stadium at 1:30 pm.
More on Bill Mallory:
· Assembly Call Radio: IU's fading APR and a tribute to Bill Mallory
· Lessons from the Bill Mallory era (Rick Bozich/WDRB)
· Bill Mallory, who lifted IU football, is dead at 82 (NYTimes)
· Bill Mallory was the best sort of winner (Andy Graham/IU Athletics)
· Have your own story on Bill Mallory? Email his son Curt at [email protected]
Wyandotte Safety Solutions is your one-stop shop for safety training and safety products. WSS offers CPR & First Aid training, fall protection, and lift training. We also sell PPE, AEDs, and First Aid supplies.
We are an Indiana company serving Indiana and all of North America. Check out our website for more information: ptsarcflash.com.
Banner #2
Victor Oladipo's eventful week
Former IU All-American Victor Oladipo's NBA season might be over, but he's still very much in the news.
Early in the week, Oladipo was named to the 2017-18 All-NBA Third team for his spectacular season with the Indiana Pacers. Oladipo averaged 23.1 points, 4.3 assists, 5.2 rebounds, and 2.4 steals, leading the Pacers to the No. 5 seed in the East before nearly upsetting the Cavaliers.
Oladipo is the first former-IU player to be named to an All-NBA team since Isiah Thomas, who made either the first or second team five times from 1983-87.
Today, Oladipo will ride in the pace car for the 102nd running of the Indy 500. Yesterday, Oladipo was given a ride in racing legend Mario Andretti's car, racing through the Brickyard at over 180 mph. As he told For The Win, it was a truly unique experience:
"Unbelievable. It's something that you have to experience. Words can't really describe it. It was just a thrill. I've never jumped out of a plane, but if that's what jumping out of a plane feels like, then yeah, it's pretty dope."
When Vic takes the pace car around the track today, he'll be going a bit slower, but will still be traveling at speeds well over 100 mph. You can catch Victor Oladipo on the track today, as coverage of the race begins at 11 am eastern on ABC.
More on Hoosiers in the NBA:
· Eric Gordon and the Houston Rockets are on the brink of eliminating the Golden State Warriors and reaching the NBA Finals (Houston Chronicle)
· OG Anunoby just missed out on being named to an NBA All-Rookie team (SportsNet)
Banner #3
Indiana's faltering APR
One metric former-IU coach Tom Crean boasted about regularly was his team's sky-high Academic Progress Rate scores. The metric is designed to ensure that Division 1 sports programs place proper emphasis on academics. For four straight years from 2009-13, IU basketball posted a perfect APR score of 1,000.
However, that number faded significantly during the final years of Crean's tenure. Indiana's 2016-17 score was released this week, and it came in at an underwhelming 920. With the low scores of 918 (2015-16) and 943 (2014-15) preceding it, Archie Miller and company have work to do to avoid NCAA penalties come 2019-2020.
When IU's 2017-18 APR score is released next May, it must be at least 939 to keep the four-year rolling average over 930. That's the number the NCAA looks at when deciding whether to penalize institutions. According to the NCAA website, teams with a four-year average below 930 risk disqualification from the postseason. IU's current four-year average is 943, just good enough to prevent potentially devastating penalties from being incurred for the 2018-19 campaign.
The good news is that the IU coaching staff is well aware of this information, and will continue doing whatever is required to boost their APR.
Although IU basketball's APR came in dangerously low, we would be remiss to gloss over the fact nine Hoosier varsity squads earned perfect scores for 2016-17. Additionally, field hockey and men's and women's tennis earned perfect four-year scores of 1,000.
Banner #4
Juwan Morgan's decision day approaching
There are just three days remaining until Juwan Morgan must decide whether or not to return to IU for his senior season.
Although he wasn't invited to the NBA combine, Morgan has had the opportunity to work out with several NBA teams, including the Atlanta Hawks. However, Morgan is unlikely to be selected in the NBA Draft, and would almost certainly have to have an outstanding showing in the NBA Summer League to be given a training camp invite. It's the same path both Troy Williams and Yogi Ferrell took to make the league, but it's far from a guarantee Morgan would have the same fortune.
More likely, if Morgan elects to forego his eligibility, he'd either be playing in the G-League or internationally come next fall. Not a bad way to earn an income, but a far cry from the luxurious life of an NBA player.
Morgan isn't the only Big Ten player with a big decision to make. As Inside The Hall reports, a number of teams are patiently waiting for an answer from potential returnees. Among the decisions yet to be made that could have a massive impact on the Big Ten title race:
· Ethan Happ, a Badger superstar that Indiana fans have seen enough of
· Carsen Edwards and Nojel Eastern, two Boilermakers that could keep Purdue among the Big Ten's elite
· Bruno Fernando and Kevin Huerter, a pair of Terrapins that participated in the NBA Draft Combine
Banner #5
DJ Carton talks with ITH
DJ Carton, the class of 2019 point guard prospect out of Bettendorf, Iowa who has blossomed into a five-star phenom, spoke with Inside the Hall this week.
Indiana is one of the six school remaining on Carton's list, and he believes the addition of Romeo Langford will make the Hoosiers a must-watch team next season:
I know they are on the main track and they're going to keep pushing and growing that program. (Romeo Langford) was definitely a huge addition and one of the best players in the country, if not the best. He's definitely going to have a really good year next year and it will be fun to watch them and how he goes through it.
Carton is expected to make a commitment between mid-August and early-September.
Next week, Carton will participate in tryouts for the Team USA U18 squad. If selected, Carton will play for Team USA at the FIBA Americas competition, which takes place from June 10-16. Other players of note participating in tryouts include Keion Brooks Jr., Matthew Hurt, Trayce-Jackson Davis, Jalen Lecque, and Trendon Watford.
More on IU targets:
· EYBL highlights: Kira Lewis, Trendon Watford, Ethan Morton (ITH)
Banner #6
IU spring sports near conclusion
With June just around the corner, the seasons for a plethora of IU spring sports teams are nearing an end.
· IU baseball went just 1-2 at the Big Ten Tournament in Omaha, falling twice to Illinois. The second defeat came in walk-off fashion. Indiana will still likely make the NCAA Tournament, but won't know for sure until the Selection Show, which airs Monday at noon on ESPNU (Herald-Times)
· IU Rowing took 13th place at the NCAA Championships (IU Athletics)
· Hoosiers Cooper Williams, Daniel Kuhn, Adam Coulon and Terry Bateman all advanced to the NCAA Track and Field Championships
And with that, the joy of hanging Banner #6 is now one week closer.
Thanks for your continued support for The Assembly Call and Inside the Hall. We'll be back next weekend with a new roundup.
Now go enjoy yourself a 6-banner Sunday. If you'd like to receive this newsletter in your inbox each Sunday, please enter your email address below:
(Photo credit: Tom Russo, AP)
Filed to: